Jan 07 2020, 9:00 AM
Why the Answer to Your Success Lies in Your Data

Are you using your gym software to get the information you need to build your business? In this day and age, we rely on data so much to be able to measure campaign progress, tweak our strategies, and shift our planning to increase efficiency and success.
Want to increase your profits and streamline your processes? Data is the answer!
Why is data so important for businesses? You want to know as much as you can about your gym and your customers so you can be the best!
Gone are the days where we have to guess whether the steps we're taking to better our business are getting traction. With the introduction of online marketing, social media, and automated strategies, we rely on technology for help to maximize our efforts and put our dollars to work!
This is where using your gym software to gather data is critical in getting a handle on whether you're headed in the right direction to see success and build your business.
From marketing and sales to analyzing your processes, here's a look at how to make the most of your gym software with the data you need to see your business grow!
1. Evaluate Your Strengths and Weaknesses
Do you know where your gym excels and where it's falling short? Have you analyzed opportunities for improvement? Can you pinpoint areas that could use some attention?
Use your software to show you where you're killin' it and where you're not. You might have amazing customer loyalty but are not filling your classes. Or you could be up in profits but down in memberships.
Evaluating what you do best and where you need work will help you build a plan for success. Build on your strengths and get the help you need to turn opportunities for growth into a more profitable and successful gym!
2. Get to Know Your Members
The more you get to know your clients, the more you can work to address their needs, build loyalty, and make a name for yourself in the industry. Tracking your clients' behavior is an amazing tool to connect with your community. This is where your software becomes crucial!
Get the data you need to get to know your members and tailor your offerings to get the most bang for your buck.
What do we mean?
Well, what if you knew the hours your gym was busiest? You could schedule accordingly and get the most out of your payroll budget. How about if you could tell that most clients were interested in afternoon classes? You would schedule your classes so they were full and skip the classes you don't need. How about finding out what clients are looking for in a personal trainer? You could hire more staff and offer clients the approach they're looking for.
All this and more is available with today's gym software.
Use your software to develop client profiles so you can better serve your members, cut costs, and build long-term, profitable relationships. Now that's how you get your gym to the next level!
3. Become More Efficient
Along with learning about your clients and managing your strengths and weaknesses, you can also better manage your business with the data available. Are there processes you could streamline? Are there opportunities for you to save time or money? Could you speed up or simplify your day-to-day business life?
Get your team on the same page and your gym running like a well-oiled machine with the data from your gym software. Perform better and maximize efficiency by analyzing data on how to manage your gym, and spend your time and money where it makes the most sense.
4. Create a Roadmap
Once you've taken a look at the data, it's time to create a roadmap for your future! Think about your strategy and goals and then plan the best way to get there with the info you now have at your disposal. Here are just a few categories that can benefit from a future based on your data:
Marketing
Looking at your successes and failures allows you the opportunity to better plan for future campaigns. Have you automated your marketing? Have you included SMS and texting in your execution? Are you maximizing your exposure with email marketing?
Gym software will not only provide you with the data to see where you've been and where you can go, but it can also help make marketing easier by upping your automation game. Simplify your life by getting your gym software to do the work for you.
Offerings
Plan to re-vamp or tweak your schedule with the data you've accumulated. Keep what's working and discard or change areas where you're not seeing results. Take a look at time slots that aren't filling up and make a change. Check out which trainers are the most popular and hire more just like them! Look at what retail isn't selling and put it on sale to clear it out.
Looking at the data to plan for your future is the best way to stay on track and tailor your schedule for success!
Staff
If you're processes are inefficient, maybe your team needs more training. Or maybe you're short-staffed and that's resulting in lost revenue. Or do you need to re-assign some of your team for better coverage?
Using your gym software data to get your team organized is the way to better service your clients and keep your team happy. Make the most use of the data to learn, grow, and plan for a successful future for your business, to get your team in tip top shape.
5. Use Social Media
Social media for business is growing in leaps and bounds as a marketing tool – and it is heavy on the data! Use social media to your advantage by tracking your campaigns, getting insight into your community, and testing out your reach.
How can you use social media data to better your business?
Once you know who your ideal client is, you can customize your content and your advertising to the exact customer you're looking for.
Take a look at your social media and online marketing: the best thing about these outlets is that there are clear data analytics to help you determine how your campaigns are performing, where you're getting engagement, and how many people are being driven to your website.
This data is exactly the info you need to integrate your social media marketing with your website and online presence, to get attention for your gym and people through your doors.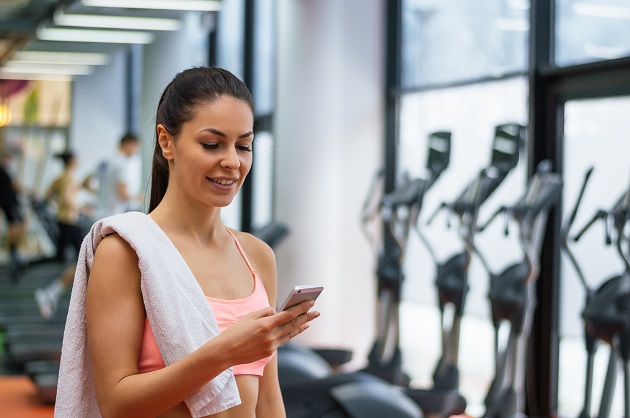 6. Look at Your Website
Are you familiar with bounce rates? Do you know where people are spending the most time on your website? Are you maximizing your online sales? All this data – and more – is available to you!
What does it mean?
Your website is a powerful tool for exposure and conversion. If you're not using it to its fullest potential, now's the time to start! Track your website's performance by analyzing the data and adjusting your content, layout, or design so that it does its job and builds your brand, along with your online presence.
Online Presence
Have you considered the importance of your online presence? Potential clients won't learn about your gym if you aren't busy building an online brand. Not sure where to start? Things like Google search results, online reviews, and testimonials are a great place to start. Use the data provided by your gym software to take a look at where you stand.
Not an online expert? Not to worry! The data will show you everything you need to know and then you can start planning, tweaking, and adjusting to make your gym a force to be reckoned with in the online space.
7. Get the Full Picture
Now that you know the full power that data has for your business, work on getting the tools you need to gather all that info in one place. At WellnessLiving, we offer an all-in-one gym software designed to get your business to the next level.
You'll get all the data you can handle about your clients and their buying patterns, scheduling, class attendance, and more. And once you've analyzed all the info, we've got the tools you need to tackle where you need help the most!
Need to automate your marketing? Check. Want more info on your clients and their patterns? No problem. Increased online presence? We can help with that too!
We can even help you get to the top of Google search results with our Reserve with Google feature. It's a Google-partnered advantage, so clients can easily navigate from the search results page right to your business page, with the simple click of a direct booking button on a Google My Business listing. Sound complicated? It's not!
You'll also get results based on location. For example, someone searching for 'a gym near me', will be able to take advantage of our Google Maps integration and find you first!
Gather your data in one place so it's easily accessible on the go, integrated for your team, and get your online presence where it needs to be!
The Final Word
There's no need to wonder whether your business is the best it can be! Gym software takes the guesswork out of marketing, business management, building a brand, and getting to know your clientele. If you want to be the best, you need the best tools to get the data needed to grow your gym and see your profits rise.
With help from WellnessLiving, get the data you need to get a handle on your business and the essential elements to really make change and see results. Book your free, no-commitment demo today!