Jul 03 2020, 9:00 AM
How to Win Back Members Who Left Your Business
Have you lost members and want to win them back? With COVID-19, the seasons changing, schedule adjustments and more, losing members is a huge concern for your business. Regardless of why they left, it's time they came back! Get the tools you need to launch a successful win-back campaign and show them what they've been missing.
Here are some of the types of clients you're best to target first:
People who are taking the "wait and see" approach
Those who prefer to workout at home
The group who can't wait to go back
Create a win-back campaign with automated marketing
Email and SMS/text campaigns or push notification are an effective way to reach clients and win them back! The goal is to re-establish a connection and remind them why they loved you in the first place. Get them to react by including a call to action or a reason for them to re-engage with you. Why do you need to automate? It saves you time, money and it gives you hard data you need to manage your campaigns like the experts.
With the tools from WellnessLiving, you can customize your templates to reach out to a specific group of people and give it that personal feel. This means you can really narrow down the message you want to get across.
Emails: Customize your email templates for a message that's specifically targeted to each group. Send messages automatically, including links to promotions and booking to make it even easier for them to return.
Text message/push notifications: Reach clients quickly and effectively where you know they'll see it. Customize your text or notification messages and automate your campaign to connect quickly and effectively while they're on the go.
Send them direct mail postcards: People are getting less and less mail these days. If your members get a letter from you, they'd be pretty excited, right? Show your members you care with an amazing offer to win them back. Keep your business top of mind with this unique approach from WellnessLiving to leave a lasting impression!
Step up your game with top-notch safety and hygiene practices
Keep your clients feeling safe and sound when they return, with next-level sanitization and hygiene protocols. Give them the peace of mind they need to come back. Here are a few of the ways you can show you're serious about safety:
Enforce the 6-foot social distance guideline
Use floor markers to help clients know where to go
Block off certain equipment or areas
Install sanitization stations around your business
Put up posters with sanitization requirements, including equipment disinfecting instructions and handwashing guidelines
Offer customized one-to-one training
If clients or members have fallen off, they may just need a little extra attention. Some gym goers have totally stopped training while yogis may have temporarily ventured off their mats. It's time to get them back on track by offering one-to-one sessions with personalized training.
Here are some tips to get you started:
Offer a free first session/consultation
Stay on top of their progress (WellnessLiving will soon be offering FitZONE)
Inspire them with info and data to motivate them on their journey
Give them the option to see you virtually in addition to in-studio
Be flexible with memberships
Since you're looking to win members back, you'll need to work with them! Flexibility is key in being able to appeal to your clients' needs. Here are some of the ways you can offer a membership that'll do the trick:
In-studio: The standard in-studio membership, typically with additional fees for add-on services.
Virtual: Give clients the option of a live class feel from home. With WellnessLiving's Zoom integration you can livestream easily, give clients access to your schedule and send direct booking links and reminders.
On-demand: Let clients take your on-demand classes on their own schedule. Use WellnessLiving's FitVID on Demand feature to create your video library and allow access so clients can work out on their own time.
All-in-one packages or combo: Combine all or some of the above so your clients get the options they need to reach their goals.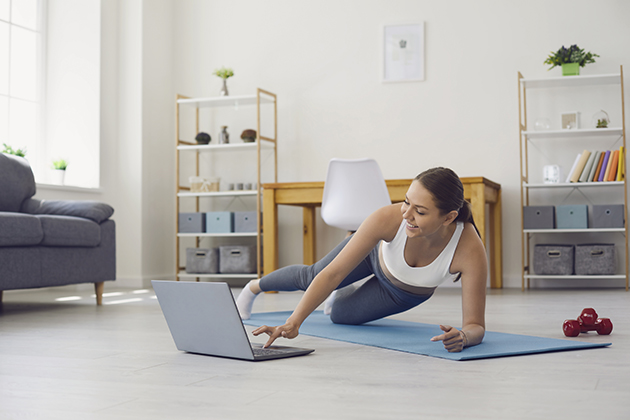 Put together effective promotions
Now that they're missing you, give them the nudge they need to come back! Launch a promotion or incentive for just a little extra motivation. Here are some ideas of offers that'll get their attention:
Promote virtual and on-demand classes by giving one class as a free trial
Offer free virtual classes when clients purchase in-studio memberships
With membership purchases, reward clients with free merchandise like workout gear, gift cards, and exercise equipment
Rent equipment free of charge with a membership purchase
Don't stop showing you care!
Don't forget to show your clients the love! When you support and appreciate your community, they'll pay you back with loyalty, investment and positive reviews. Why not use your rewards program to incentivize them to earn rewards? WellnessLiving can get you set up so clients can earn, track and redeem points with ease.
By making the effort to win them back, you've already shown your commitment to them, so don't stop there! Create expert win-back campaigns, adopt pro safety and hygiene practices, give your clients options, and motivate them to give you another try. With these expert tips, you'll have them back in no time!
From your automated market campaigns to all-in-one business management software, the tools from WellnessLiving will have you seeing results. Learn more about how we can get your business to the next level. Book a free, no-commitment demo with WellnessLiving today!