Mar 10 2020, 9:00 AM
Yoga for Teens: How to Market Your Studio to Teenagers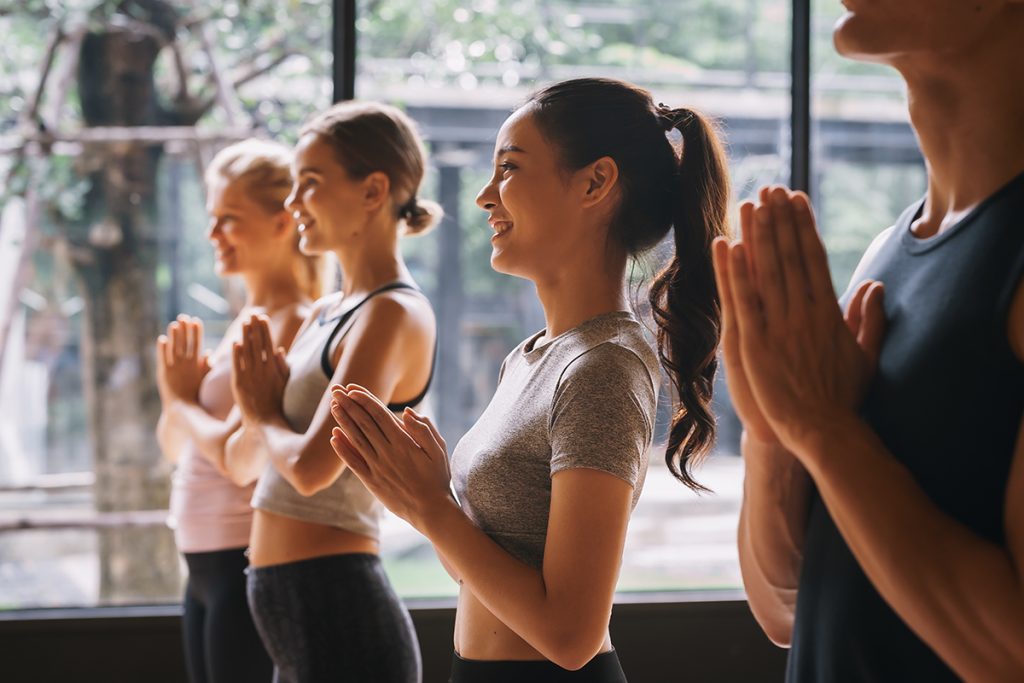 Let's talk yoga for teens! Have you taken a look at your client mix lately? If your clientele consists mostly of adults, it's time to target a larger market to get your business to that next level. Add yoga for teens to your roster to attract a younger crowd, build your client base, use yoga studio software, and watch your revenues rise.
What are the benefits of yoga classes for teens, and how can marketing to a younger demographic help your business?
Yoga boasts a host of benefits for students of all ages, but teenagers may even be the big winners. Besides offering physical advantages like increased core strength and better balance, stress management is a definite perk! This age group is facing stressors like exams, work-life balance and the desire to stay healthy, often without the necessary tools to overcome these obstacles. This is where yoga classes for teens can really help out!
Yoga for teens promotes discipline, focus and time away from busy teenage lives, serving as a healthy alternative to screen time. It helps clear the mind, improve your mood, and offers balance when life seems challenging.
Adding yoga classes for teens will open up an entirely new revenue stream for you, as well as opening up the potential to get the attention of a brand new community of clients. You might be surprised at how adding yoga for teens will affect your profits!
Now that you know that teenagers open up new possibilities for your studio, how can you interest them in giving you a try? We've got a few expert suggestions to help you get started attracting teenagers to your studio:
1. Find Them
If you want to draw attention to your studio, you need to be seen by your target market. Ask yourself where teens are hanging out and then adjust your strategy to find them on their preferred platforms. Here are a few places you can try to reach a younger demographic and get them interested in trying yoga for teens:
Social media
Social media is one place you're sure to find the age group you're looking for! Across all mediums, social media is a great way to reach your market, increase your following and engage with your younger clientele.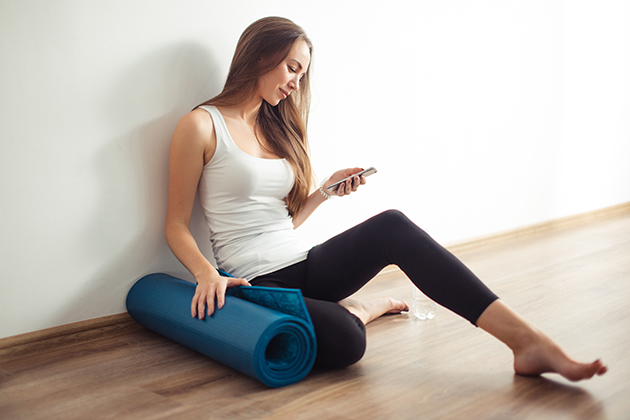 How can you use Instagram to your advantage? Post engaging videos and images featuring teens on Instagram to grab attention. Like and follow teen influencers to help get an idea of what posts appeal to that age group and to start interacting with them.
Use your YouTube channel to increase exposure for your studio. Feature yoga for teens by streaming classes, offering stretching videos and including teen-targeted content. Optimize your content by audience, rather than by views, to make sure you're reaching the demographic you're looking for.
New to TikTok? This is a popular medium of choice for teens! It's the perfect place to feature yoga for beginners or yoga for teens by using a teen client to spread the word. Ask a current student to publish content for your account, providing a testimonial for yoga classes for teens and for your studio. Using TikTok to gain teen attention will definitely set you apart from the crowd and make you the studio of choice.
2. Offer Enticing Promos
One thing you may have noticed is that teens like to travel in groups! Make the most of this trend by offering promos that address this group-focused mentality.
Can you launch a 'bring a friend' campaign, where you offer a discount for teens that come in pairs? Or maybe promote a discounted teen rate for memberships bought together? Or even promote a free trial yoga for beginners' class so teens can give you a try? Encourage groups to come together to create a comfortable, inviting environment for teens.
The more you embrace the fact that most teens are unlikely to want to get out of their comfort zones alone, the more success you'll see! This even benefits your business: from a revenue standpoint, more visits lead to higher income and more exposure, so you can use these promotions to boost your sales and grow your studio.
3. Promote a Teen Rewards Program
Once you get the attention of your new market, you need to start building loyalty. You want them to love yoga for teens and to see long-term revenue and consistent clientele for your studio. How do you get them coming back for more?
Encourage return visits with a loyalty rewards program, where students earn points towards perks and prizing, the more visits they make. Be sure to gear your program towards your targeted age group to really get their attention!
Think about rewards like free merch, age-appropriate prizes like tech gifts or free classes and use your yoga studio software to manage your program.
Choose perks and prizes that will motivate teens to want to get involved, reward them to keep them coming back, and manage your program seamlessly through your yoga scheduling software.
4. Market Yoga for Teens, Using Teens
If you want to get the attention of a teen crowd, you need to feature them in your marketing! You need to make a connection with your advertising, and if you're only featuring adults in your campaigns, you'll miss the mark on piquing teen interest.
Be sure you're using age-appropriate visuals like photos and videos to make it clear that you offer yoga for teens. Feature information and visuals on your website too, where teens and parents can learn about the teen classes on your roster.
From print marketing to digital advertising, make sure that teenagers are front and center to catch the eye of a younger demographic. You need them to relate to your marketing, so make sure they can identify with your message to make a connection and attract their interest.
5. Stay Current
Teenagers are a trendy bunch, so you need to keep up! If your classes aren't current, they just won't be interested. Keep it exciting by offering classes that are unique.
Have you considered aerial yoga? It's a fun alternative to a class that might otherwise seem boring to a teen new to yoga. Research yoga trends and see if they work for your studio! Is there a HIIT version of yoga you might offer for a faster-paced class? Or could you create a hybrid yoga/Zumba class for teens to make a name for yourself?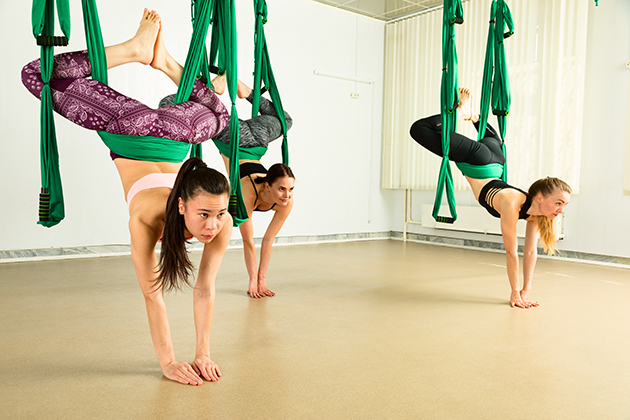 The best way to get an idea of what's in demand is to ask the teen students you already have. Is there a class they'd be interested in trying? Have they heard of a trend that they think is cool? If there's something that teens are talking about that you could add to your studio, you're guaranteed to up their attendance and get attention.
6. Educate Them
Start with the assumption that most teens are unfamiliar with the mental and physical benefits that yoga offers. While this may not be completely accurate, following an education strategy is a winning way to promote your studio!
Can you visit school gym classes to offer demos and provide info? Is there a local sports team you could partner with to work on stretching and promote your classes? Or how about community Girl Guide groups, providing flyers to stores in the mall, or offering talks or demos at local community events?
Spread your message about the benefits of yoga for teens to interest kids and parents alike!
7. Make Yoga for Teens Easy
Teens are busy, just like the rest of us! Between school, part-time jobs and hobbies, they are looking for ways to save time and the easier you make it for them to access your studio, the more luck you'll have.
How can you make the process easier for teens? Get the best yoga studio management software to make life easy! Want teens to be able to check schedules and book classes, make payments, track their loyalty points and more? Want all this accessibility to be via their devices from wherever they are? Apps like WellnessLiving's Achieve Client App (offered as part of our yoga studio software) can make this happen!
Make sure your yoga studio software offers the tools you need to make the process appealing to teens. Get a younger market interested in your studio and your classes by making the process as seamless and convenient as possible. Customer service is important to teens, too, and the better you can address their needs, the more chance you'll have of filling your classes.
It's Time to Turn Teens' Heads
If you want to build up your teen clientele, follow our expert tips: be where they are, offer promos to entice them, reward their loyalty, practice smart marketing, stay trendy and educate them. Get – and keep – teens interested in your studio by offering a superior experience!
Get your yoga studio software working for you to maximize your exposure, reach your targeted teen market and make the user experience the best it can be. Book a free, no-commitment demo with WellnessLiving today!