Jan 31 2020, 9:33 AM
6 Ways To Help Your Yoga Students Keep New Year's Resolutions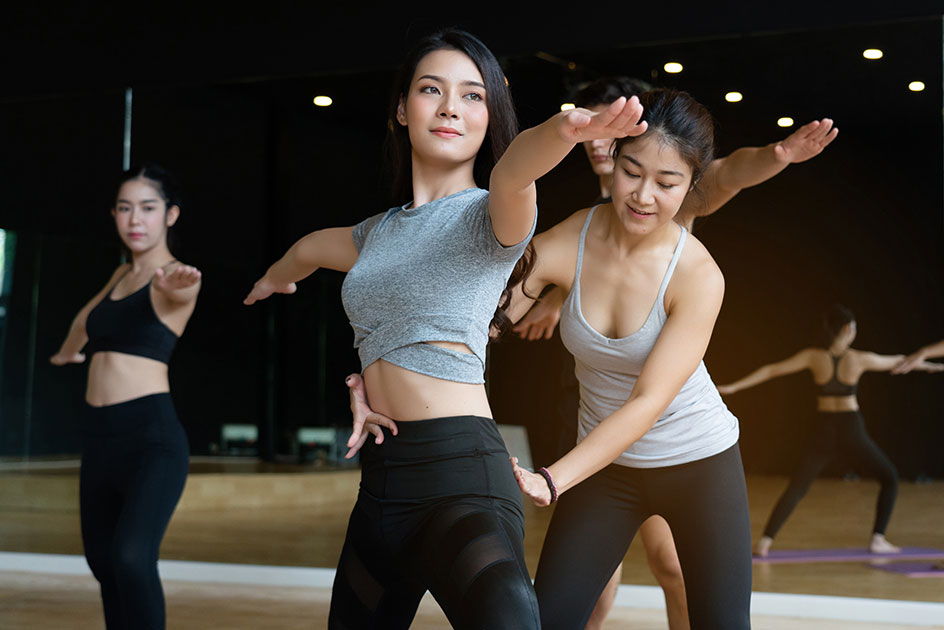 It's a new year! Likely you've noticed new yoga students coming into your studio by the dozens. It's that time of year again—New Year's Resolution season!
You can say, these new yoga students have 20-20 vision this year. They want to begin the new decade on the right foot. And, you want that foot to be on their mat in your studio for years to come.
The problem is, you know how difficult New Year's resolutions can be for people. According to U.S. News & World Report, about 80% of resolutions have failed by mid-February. Next thing you know, your yoga students are gone from your studio and back where they started. Wishing they were in better shape. Praying, they could lose weight.
The truth is, people quit their resolutions for a variety of reasons. When it comes down to it, your students likely hadn't set a goal. They had a desire to practice yoga, but no real plan or goal. Next thing you know, family or work commitments take priority, and yoga takes a back seat.
But, you're not going to let that happen, are you? As a yoga studio owner, you are committed to your students, especially your new students! How do you help your yoga students keep their New Year's resolutions? In this article, we will detail six ways you can help your students achieve their goals.
1. GIVE THEM A PROMO
How do you get new yoga students into your door? Think about giving them a taste of the pie, before selling them on the whole thing. Then, give them the promotion of the decade they can't refuse!
After all, if you want them to follow through with their New Year's yoga resolution, they need to know what they are getting themselves into first. Offer a FREE first class as part of a New Year's resolution special.
After class, they tell you how much they enjoyed class. You then offer them your one-month unlimited yoga introductory offer for new students. These ONE-TIME ONLY new student offers often range from 40% to 50% off your regular monthly membership pass. Alternatively, you can offer a three-month membership at a discounted rate as an incentive to your new yoga students to stick to their resolution.
This is a great marketing technique that can help get new students hooked! But, make sure your introductory offer is a good one. Otherwise, your new student may abandon their resolution.
2. ENCOURAGE THE BUDDY SYSTEM
Everything is easier and more fun when done together! Suggest to your yoga students that they find an accountability partner or "buddy" or support system to help them keep their New Year's resolution.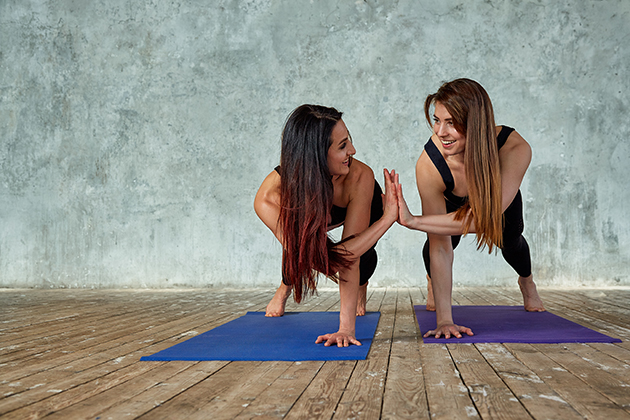 Think of it this way – if you meet a friend, family member, or even your significant other for a yoga class at an agreed-upon time, aren't you that much more likely to reach your goal?
Having a teammate and doing yoga with someone they love can make it that much easier for your students to attain their goals and target classes for each week. In essence, it sets the foundation for their yoga practice going forward. They have someone to reach success with, and also who they don't want to disappoint.
What if they can't get anyone to join forces with them at the studio? Still encourage your yoga student to find an accountability partner they can call, text, or instant message. This is where they'll update their partner about their progress, and let them know when they've taken class or reached their weekly goals.
3. HELP THEM SET REALISTIC GOALS
Your yoga student made yoga their resolution for 2020. That's great, but what's their goal? Maybe they told you they want to come to class every day for 30 days. That would be quite the accomplishment, but is that goal realistic for them?
If not, they should consider a SMART goal? This acronym stands for Specific, Measurable, Achievable, Relevant, and Timely. A SMART goal is a clearer and more detailed approach to setting and reaching your objective.
For instance, a SMART goal for a new yoga student who signed up for your studio's one-month unlimited yoga introductory offer is: "Go to 20 yoga classes at the studio within the next 30 days to help stay active." What is SMART about it?
Specific: This goal is very specific, and it becomes a roadmap of success for your yoga student. Like a mantra that they can repeat until it's achieved.
Measurable: What does obtaining success look like? Get your students to schedule in their classes, and track whenever they go to class at the studio.
Achievable: Is it achievable or realistic to practice at the studio every day if you've never practiced before? Probably not! For the first month, 20 classes are likely a more achievable goal for your new yoga students.
Relevant: It is also important for your yoga students to know why they are coming to yoga. Is it to help them stay in physical shape? Maybe they are doing it to be mentally and emotionally grounded? Whatever the reason, understanding the "why" will help keep them motivated to come back to the mat.
Timely: What is the deadline for the goal? In the case of the above example, your yoga student has 30 days to reach 20 classes. That is five classes per week. That sounds like a good start. After that, they can set another goal for 2020!
4. PROMOTE VARIETY OF CLASSES
Does your yoga studio offer a variety of classes? It is great to have options for those with a yoga-related New Year's resolution. Giving them a choice allows them to discover which classes best fit them. As a result, your yoga students can experience different teachers and the various styles of yoga your studio has to offer.
For instance, vinyasa or hot yoga classes are perfect for students looking to break a sweat. However, a beginner may want to try hatha, yin, or restorative yoga classes. Maybe some of your classes feature music, while you also offer classes for those that prefer silence. Does your studio feature more than one practice room? Maybe consider featuring non-yoga classes, such as Pilates or barre classes, at your studio.
Each class becomes a new experience for them to discover. Is 20 classes their goal for the month? Challenge your students to try a different class each day of the week. When they switch up their exercise routine and try new things, this can help motivate them to stick with their fitness goals!
5. OFFER WORKSHOPS
Your yoga students love attending regular classes. However, in 2020 for their New Year's resolution, they are ready to deepen their yoga practice and learn more.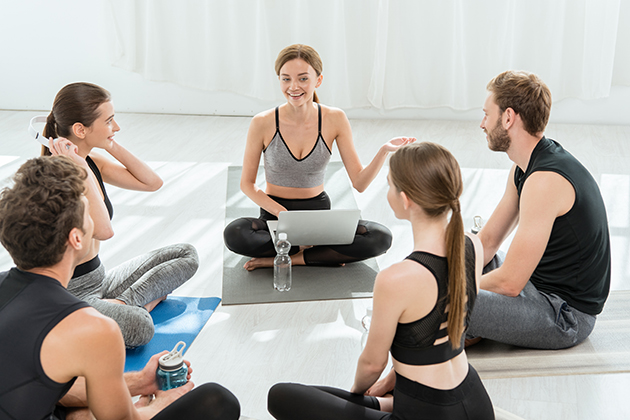 Workshops can help them take their yoga practice to the next level! How will specific yoga workshops benefit your students?
More time. In most 60 to 90-minute classes, yoga teachers can't always personalize instructions or suggest modifications. But, a workshop will dedicate two hours or more for your students to get a detailed demonstration. You can also check their alignment and answer their questions.
Socialize. Yoga workshops are also more sociable than a yoga class. You can really build your community, as your students can meet and interact with other like-minded yogis.
Topics tailored to them. Popular yoga workshop topics include backbends, arm balances, inversions, chakra meditation, and aerial yoga. Not sure what workshops you should offer? A survey is a great way to find out what your students want.
6. OFFER REWARDS PROGRAM FOR ACHIEVING GOALS WITH A YOGA STUDIO SOFTWARE
Have your yoga students reached their New Year's resolution or 2020 goals? As your yogis reach their goals, reward them for that hard work! Rewards programs award your clients for certain actions, such as signing up for classes.
Did they reach 100 classes? What about 200 this year? Successes like that certainly can't go unnoticed. Reward them with free merchandise, discounted classes or membership fees, or other cool prizes. The choice is yours!
While a rewards program will help your yoga students succeed, it will also help your studio thrive! As they reached their goal, they've remained a loyal and committed customer to your yoga studio. The more classes they take at your studio, this increases the time and money they spend with you. You've given them value, but you also encouraged them with their goal. Your students will remember that, and continue to be loyal.
Does managing a rewards program sound complicated? Leave all the dirty work to us. A yoga studio software system like WellnessLiving can help you!
YOU'RE IN IT TOGETHER…
Go into the New Year with 20-20 vision! With a yoga studio owner as dedicated as you, your students will definitely keep their New Year's resolution. That's great news for you because it means they've become a loyal customer at your yoga studio!
What's your New Year's resolution? Is it to grow your business? Your students don't do it alone, and you shouldn't have to either. At WellnessLiving, we offer an all-in-one yoga studio software that takes care of day-to-day operations. Your students will love the convenience of booking a class or leaving a review right from their phone! At the same time, you will love how easy it is to manage staff, track your rewards program, and market your business with your new yoga studio software.
Your students are taking their yoga practice to the next level. Isn't it time you take your yoga studio software to the next level as well? Book a free, no-commitment demo today!