Oct 06 2018, 10:00 AM
Yoga Studio Merchandising: Organize Your Fall Inventory & Boost Sales
Whether you run an established yoga or Pilates studio getting ready for Small Business Saturday (to be held on November 24th this year), or a brand new studio looking to kick things off with a bang during this high-traffic shopping season and beyond it, then this guide to yoga studio merchandising is for you.
As a business owner, you must know that there are some businesses that are thriving and some that are barely surviving, all within the same industry. But what makes the difference? What makes one business a roaring success while the other is running on a hope and a prayer?
Know your customer
Following a business model, and knowing what strategies to take, in your studio, its retail space, with your inventory, and even with what technology you use when engaging in sales transactions of any kind is what makes the difference. And there is a reason for that: when a customer walks into a store, it's incredibly important that you pull out all the stops to ensure that they find what they were looking for or what they didn't know they were looking for, and that their experience shopping your retail space keeps them coming back for more. That's why, when you engage in retail sales, it is important to know what kinds of customers are coming into your store (on and offline).
So, let's break it down, shall we? There are five kinds of customers that may do business with you:
The potential customer
The new customer
The impulse buyer
The discount shopper
The loyal customer
As the names suggest, the potential customer you must woo; the new customer you should keep wooing; the impulse buyer doesn't need much convincing – but woo them anyway; the discount shopper only wants to make a deal; and the loyal customer is already in your corner because you've done your job (but, of course, continue to woo them anyway).
You have to know that aside from saying hello and asking a customer if they need any help in your studio, you must help them before they even get there. Buying an item or service can be an emotional experience – whether the customer is buying that item or service for themselves or for a loved one – so do all that you can to make their shopping experience something that they'll be talking to their friends about for weeks to come.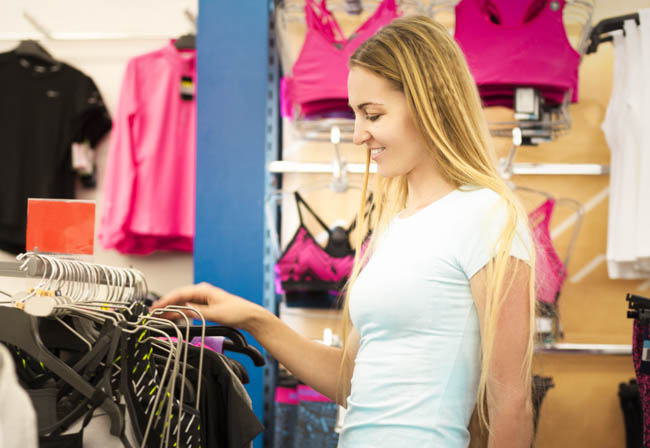 Effective Yoga Studio Merchandising: Make Your Studio a Retail Success Story
Today, consumers are loving yoga and its accessories now more than ever: 36 million people practice yoga in America, and it is believed that more than 300 million people practice yoga all over the world. Between 2012 and 2016 the number of people practicing yoga increased by 50%, and approximately one in three Americans have tried yoga at least once. If those numbers weren't enough to assure you that there is a market for yoga and retail sales of yoga products that is wide open, consider this: Americans spend approximately $16 billion on yoga classes, yoga clothing, yoga equipment, and yoga accessories each year.
If you're reading this, and you're thinking of turning part of your studio into a retail space, because now you know for sure how lucrative it could be, then you need to be present in the twenty-first century on and offline. Today, having a retail space that is in studio and online is good for business: having an online store means that people can shop your offerings at all hours of the day or night, and it also mean that you make money beyond your store hours. At the same time, having a physical retail space allows you to build a personal connection with those shoppers who would rather touch and scrutinize items in person before making a purchase.
Having a physical retail space allows you to build a personal connection with those shoppers who would rather touch and scrutinize items in person before making a purchase.
Now that you know you want to turn part of your studio into a retail space and setting up your online store, let's take it one step further and talk about how you can go about making your studio as easy to shop as it can be.
The first thing to consider is the stats: in most cases, retail sales account for a small take of most yoga businesses – only 10 to 20 % of total sales at studios who sell items to customers. But if you want to see the high end of that percentage or become part of the percentile that sees a dramatic growth in their retail sales, there are steps that you can take to do that. Those steps include taking on a more methodical and organized approach to retail sales – in how you buy, organize, and sell inventory, and it involves becoming more dedicated to thinking of the customer and what it's going to take to turn them into a regular.
So, to dive a little bit deeper into what to do if you're about to get your studio's feet wet in the world of retail sales, or if you're overhauling your retail space offering to rake in more of a return on investment, there are steps you must take to ensure that you are successful.
Setting up Retail Space in Your Studio
Start simply
If you don't know whether this retail endeavor is going to last, then it is very important that you keep your offering simple and stripped down to the basics. Offering yoga mats, blocks, straps, towels, and water bottles, all items that are necessary for a yoga or Pilates class – and fitting too because a lot of people prefer to use their own equipment rather than borrow from a studio – would be very convenient for your studio's patrons.
Consider your brand
If you think that this retail space offering is going to stick, then you ought to consider offering t-shirts and sweatpants or leggings with your studio's logos on it. You'd be surprised how into the idea of wearing your brand around town and to your studio your patrons will be, especially if you're offering a unique and welcoming environment to get a good workout.
Don't be afraid to stand out
Offer products that make sense for your studio but are unexpected. If your patrons can find a yoga mat for cheaper on Amazon, then they're not going to buy them from you unless your mat is truly something special! So, make your inventory stand out: today, people want products that are environmentally friendly, safe, cutting-edge and clean. Why not sell soy candles that source natural essential oils or yoga mats that are made of recycled materials, recycled denim pants or organic cotton t-shirts and workout pants.
Optimize your location & space
The inside of your retail space should be easily reached from outside, and from within your studio's workout space, and your patrons – new and old – should be able to walk around your displays and tables easily, so make sure that you don't display too many items on your sales floor. There's an old sales trick reason for that: if you have too many of the same item in the store, only a few people will have the compulsion to buy it. However, if you have a small handful of that same item, people feel like it's a 'hot' commodity that they must have and they're more likely to snap it up quickly. Again, shopping is an emotional and sensory experience, and people must feel compelled to make a purchase at your retail space over anyone else's.
Presentation is key
Clearly labeled items ensure that your customer can read the packaging and understand the items that you're offering at your studio. When items are easy to read and understand, then your customers will be more compelled to take that next step and purchase your merchandise.
Remember, you spent time curating your store, picking items that you felt would best fit your studio's offering and its message. Now, it's time to ensure that you or your supplier labels those items for sale very neatly, ensuring that all the labels are facing the customer when they walk around your studio and over to where your inventory is being sold. Make use of all the effort that goes into the packaging and design of the items that your studio is now selling in your store!
When items are easy to read and understand, then your customers will be more compelled to take that next step and purchase your merchandise.
In addition to labeling your items clearly and ensuring that the labels are crisp and customer-facing, organizing your store so that like items and like colors are grouped together, will allow visitors at your studio to shop your products in a way that is the most visually pleasing to the eyes and to their sense of time. When your inventory is out of order – with blues matched up with reds and purples, or green items with orange – your customer might feel overwhelmed and unsure of where to go and what to do in your store. If they're coming in while in a rush, the chances are they'll leave empty-handed because you failed to make the experience easy for them.
Consider color
If you want to take it one step further, consider buying inventory with a color theme in mind: if your studio's logo or décor utilizes a baby blue, then buy yoga mats, t-shirts and yoga leggings of that color and place them strategically within your yoga studio retail space.
However, if you prefer to offer your clientele a variety of colors, ensure that each color is spread out with similar colors alongside them so that your buyers will be able to gravitate towards whatever color they happen to be interested in. Consider grouping all red and pink products together or all navy and black items together. It's important to make a clear distinction between colors so that customers can easily see what colors you have and where to find them. Another bonus that comes with keeping your studio's inventory organized in this way is cleanup: think of how much easier it will be to keep your store neat and keep track of your inventory when like colors and like items are placed together!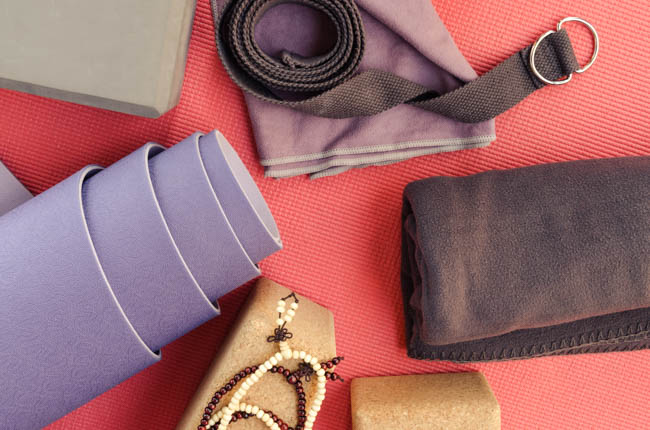 Display your merchandise thoughtfully
Another thing to consider, when finding a home for your inventory within the retail space of your studio, is how high or low you're hanging your inventory. In retail, we know that products sell the quickest when they're at the customer's eye level.
So, if you really want something to sell, don't make the mistake of placing it so high up that a customer needs to ask for help to reach it! Being able to take an item off a table or a rack and inspect it for themselves – without any help from an associate – can truly make a difference in your clientele's shopping experience.
If you notice that items in your store aren't selling, take into account where and how they're displayed before assuming the items themselves aren't of interest to your shoppers. If they're positioned high on a wall or in the far corner of your retail space, consider moving those items closer to the front entrance of your store, at eye level of course, and be amazed at the difference it will make.
Price your inventory properly
This wouldn't be a complete article without talking about how to price your sales items in store: when thinking of how to price your inventory, you don't want to price your sales items too low, but you don't want to price those items too high either. You want to make money that is steady and reliable.
If items are too highly priced, your clientele might not be able to afford them. Consider the average incomes and current yoga spending of your regular clients when selecting items to sell in your studio.
Here's the standard: mark the cost of the inventory you purchased up to 2.1 to 2.3 times the wholesale price.  However, if you are lucky enough to get items at a lower price by buying in bulk, then you can keep the retail price higher, increasing your profit by a good amount if you make a sale.
But it all depends on what you're selling, which is why it's important to remember that for a yoga studio, it's best to stick to selling yoga and yoga-friendly accessories that you patrons will come to expect in your retail space.
Perfect your point-of-sale
Make sure your register is located near your retail space and well-equipped to handle the added traffic your retail space will bring. Choosing the right software to manage your sales is vital. If your studio uses an all-in-one software solution like WellnessLiving, you don't need pay extra for point-of-sale software. You can sell products online and in-studio using the same simple platform as you use for scheduling, marketing, and everything else!
If your studio uses an all-in-one software solution like WellnessLiving, you don't need to pay extra for point-of-sale software.
These days, not everyone carries cash, so customers will be much more likely to make purchases at your studio if they can pay by credit card. WellnessLiving partners with merchant processors with low rates, giving business owners like you the ability to process credit cards at rates as low as 1.49% (which is 20% less than most point-of-sale systems). You choose which credit cards you'd like to accept and offer green proof of payment with the choice to email point-of-sale transactions to the patron rather than handing them paper.
Not only can you use WellnessLiving to sell products, you can use it to optimize your yoga sales. Easily set up monthly recurring billing and automatic withdrawals for your memberships or import credit card information from your old software.
Set up Your Online Store Quickly and Easily
With WellnessLiving, your online store is easy to set up and even easier for clients to navigate. In addition to selling any or all of your inventory online, you'll sell more yoga classes and memberships with digital payment options.
In addition to selling any or all of your inventory online, you'll sell more yoga classes and memberships with digital payment options.
Don't wait for prospective clients to find the time to come into your studio; lock them in as soon as their interested. WellnessLiving offers easy online store widgets for your website and your Facebook Business page! You can even give your clients the option of booking directly from Google Search or Google Maps results, encouraging immediate lead conversion.
The All-in-One Solution for Yoga Studio Owners
Overall, preparing your retail space and your customers for fall sales is not something that you can do overnight: it takes time, the dedication of your entire team of staff, a lot of preliminary work, and a willingness to be open to growth and bettering your studio's take in today's expansive yoga and Pilates industry.
If you're looking to take your business to the next level, on and offline, then you need WellnessLiving's all-in-one management solution because it makes the process a heck of a lot easier for you – whether you're just starting out or whether you're an established business looking to reach new heights.