Posted on: 11 Nov, 2019
Categories:
Ever heard of an exciting thing called Reserve with Google? This precious tool will help you scale your business and take your venture to the next level!
Reserve with Google allows your customers to instantly book appointments and classes at your facility, through Google Search, Google Maps, or the Reserve with Google website. Nowadays, potential clients look online when they want to explore new locations and services, so having this handy feature will give you a leg up on your competition. Reserve with Google will make you stand out in your industry, as existing and prospective clients have the added advantage of conveniently booking a session directly through Google without having to waste time calling or going to a secondary website.
In order for this to work however, you must have a Google My Business Listing. You've probably seen this before. It's that large box that appears on the right side of the Google Search web-page which highlights a particular brand, and contains the name of the business, location, photos, schedule, and working hours. With Google My Business, you are in control of how your business is seen in the digital space. The best part is that it's completely free. So, if you haven't already created your listing, do it as soon as possible!
The Benefits of Reserve with Google
There are several benefits to having a Google my Business Listing and to using Reserve with Google. Discover how these two functionalities can catapult your business!
1. Generate more leads
With Reserve with Google, all eyes will be on your brand! Generate more leads than ever before with this powerful option.
The internet is an ocean of information that we often look to when we need answers. No matter what our question may be, Google is there to help us! Whether we are browsing new locations close to where we live with Google Maps or the best place to get fit with Google Search, the answer is always there when we need it. Because the web is overflowing with information, you want to make sure that your business is not lost among a sea of competitors in your industry. With Reserve with Google, you won't have to worry about this ever again. The next time someone in your neighborhood is searching for a service you provide, you can be sure that your business will stand out.
This allows you to attract more clients and increase your customer base because now, your business's information is posted on the web for all to see! This gives your organization immense exposure. More customers will be attracted to your facility because you've also just made booking a breeze! By simplifying the process of scheduling an appointment or class for the public, you are providing them with convenience and ease.
2. Build brand recognition
Another way you can benefit from this incredible tool, is that it'll help you build brand recognition. Nothing will popularize your venture like this can!
Having a Google my Business listing is a great opportunity to highlight your business. By appearing on sites like Google Search and Google Maps, your brand will soon become a household name! Make sure your business looks its best by adding all the necessary information in your Google listing, including photos of your facility. Google data shows organizations with proper images on their listing have 35% more visits to their website.
There are three types of photos you should capitalize on when creating your listing. The first and possibly most important, is your cover photo. This is the first image that people see when they find your business on Google. The second is your profile photo. This is the image which appears when you are posting a photo or responding to a review. The final type is a video. This is one of the most exciting options because you can give the public an insight into your facility that's more up close and personal. Take your audience on a tour or give them a peek into a company event to make your brand more relatable!
3. Keep the public up to date
Your Google My Business Listing is an asset to your company, because it provides the public with all the information they need about your business. From your opening hours to your facility's busiest times, always keep your audience up to date.
When you're creating your listing, make sure to fill out all the information under the category marked info. After writing your business's name and address, include your operating hours, contact information, and a link to your website. This can also be updated to inform the public that you're closed on a holiday or opening early for an event. With a Google listing, prospective clients can also see the busiest times at your facility so they can plan their visit accordingly.
Another great feature which you should capitalize on is the Events section. Here, you can let the public know about any events you may be hosting, in addition to the date and time that they will take place. This will pique the public's interest and entice them to visit your facility!
4. Give you credibility
Want to build your credibility? A Google listing will do just that, as it will make your brand more trustworthy.
Any reviews that the public write on Google my Business will appear in your listing, in addition to an overall rating. In this way, people can find out more about what others think and what your reputation is in the industry. The most important thing to keep in mind here, is to always respond to reviews. Show the public that you care about your clients' feedback, even if it's negative, and that you always acknowledge all comments.
There is also another section known as Questions and Answers. Here, the public can ask a question about your business and you can answer! The more your audience sees that you are active online, the more credibility you'll build in your brand.
5. Help you manage your business
Reserve with Google will always keep you on top of your business. With this handy tool on your side, you'll be able to manage your facility better than ever before!
As we previously mentioned, prospective and existing clients can book their next visit online, completely hassle free. The beauty of this feature is that all bookings made through Google, immediately sync to your facility's schedule! Now you won't ever have to worry about not answering your phone fast enough, as you are providing your clients with the convenience of booking themselves.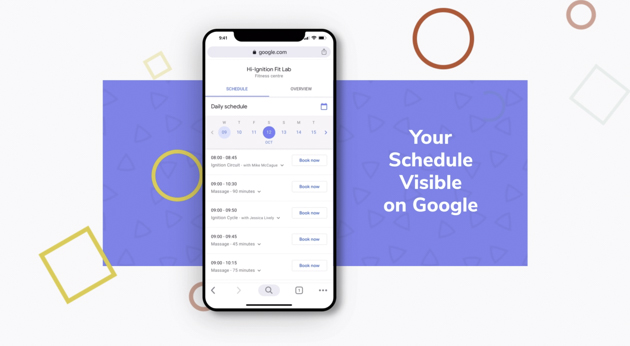 Your Guide to Using Reserve with Google
Now that you know all the benefits of using this incredible feature, let's dive into how to implement it. Start reaping the benefits today!
1. Find your partner
The first thing you must do to enjoy this functionality is join forces with a software company that's integrated with it. Look no further, because WellnessLiving has got you covered!
WellnessLiving is one of the few fitness software companies that have partnered with Google to bring you this useful tool. We are an all-in-one fitness management solution which will not only help boost your venture but will be there to offer a helping hand whenever you need one. We're in the business of making entrepreneurs like yourself successful, and we're passionate about taking you to the next level.
In addition to our integration with Google, we can streamline your business so you can focus on your clients. With our user-friendly scheduling, for example, you can easily book and cancel classes and make staff substitutions when necessary. We also make payments simple as we provide credit card processing and several point of sale hardware options to choose from. WellnessLiving even has mobile staff and client apps to help you stay in control and engage your customers.
This is just the tip of the iceberg! Read on to discover how you can join the WellnessLiving family.
2. Set it up
Once you've found your partner, you can enable Reserve with Google. Let WellnessLiving be your guide!
With our software, simply go into your app drawer and select Promote. Turn the Reserve with Google option on and you're good to go! If your business has multiple locations, you can choose which locations you'd like to enable this easily accessible feature. If you ever want to turn off this integration, simply switch it to off. It's really that simple!
There are certain requirements that you must be aware of for this feature to work. First, you must have all the dates and times of your sessions online in addition to a price or purchase option. Second, you must have spots available in that particular class and your online booking option must be enabled. Also, make sure there are no booking restrictions or prerequisites set so people don't run into any issues while reserving their spot.
In the End…
Reserve with Google and Google my Business are vital elements which you must take advantage of to truly make your venture successful. Not only will it help you build brand recognition and attract more clients, but it'll provide your customers with a better user experience.
WellnessLiving wants to partner with you! We love helping business owners achieve all their business goals, and with our software the sky's the limit! Take your business to the next level with us and sign up for a free, no -demo today and explore the possibilities