Posted on: 05 Jun, 2019
Categories: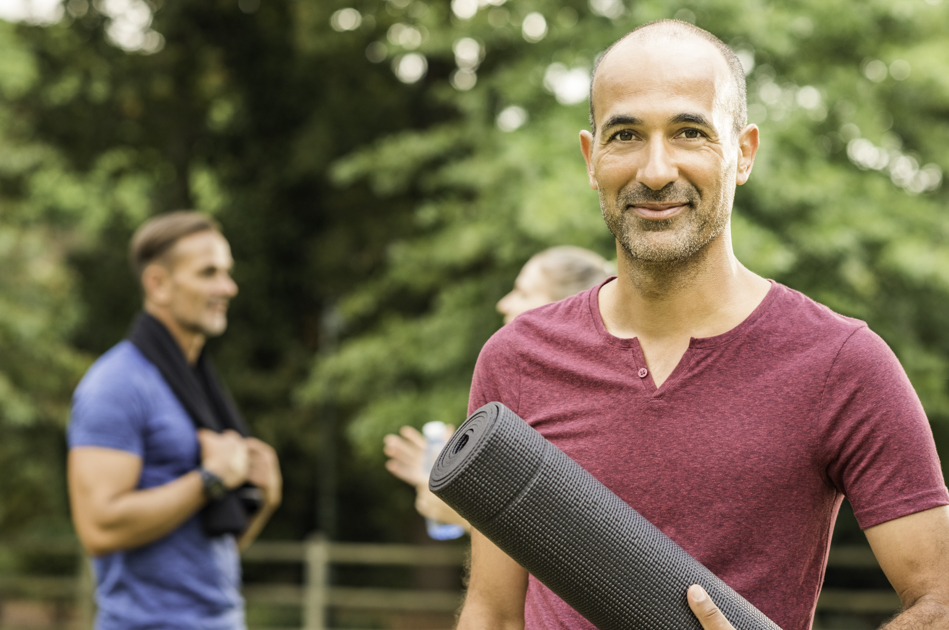 Looking to add yoga classes for men to your studio's roster? Wondering how to better reach the male market, broaden your appeal and offer something for everyone? Well, you've come to the right place!
Yoga for men is a largely untapped market, offering a great opportunity to expand your business, with the right approach. Why does it seem so tricky to capture the interest of such a large market?
There are several possibilities, but we think it comes down to one limiting belief. You've probably heard the old wives' tale that yoga is only for women, but why would a practice with such amazing benefits for the mind and the body only benefit half of the human population? That can't be right!
And in fact, it isn't.
All of the health benefits that women enjoy while practicing yoga also exist for men! Stress relief, increased flexibility, better core strength, improved balance: all advantages of practicing yoga, whether the student is young or old, new or experienced, male or female.
But how do you fight this stereotype and increase the male presence at your studio? The secret is great marketing!
To help you get started, we've put together a list of 6 ways you can make the most of your marketing strategy and fill up your yoga classes for men for good:
1. Target Your Audience
It might seem obvious that in order to attract male attention to your studio that you should target men in your advertising, but that isn't always a simple task.
How many times have you seen entire ad campaigns that don't seem to include "someone like you?" People are motivated to buy or participate when they feel connected to the campaign.
You can apply the very same principle with marketing yoga classes for men. In order to have men identify with your marketing, be sure to include visuals of men practicing yoga in your marketing material.
From your website to signage, all aspects of your marketing should include a mention and a visual of yoga classes for men.
Just getting started? Ask your current male students to participate in a photo shoot or invest in some stock photos—to gain a portfolio of images and videos you can use for marketing. The key here is to use those visuals to get men interested in learning more about yoga classes for men.
2. Social Media Marketing
In today's technology-filled society, most of us are consuming content through our social media channels. Traditional marketing is still important of course, but don't underestimate the power of these platforms!
How can you get social media marketing to work to your advantage? Offering content that appeals to men is the best way to reach them and get them engaged!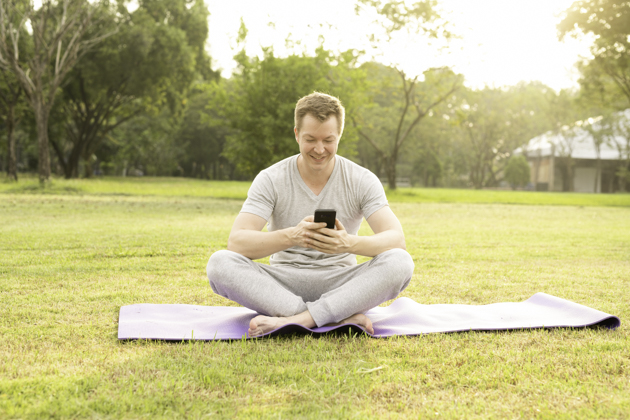 Posting blogs and social content from the male point of view is a sure way to reach your target audience. Don't have a male on staff? Reach out to a colleague, industry professional or one of your male students for help.
And don't forget to get social yourself! Sharing, commenting and engaging with men who are posting about yoga is a great way to get a conversation started about the importance of yoga classes for men. It's also a fantastic way to market your studio to a captive and engaged audience.
3. Focus on Credibility
Establishing yourself as an expert is another way to spark interest in your studio. This is also a great way to stand out from your competition in the competitive yoga industry.
In order to be seen as the expert, you need to teach your audience.
If you provide information that's interesting and offers value, your readers will come to rely on your advice! So when you cover a topic like the health benefits of men's yoga, your established credibility will take your content from a suggestion to expert advice.
So how do you establish that credibility?
Here are 3 suggestions on how to develop a reputation for being an authority in your field:
Do your research! Source, share, or write articles and blogs focusing on health benefits of yoga classes for men like: better sleep, improved mobility, better productivity at work. Relevant and informative content will go a long way in building your credibility.
Another way to gain street cred is by talking about the benefits of yoga for men with athletes. Typically, athletes are interested in all things health, including tips and tricks to help increase performance. As an example, you might try offering to give free talks at running clinics to provide a link between yoga and running. Or you could join the warm up for your local soccer team and demonstrate some great stretches for soccer players. You might even consider doing a 'lunch and learn' presentation in your studio and invite men to attend.
Approach you male students! Consider asking them for testimonials to post on your website or on social media. Referrals are another quick way to build up the reputation you're looking for.
These approaches target the male athlete demographic—exactly the student you're are trying to get into your studio. Focus on building trust and credibility and your yoga classes for men will be full before you know it!
4. Attract Attention
OK, if you've followed our steps so far, you've targeted men in your marketing strategy and established yourself as an expert in your field. Students care about what you have to say, so now it's time to start actively trying to attract men to your studio.
How do you get them interested in yoga classes for men? Well, first they have to try it!
Start with a strategy for getting them into your studio and build from there.
Have you ever thought of hosting couples' classes? Market to your existing students and see whether they would be interested in bringing their partners to a class. A new male visitor might feel more comfortable attending with someone who's familiar with your studio.
Or, you could offer a free class for men to try. Contrary to the above, some men might be more comfortable in a room full of beginners. Like anyone trying something new, most of us are hesitant to jump right in, so offering the opportunity to try out a class for free might just be enticing enough to get them to come in.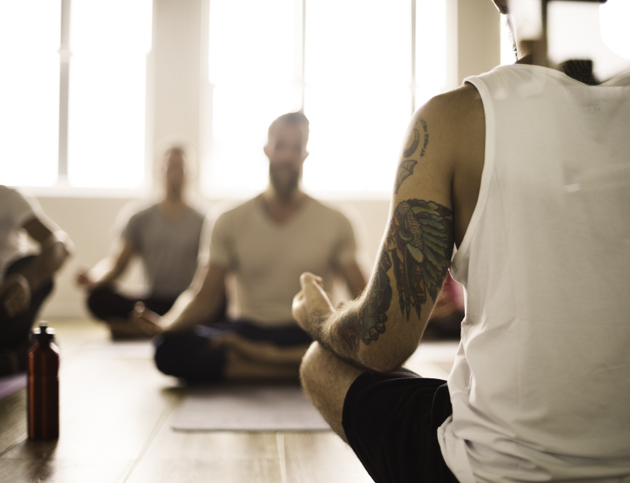 Attracting male yoga students can be a challenge at first, but give these a try and stick with what works. Once they try out a class, getting them back each time will become easier and easier!
5. Make Friends in business
Have you ever considered cross-marketing? You might get more men interested in your studio if you partner with another business frequented by men.
Reach out to a local basketball club, gym or group of cyclists and see whether they might be interested in partnering with you. This could look like a talk at their weekly meeting, a class discount offered to their members, sharing each other's social content, or maybe just your marketing materials in each other's waiting areas.
Whatever it looks like to you, find places that are frequented by health-enthusiasts and leverage their clients.
As an added bonus, when you partner with a business men already trust, you skip the step of having to establish your own credibility.
6. Merchandise for Men
So you've increased male attendance, but how do you keep them coming back? Besides offering fantastic yoga classes for men and providing excellent service, you might also consider carrying merchandise that men would be interested in buying.
Let's talk about your merchandise. Is it directed primarily to women? Are you selling anything that would encourage men to buy? If your retail space is filled with flowery yoga mats and women's jewelry, that's great! All you need to do is add a few items geared towards your male audience and you're good to go.
Does the hoodie you're selling for women come in men's sizes? Is your yoga mat offered in multiple prints? Could you offer gender neutral items like socks and accessories? These are all ways that you might be able to increase revenue and keep the interest of your male students piqued.
But what about classes?
Now, selling does not only mean merchandise! Have you thought about hosting a class or two dedicated to male-dominated sports? If this concept sounds crazy to you, hear us out…
How about offering a stretching and recovery class for hockey players? Or a yoga class for golfers? Capitalize on their interest for another sport and introduce them to the benefits of proper stretching and mindfulness.
Taking a seasonal, sporty approach to attract men to your studio might just be a way to get a leg up on your competition and keep the male population at your studio growing.
The Final Word
The secret to marketing your yoga studio for men lies in knowing your market, getting them to visit, and keeping their interest. If you follow the steps we've laid out, you'll reach your goals and increase your male students in no time.
In a world where harmony is key, your work-life balance should be no different! While you're filling up your yoga classes for men, why not let us do the rest? At WellnessLiving, we offer an all-in-one business management solution to help you take care of all the nitty-gritty details of running a business, letting you focus on the big picture. Book a free, no-commitment demo with WellnessLiving today and find out why we are trusted by wellness business worldwide to help them manage their work-load and grow their ventures.