Jun 23 2021, 3:00 AM
8 Books Entrepreneurs Need to Read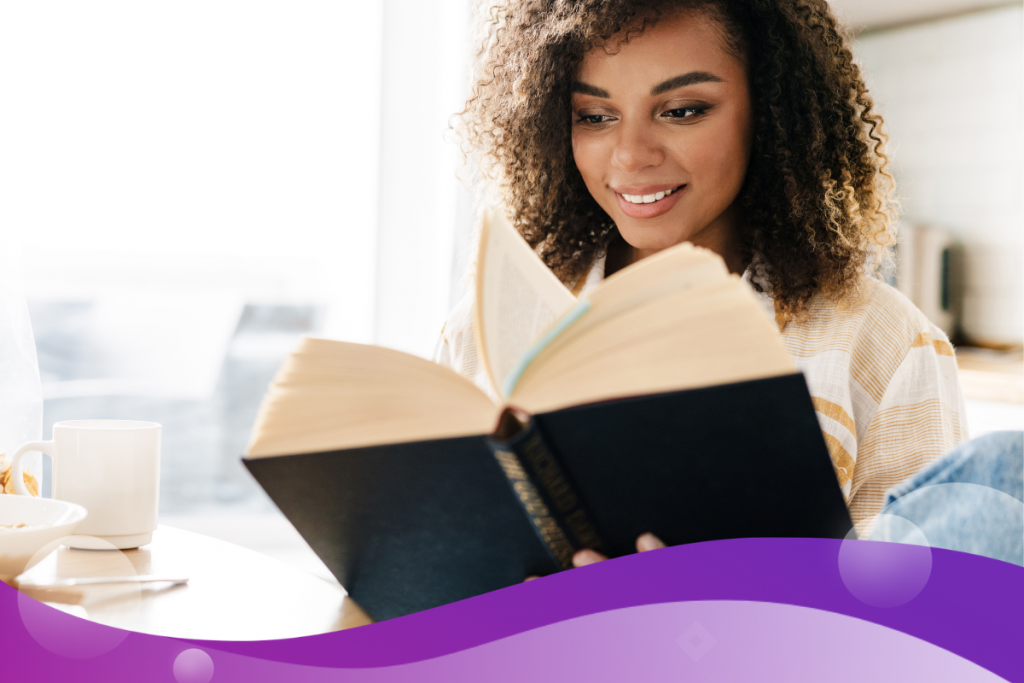 What is the secret for any successful business owner? They read—it's one of their favorite habits and they do it a lot.
Books help entrepreneurs succeed in so many amazing ways. They help you gain insight, develop new skills, learn business tips and strategies, and introduce you to different perspectives from successful entrepreneurs who have done it before.
However, according to Pew Research Center, the average American reads just an average of four books each year. Surprisingly, 25% of those surveyed hadn't read a book at all during the year. Also, someone with an advanced degree reads an average of 17 books every year.
To put those results into perspective:
Bill Gates—the co-founder of Microsoft Corporation, software developer, author, and philanthropist—reads 50 books a year.
Warren Buffet—considered one of the most successful investors in the world—read up to 1,000 pages each day when he first began his career.
When asked how he learned to build rockets, Elon Musk—a serial entrepreneur and CEO of Tesla and SpaceX—simply replied, "I read books."
There's no question that reading is a great tool for personal and business development. We asked our WellnessLiving family to tell us what book has taught them the most as an entrepreneur. Let's find out each of their top book recommendations…
Straight-Line Leadership: Tools for Living with Velocity and Power in Turbulent Times
– By Dusan Djukich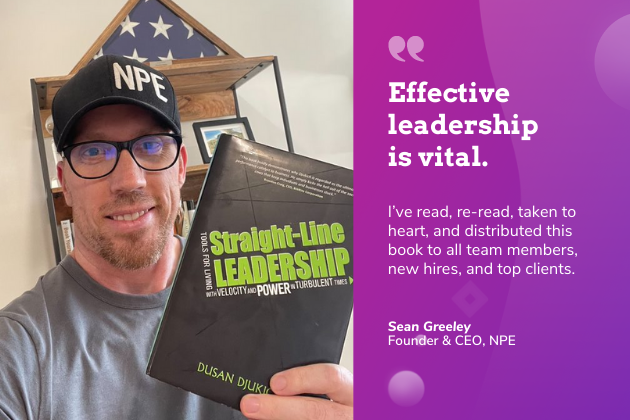 Recommended by: Sean Greeley, the founder and CEO of NPE—the leading fitness business coaching company
Here is why Sean loves this book:
Successful fitness business owners are extremely effective at solving problems. They solve their own problems, they help clients solve problems, and they help their teams solve problems as well.
Resolving the issues in front of you is what creates forward momentum and allows you to accomplish your objectives in your business. That's why effective leadership is vital for performance in the gym and in growing your client base and income.
This is a book I've read, re-read, taken to heart, and distributed to all team members, new hires, and top clients at NPE. It's loaded with rich distinctions that increase performance. Here are some examples:
Do you recognize when you are coming from a disempowering inner stance, such as worrying, blaming others, "trying," or "content with insight"?
Do you shift to empowering stances, such as commitment, authenticity, growth choices, and functioning with integrity?
Do you have a problem versus a decision to make? If you don't know the cause of a deviation from the normal, you have a problem. That's not what happens to most people. They are well aware of the cause. So they just have a decision to make, which is to do something about it. That is acting with integrity.
Do you have a dream or a project? Dreams are unstable. They need to be discarded or turned into a project. "Wishful dabbling" will never get you results. "To stay stuck in the dream with no action is to miss the boat on a productive, fulfilled life."
The book has a lot of great stuff. Read a chapter a day and re-read often! Every time I pick up this book, I find something new and valuable I can use right away.
Read Now: Straight-Line Leadership: Tools for Living with Velocity and Power in Turbulent Times
How to Become a Rainmaker: The Rules for Getting and Keeping Customers and Clients
– By Jeffrey J. Fox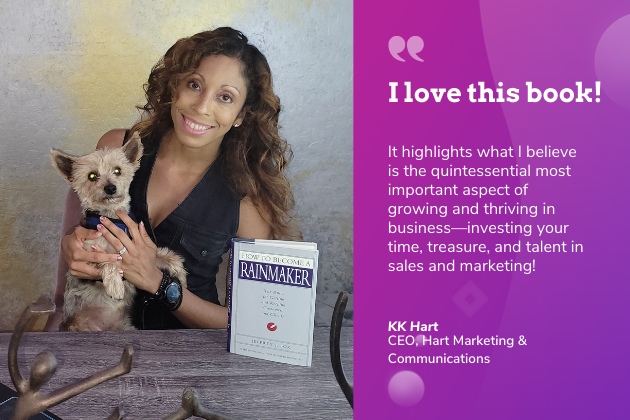 Recommended by: KK Hart, the owner and operator of several wellness businesses and the CEO of Hart Marketing & Communications—a boutique sales and marketing agency specializing in health, fitness, beauty, wellness, and small business industries
What does KK love about How to Become a Rainmaker?
I love this book because it highlights what I believe is the quintessential most important aspect of growing and thriving in business—investing your time, treasure, and talent in sales and marketing!
Becoming a rainmaker is all about turning into a great or better leader by rising above the competition through learning to be more customer-centric and sales savvy.
Sales and marketing often have a negative connotation in our industry, and yet it's the single greatest component of business success!
Becoming a rainmaker means you make it a priority to learn the KPIs of your business and improving those metrics through committing to the customer and their needs.
What have you learned from the book?
I've worked with many of the most admired and renowned businesses in our industry and in other industries that are comparable. The secret to their success is simple—they all heavily leverage their growth in brand utilization, sales strategy, and proven marketing tactics that help them scale and improve their bottom line more efficiently and effectively than their competitors. This is what I hope every wellness business owner can master as they look to reach and exceed their own goals!
How will entrepreneurs benefit from this book?
Landing and keeping clients is the important thing for fitness and wellness businesses, and often times business owners focus too many resources on improving their physical/technical knowledge for their service. They add more tools and technology and invest or expand their team well before improving their ability to attract and retain more clients. Attracting and retaining clients are equally important, but the ability to utilize all of the tactics in this book to improve customer acquisition and retention is paramount to the business's bottom line!
Read now: How to Become a Rainmaker: The Rules for Getting and Keeping Customers and Clients
The 22 Immutable Laws of Marketing: Violate Them at Your Own Risk!
– By Al Reis and Jack Trout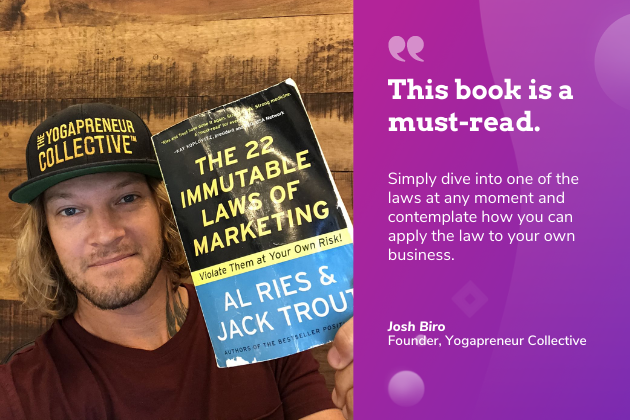 Recommended by: Josh Biro, the founder of The Yogapreneur Collective and head coach at Nomad Business Coaching
Josh believes this book is a must-read for any business owner for three reasons:
1. It's super simple and easy to read.
Modern business and marketing books are often too technical for no reason. The book uses a simple formula with 22 laws, which makes it easy to digest. With so much value packed in this book, it's a good idea to read it one chapter at a time to ensure you can absorb and retain as much information as possible.
2. It lets you gain a larger perspective.
Although the book is a bit dated (originally released in 1994), most of the laws presented in the book still hold true today. It does a particularly good job of allowing you to break down your marketing and business into bite-sized pieces in each law. This then allows you to gain a larger perspective of how the whole thing actually fits together.
3. There's plenty of inspiration.
The way the laws are presented allows you to simply dive into one of them at any moment. You can then contemplate how you can apply the law to your own business. This is very helpful for inspiration on where you should put your efforts in your business next.
Read now: The 22 Immutable Laws of Marketing: Violate Them at Your Own Risk!
Leadershift: The 11 Essential Changes Every Leader Must Embrace
– By John Maxwell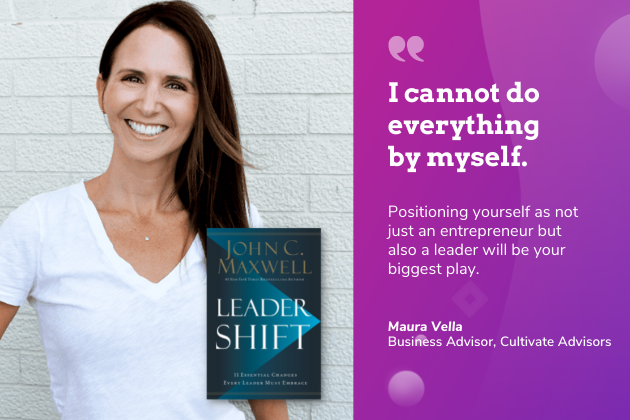 Recommended by: Maura Vella, a small business advisor at Cultivate Advisors and the co-owner of 105F Hot Yoga & Pilates studios
What does Leadershift mean to Maura?
Leadershift is a book on how we, as entrepreneurs, will need to shift our mindset in order to grow our business. If becoming a solopreneur is your main motivation and goal within your business, then this book might not be for you. But, if you know that you either want to create a more robust financial engine, or you want more time and freedom in your life, or perhaps you want to gain the satisfaction that you're affecting your team members to live their absolute best lives as well, then positioning yourself as not just an entrepreneur but also a leader will be your biggest play. This book can help you identify those shifts that you can exercise to help get you on your way.
This book has helped me realize that I cannot do everything by myself, even when I think I can do it faster and better than anyone else. When I realized how valuable it is to slow down and take the time to develop my team members, I started to feel lighter and easier in all areas of my life. Not only that, but I also soon realized that I'm not the best at everything. In fact, I began to notice that they could do many of the areas of my business much better than I could, and they enjoyed even greater satisfaction within their work.
Read now: Leadershift: The 11 Essential Changes Every Leader Must Embrace
The E-Myth – Why Most Small Businesses Don't Work & What to Do About It
– By Michael E. Gerber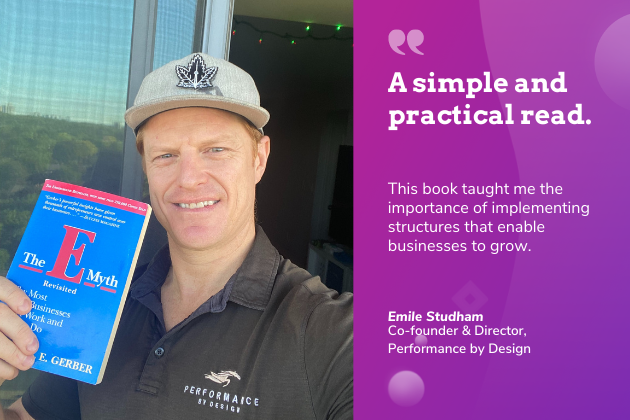 Recommended by: Emile Studham, the co-founder and director at Performance by Design (PBD), a management consulting company that empowers leaders and builds sustainable, high-performing business cultures
What is The E-Myth according to Emile?
The E-Myth (Entrepreneurial Myth) is based on the myth that those that are exceptional practitioners of a particular skill (e.g., personal trainer) will also be exceptional at building a business around their exceptional skill. It helps you to understand that being a great player doesn't equate to being a great leader/business builder. They are in fact, two very different things.
How has the book helped Emile?
I was a physical education teacher through my 20s and then, at age 30 started a business in Toronto, Ontario, Canada, teaching children in schools how to play Australian Rules Football, Netball, and Cricket. Originally The Aussie X (now X Movement – www.xmovement.com). As a strong practitioner (aka. 'Energizer') of running our programs, I soon realized the more I did, the less the business grew. The book taught me the importance of:
Implementing structures that enable the business to grow.
Creating an environment for others to perform.
How to get out of the way and let the team do their job.
Why do you think other entrepreneurs will also benefit from this book?
Now that I am a professional culture and performance consultant at Performance by Design, I work with many companies across an array of industries. I see daily how easy it is for corporate leaders to work their way into their business to effectively create a bottleneck situation, which, in fact, stunts the businesses growth and ability to scale effectively. In small business especially, the leader can end up sacrificing the rest of their life (family, quality time with their children, connection to friends and self, etc.) in order to manage their business. It doesn't (and shouldn't) have to be this way.
Upon reflection, this is why I chose to write the blog for WellnessLiving on the 'Player-Coach Syndrome' since it directly relates to this issue.
The E-Myth is a simple and practical read, and everything the business owner will learn from this book can be quickly applied for a significant impact on their business. And, the earlier they read this book in their journey, the better!
Read now: The E-Myth – Why Most Small Businesses Don't Work & What to Do About It
Crush It! Why NOW Is the Time to Cash In on Your Passion –
By Gary Vaynerchuk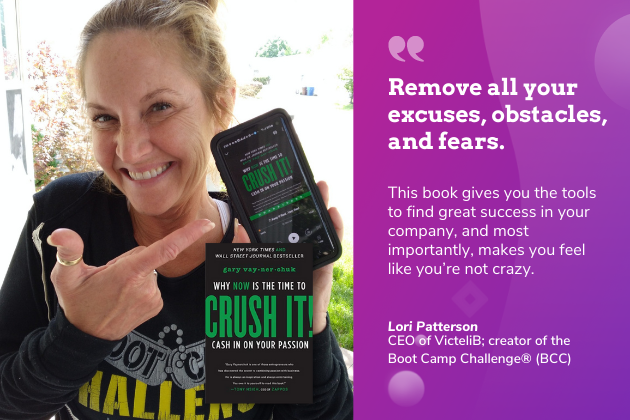 Recommended by: Lori Patterson, the CEO of VicteliB and creator of the nationwide, group personal training program, Boot Camp Challenge® (BCC)
How has Crush It! helped Lori in business?
Whether you're just starting a business or have been at it for decades, this business book is a must-read! Gary will remove all your excuses, obstacles, and fears. Then, he gives you the tools to find great success in your company, and most importantly, makes you feel like you're not crazy.
When I found this book back in 2009, I read it in one sitting (actually, I think I was on a plane 😊). It was the first book that resonated with me as an entrepreneur. I was an owner, founder, and a practitioner all wrapped into one, but there just weren't many of us out there doing it all. What I love about Gary is he was one of the first people to recommend that businesses view your business as a personal brand and media company. As a result, Gary made me feel comfortable with my business plan. He also teaches us to ignore the "no's".
Gary will come off as a motivational speaker, but he's not. He's just like you and me—a hustler, grinding it out, and sharing our gifts with the world.
Read now: Crush It! Why NOW Is the Time to Cash In on Your Passion
Atomic Habits: An Easy & Proven Way to Build Good Habits & Break Bad Ones
– By James Clear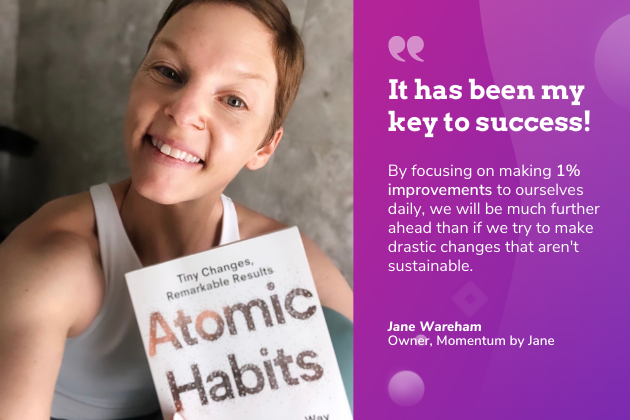 Recommended by: Jane Wareham, an empowered fitness trainer and owner of Momentum by Jane
Why does Jane recommend this book? For her it starts with this quote:
"Success is the product of daily habits—not once-in-a-lifetime transformations." — James Clear
What can you learn from the book according to Jane?
The book is a must-read for many reasons. For starters, it breaks down the importance of habits and allows you to learn whether your daily habits are working for or against you. Turning a new behavior into a habit can be challenging, but this book breaks it down into four laws:
Make it obvious.
Make it attractive.
Make it easy.
Make it appealing.
These four laws are fundamental to make something new in your life into an automatic action (habit). And it really works! The logic and common sense in this book make for a very enjoyable read. We can all relate to the examples in the book, and James Clear makes it simple to apply everything to your life.
This helped me to realize that the smaller the habit I'm attempting, the easier it is to automate it. What do I mean? I can now break down my goals into smaller habits that can be easily worked into my life without any big changes. I learned that the more I repeated this new habit, the more I proved to myself that it was possible. It has been my key to success!
I also use what I've learned in this book with my clients who struggle with their health and fitness. In almost every case, they're trying to change too much at once. So, I help them break their goal down into tiny, bite-sized habits that can be more easily incorporated into their daily routine. With a little patience and belief in the process, they start to see how adding this new habit into their life brings them closer to their health and fitness goals.
Why is this book great for entrepreneurs?
An important reminder to all entrepreneurs is that our daily habits determine our future. So, by focusing on making 1% improvements to ourselves daily, we will be much further ahead than if we try to make drastic changes that aren't sustainable. We are human, and no one is perfect. Some habits will take longer to master, and this is all a part of the process. You can be whoever you want to be—you simply need to start doing what that person would do.
Read now: Atomic Habits: An Easy & Proven Way to Build Good Habits & Break Bad Ones
Built to Sell: Creating a Business That Can Thrive Without You
– By John Warrillow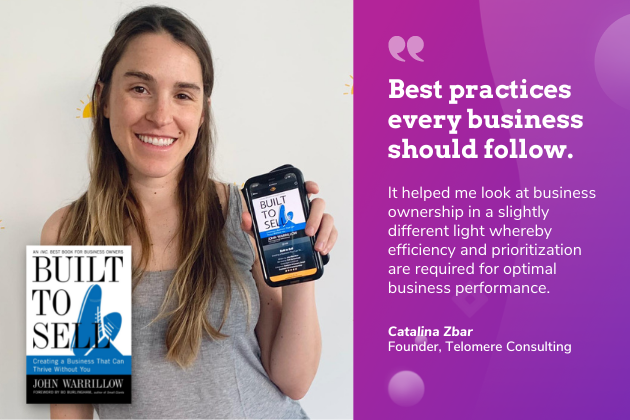 Recommended by: Catalina Zbar, a business consultant for fitness studios and founder of Telomere Consulting
Here is why Catalina recommends Built to Sell:
Built to Sell uses the story of a fictional small business owner named Alex who is struggling to sell his advertising agency. Alex turns to Ted, an entrepreneur and old family friend. Ted encourages Alex to pursue other avenues to make his business sellable.
It helped me look at business ownership in a slightly different light whereby efficiency and prioritization are required for optimal business performance. A business that's considered sellable is often stronger and more enjoyable to run in general. This makes this book a must-read for entrepreneurs, even those that have no intention of selling.
The messages that are woven throughout Alex's story are helpful reminders of best practices every business should follow:
Specialize.
Don't be afraid to say no.
Build a business with a predictable sales engine that can run without you.
Read now: Built to Sell: Creating a Business That Can Thrive Without You
Read, learn, and grow your business
When is the last time you got lost in a book? Reading is an invaluable skill for your toolbelt as a business owner. It's a great way to inspire and take your business to new heights. So, make time to read for a minimum of 30 minutes a day.
We hope you enjoy these book recommendations from our WellnessLiving family. We recommend you start with one of the books that call to you and try to read one per week.
How else can you grow your business? The right business management software can help. Our all-in-one software can automate your marketing, book services, collect payments, manage client reviews, and more. Book a free, no-commitment demo today to learn more.