Jul 23 2021, 9:00 AM
8 Key Elements of a Sales Pitch for Your Hybrid Fitness Business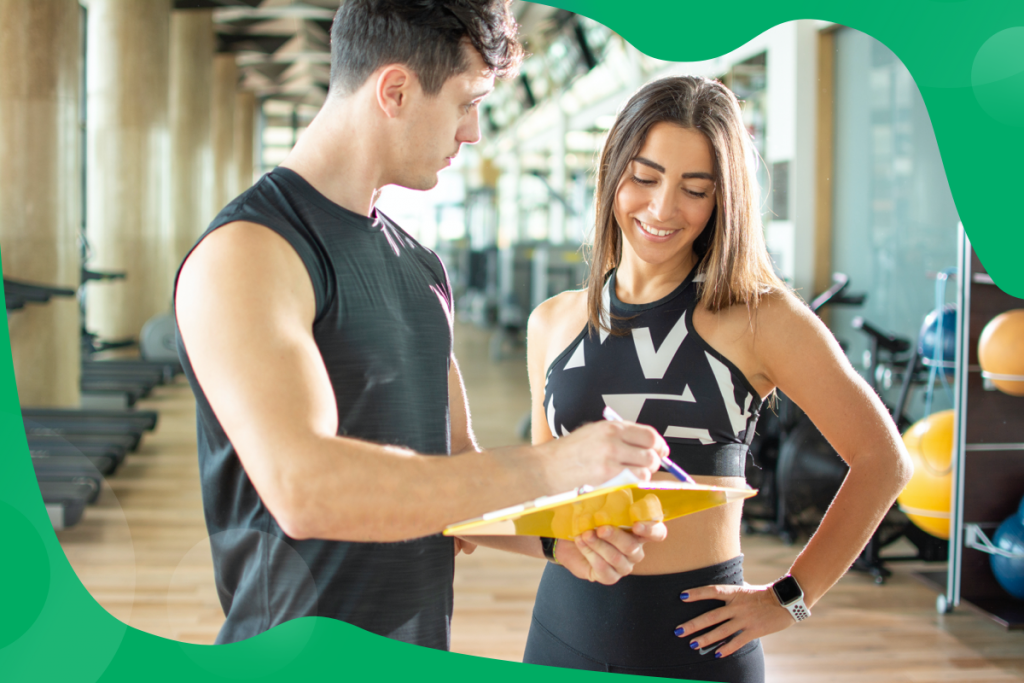 As the world changed in 2020, most gyms and fitness studios adapted by offering digital memberships to their clients. According to the latest trends, online fitness is up 134.7% in 2021 and the virtual fitness market as a whole is expected to climb at a compound annual growth rate of 30.1% until 2026. Consumers expect convenient and flexible fitness options with a hybrid business model—a combination of in-person and online services. You and your staff must be ready to meet that demand and close more hybrid memberships with a powerful and consistent sales pitch that speaks to every prospect.
Here, we'll break down everything you need to create a sales pitch that targets different clients, deals with your prospect's pain points, and gets more people to sign up for your hybrid memberships.
1. Create different client personas
What's the difference between a hybrid sales pitch and an in-person one? Simply put, you will need to create additional client personas for your business to consider when selling to prospects interested in both your virtual and in-person services—these are your hybrid members. While elements of each pitch will overlap, each persona focuses on the age, gender, occupation, motivations, goals, needs, fears, and expectations of your potential client. Here is how to separate in-person and online personas:
In-person personas include weightlifters, social butterflies, and fitness class fanatics.
Online personas on the other hand include members that work from home and prefer a quick online workout.
Each persona will overlap with busy professionals or moms who only have time for 30-minute workouts three times a week, and others committed to a daily routine.
2. Ask questions
When it comes to your sales pitch, the more questions you ask, the better. The questions are designed to help you learn about your prospect and find out their goals so you can suggest the right membership for them, whether that's livestreaming, on-demand classes, in-person workouts, or one-to-one training. For example, some clients may be only interested in your online services, while others will also want to participate in your in-person classes.
Have a set of questions prepared with some potential answers, so you know what to expect and can respond immediately. Here are a few examples:
Q: Why do you want to join our fitness studio? (I.e., what are their goals?)
A: Prospects may answer with a number of responses, including losing weight, getting in shape, reducing their risk of disease, or improving conditioning, strength, and flexibility. Maybe they are looking to get back into an exercise routine after some time off.
Q: What is your current fitness level?
A: Maybe they're a beginner with no experience or someone more advanced who has been working out at home, enjoys online workouts, but is looking to get back into a gym part-time.
Q: How much time do you plan to commit to your exercise routine? What does your weekly schedule look like?
A: These questions will help extract details about a person's life and will reveal how your business will fit into it. For instance, someone may say they want to commit to five sessions per week, but if they have a busy work schedule and a family, three sessions may be more realistic. To accommodate for that, this client can mix and match your online and in-person classes to best fit their busy schedule.
3. Promote value over price in the sales pitch
Consumers today want to make sure a business meets their standards before investing their time, but they're willing to pay for a service that adds value to their life by helping them achieve their goals. That's why your sales pitch should be about discovering your potential client's goals first (see element 2 above), then emphasizing how your fitness business can help them.
What can you do to ensure your client feels like signing up will help them meet their goals?
Keep them accountable with weekly check-ins or regular video chats.
Offer tools to help them track their body fat percentage, heart rate, blood pressure, and more.
Promote your social media community to add support for clients, letting them ask questions about fitness, health, or nutrition.
Provide members with e-books, workout templates, or resource guides to educate them on best practices or track their progress.
Remember, don't talk price until they feel good about how you can help them reach their goals. After all, they aren't buying a service; they're buying what that service represents, whether that's losing 20 pounds before a vacation or getting into better shape so they can play with their kids.
4. Build a rapport with them
A good sales pitch will also aim to build a genuine connection between you and the prospect. What are some strategies to establish a solid rapport?
Find something in common: Since they are signing up for a fitness membership, start there. Tell them about your fitness or health journey to show them that achieving their goals is possible.
Be sincere: It's important the prospect knows that you're sincere. You're not just selling them a membership, you're giving them an experience they'll only get at your studio.
Acknowledge them: And most importantly, listen to the client by acknowledging what they say. This will set the stage for a true connection with them.
5. Show off your expertise in the fitness industry
There's a reason why someone joins your fitness studio or gym—it's because you're the expert with experience training and helping people get in shape. Studies show that 51% of consumers will purchase from you if they think you're an expert in your field. So, as an important part of your sales pitch, establish your authority as a fitness expert! Here are two ways to do that:
Give them an example of a previous client you helped who had the exact the same goals as this potential client.
Tell them specific exercises or foods that will be part of their services. This gives them a sneak peek into how you will help them.
6. Be flexible and give them options
You provide flexibility and options as part of your hybrid fitness studio or gym, and your sales pitch must reflect that. Here are some tips:
Describe what the client can expect from a livestream, including how to join and what equipment they might need to benefit from the experience.
Tell them the difference between livestreamed classes and pre-recorded videos. Your livestreams let clients enjoy a 'live" class from home, whereas your on-demand video library allow clients to access your services online, on their own time from any location.
With the hybrid model, working out at the studio is also possible. Paint a picture of working out at the studio, and tell them everything they should expect, from safety protocols to social distancing guidelines.
7. Simply, ask for the sale
You've built a rapport, answered all their questions, established yourself as an expert in the fitness industry, and now you're ready to ask for the sale. But, you may need to address objections from some of your prospects. What can you expect to hear?
Objection 1: "I have no time."
Response: "Did you know we offer 20-minute pre-recorded work out videos?"
Objection 2: "I'm not sure I can afford it."
Response: Review the part of your pitch where you establish your value.
Objection 3: "I've tried similar services and failed to obtain the results I was hoping to achieve.
Response: As this point, you've established your credibility. Continue to plug the results you've achieved for other clients.
Objection 4: "I need to think about it."
Response: Ask them what they need to think about and get their thoughts in real-time. Don't settle and ask follow-up questions until you get to the real reason they may not be ready to commit.
8. Follow up and close the sale
After you ask for the sale, you may need to follow up with your prospect to close the deal. Send them an email, text, or push notification with a well-crafted follow-up message. You can also be more direct and give them a call.
But what should you say? Fortunately, there are many techniques that can help. Here are a few tips to close more sales for your fitness business.
Create a sense of urgency: By making prospects feel like they need to act now, it's puts a bit of pressure for them to commit. For example, if they sign up today, their livestream membership could include exclusive access to your on-demand videos.
Assume they will say yes: When a prospect checks all the boxes, take a leap and assume they will commit. For instance, if your studio is near them, offers their favorite classes, and the classes fit their schedule, send them the waiver form and invite them for a tour.
Personalize the experience: This is where it's important to treat each prospect individually, begin on your relationship with them, and relate to them based on their pain points, goals, and expectations. You have what they need to achieve their goals, so listen and deliver with the right offer.
Time to grow your business with the right pitch
Whether you see clients in person, online, or a blend of both, it's essential to create a good sales pitch that targets your ideal client, addresses potential objections, and closes more sales. Remember, your sales pitch is a guide, and you don't need to follow it word for word, but you do need to ask the right questions, build a solid rapport, and show your expertise. This will result in more sales and greater success for your business.
After you've closed the sale, you need the right software to help manage your clients. WellnessLiving's all-in-one software can help with that! With booking and payments tools to automated marketing and advanced reporting, WellnessLiving is a convenient one-stop shop that streamlines the client experience. How else can we help? Book a free, no-commitment demo today to learn more.