Nov 18 2019, 7:22 AM
8 Yoga Studio Marketing Ideas You Need to Try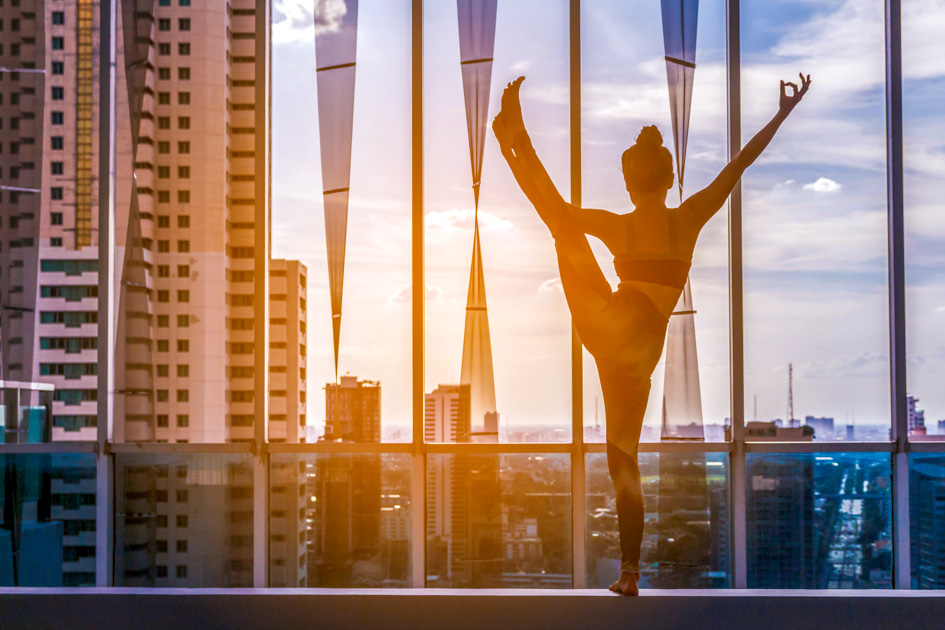 On the hunt for more yoga studio marketing ideas to promote your business? You're in the right place!
The ability to separate yourself from your competitors plays a huge part in client retention and bringing in new members. If you make your yoga studio memorable, your business will blossom!
There many several yoga studio marketing ideas that could help boost your establishment, read on for 8 of our favorites!
1. Offer Unique Classes
The first yoga studio marketing idea is to offer unique experiences. Besides having your traditional Vinyasa, Bikram, and Hatha Flow classes, why not offer something a little more memorable?
Have you heard of cat yoga? Introducing beloved animals into the room can help boost your clients' moods. The graceful nature of a cat and its soothing purr can help create a relaxing atmosphere. Your students can enjoy the practice while making a new furry friend!
Glow yoga is for those who enjoy a more active atmosphere. Yogis paint parts of their bodies with glow in the dark paint and wear glow sticks around their wrists and ankles. Then, the party begins as they practice yoga in a dark room with the help of a yoga instructor and a DJ.
Or if dark rooms aren't your thing, look into Eco yoga! Taking this mindful practice outside and breathing alongside Mother Nature is one of the best ways to find stillness. If the weather permits, consider offering some classes in your local community park. Some yoga studios take it a step further by offering week-long yoga retreats to mountains or forest-sites.
Check out five 2020 yoga trends for more ideas!
2. Host Exciting Events
Attracting new students can be done by hosting public events in your community. Reach out to celebrity instructors and invite them to teach a class! A famous face will add credibility to your studio as well as entice future clients.
To add to that, you can also invite these well-known yogis to host a weekend yoga workshop to spread the love of the practice to your entire community. Motivational yogis can also be called upon to share their wisdom by leading meditation sessions, teaching mindfulness practices, or sharing personal stories of triumph and self-healing.
Not only will hosting events excite your students and educate your community, it will also bring positive attention to your yoga studio. Set up a unique hashtag and encourage attendees to post pictures on social media; offer special deals for the first 25 delegates; give out free merchandise and swag. The opportunities to promote and enhance your brand with this yoga studio marketing idea is almost endless!
3. Connect with Social Media
Social media is a powerful marketing tool. Not only will it help spread awareness and publicize your yoga studio's name, but it's also a fun way to connect with your students. There are several platforms that could be used such as Instagram, Twitter, Snapchat, and YouTube!
Posting consistent daily content is one of the best ways to market your business. Images of unique classes, exciting events, and daily inspirational quotes are some of the many ways to keep your followers engaged. People will start liking the posts and commenting, leading to an increase in your studio's exposure. Connecting with students this way is one of the most effective methods to reach your target audience.
Besides engaging posts and images, starting a YouTube channel is another useful yoga studio marketing idea. Videos of daily yoga poses, short meditations, or nutrition tips, can be fun ways to gain more followers. The more engaging the video, the more your business will stand out. Because of your service, you're in a position of expertise! Use this, and reach out to your community with your experience and knowledge.
4. Support a Good Cause
A powerful and positive yoga studio marketing idea is supporting a good cause and giving back to your community. Raising money for a local charity or shedding light on an important issue not only deepens your connection with your clients, but it also builds integrity.
For example, since many people practice yoga to achieve relaxation and a sense of balance, yoga studios can help de-stigmatize mental health. For example, you can raise awareness of this issue by providing a free annual meditation session for your community on World Mental Health Day.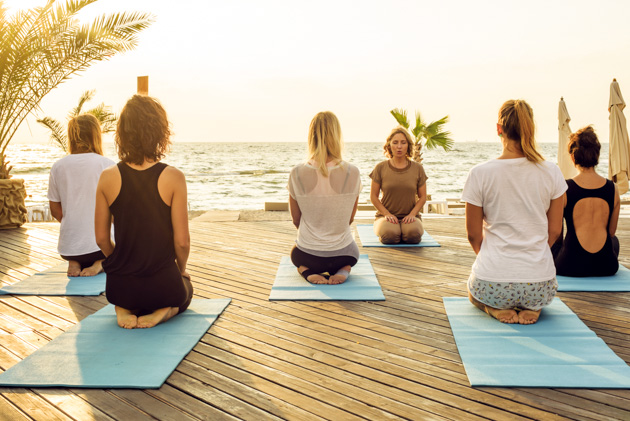 Moreover, the entire month of October could be filled with beneficial classes and meditations focused on mental health, giving people tips on how to cope. During this month, you can opt to donate a portion of your income to support mental health research.
Whatever your cause may be, creating awareness and a selfless environment will connect your students to your studio.
5. Find Your Partner
Another beneficial yoga studio marketing idea is partnering up with local businesses that your clients may be interested in, such as sports shops, organic food stores, and health centers.
Such partnerships can be greatly beneficial for all parties involved. For instance, if you team up with a health center with patients suffering from anxiety, depression, or certain physical ailments, those patients could be directed to your yoga studio to ease some of their symptoms.
Athletic stores that sell yoga wear are also brilliant teammates! These business owners can bring awareness to your establishment, further publicizing your studio. In turn, you can direct your clients to their store to buy the necessary athletic wear and accessories that they may need for your classes.
6. Create a Rewards Program
Coming up with a rewards program can help your studio flourish. With a points program, your yogis will want to collect more points in order to redeem them later. This way, they are more likely to become repeat customers in order to increase their points bank. They will also feel like they are getting more value from your studio and this will keep them eager for more.
A rewards program will also help you understand your clients better. You will notice what people are spending more money on and where their interests lie.
7. Customize Your Own App
Step into the future with your own staff and client apps.
Creating an app specifically for students can make signing up for classes, paying, and receiving up-to-date news so much easier. With a few taps on their mobile phones, they can find all the information they need in one place.
WellnessLiving can help you build your own customized client app. Tell us what your vision is, and we'll handle the rest. But wait, there's more! We also ensure those competitor ads are hidden from your clients and that positive reviews are displayed to the public on websites such as Google! Take it from us, this yoga studio marketing idea can make your business shine.
On another note, WellnessLiving also gives your staff access to Elevate, the staff app that makes managing your business a breeze. You can check on your business from anywhere in the world, manage instructor and class schedules, payment methods, as well as create a network for your staff members to connect, hassle-free.
8. Use the Right Yoga Studio Software
Managing a business is tough work. And with so many details to handle, why make life harder for yourself? To streamline bookings and payroll and other business processes, look into finding the right yoga studio software for you.
WellnessLiving is an all-in-one yoga studio management software. With various automated marketing campaign types and Reserve with Google integration, we can help make your life a little easier.
WellnessLiving can help you retain your current clients by sending them emails, messages, or push notifications when they have not been to your studio in a while. And best of all, our system automates this process, so you don't have to manually keep track of what to send and who to send to! WellnessLiving has your back.
Additionally, Google and WellnessLiving have joined forces to give you an exclusive edge! Reserve with Google ensures your yoga studio classes will appear on Google search as well as Google maps. Your students can book directly through Google, and WellnessLiving's software will automatically sync that to your studio's schedule.
In Short
Effective use of social media, customizing your own app, and offering unique experiences are just some yoga studio marketing ideas to propel your business forward. Remember, marketing is everything when it comes to owning your own business, so why not trust the experts at WellnessLiving to get you there? With our effective software and passion for making your studio a success, we can bring your studio to new heights.
Ready to take your yoga studio to the next level? There's no time like the present to book a free, no-commitment demo with WellnessLiving!