Mar 05 2021, 9:00 AM
Attract New Members to Your Fitness Business with #Hashtags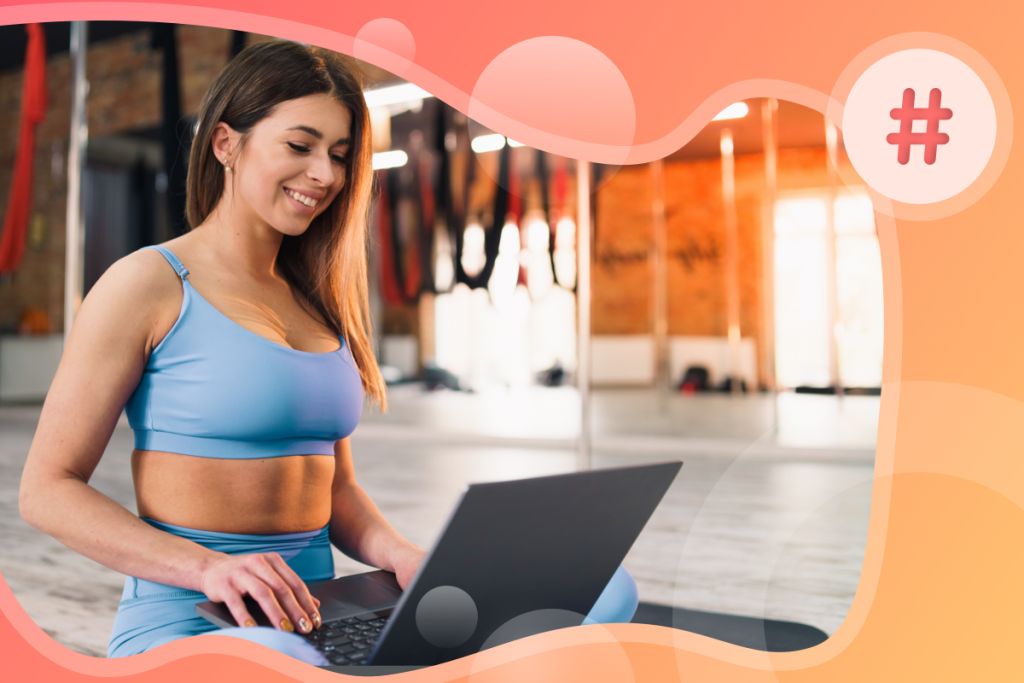 The hashtag (#) is a powerful tool that connects you to your target audience through keywords and phrases. With over 53% of the world's population on social media, when the hashtag is used correctly it can effectively increase engagement, strengthen your brand, and attract new members to your fitness business.
Fohr Insights reports that a post with at least one Instagram hashtag averages 12.6% more engagement than social posts without a hashtag. However, sometimes people will go over the top and use more hashtags than copy for their social post. By developing a clear hashtag strategy, you can increase engagement and brand reach, helping you grow your business. So, let's get started.
Hashtags 101: Back to the basics
Essentially, hashtags filter social media topics, so they are easily collated and searchable, making your content easier to find for those who are looking. While they began on Twitter, hashtags can be used on Instagram, Facebook, YouTube, and even TikTok.
Each platform is different, so tweak your use accordingly. Here are a few basic tips for each medium:
Twitter
Use 1-2 hashtags per post anywhere within your 280-word tweet.
Use Twitter's Trending Topics section to stay relevant and know what's most searched.
Instagram
Include 5-10 hashtags on your post, adding them in the comments, too.
Instagram allows users to follow hashtags, so think about attracting followers for frequent exposure.
With your business account, use Instagram Insights to gauge your hashtag success.
Facebook
With 1-2 hashtags per post, link your related content so it can be found easily within Facebook groups.
Search your own hashtags to make sure they're working the way you want them to.
YouTube
Limit content to 1-2 hashtags. With too many, YouTube will remove your content, deeming it to be
TikTok
Use 4-5 hashtags for best performance, including #foryoupage to get your videos recommended to a new audience.
Build a #strategy
You've chosen the perfect photo and captioned it correctly but to get the most eyes on that content, you need the best hashtags for your post. Here are a few best practices to maximize your results and attract new members to your fitness business:
Use relevant hashtags. You want to attract an audience that cares about your content so use hashtags that are specific to your subject.
Don't use too many or include hashtags like #followme, leaving the impression that you only care about numbers, which may alienate your audience.
Use them wherever you can, from Instagram posts to stories to your account bio (you're allowed up to 10).
How to use #relevant hashtags
Hashtags are a marketing tool to draw people to your business with relevant content. Why? You don't want random likes. You're looking for "quality" prospects that you can turn into clients, but that only works when you attract the right people.
Use hashtags to get attention from people interested in fitness and the services you offer. Consider popular and more specific options like: #fitness, #fit, #workout, #yoga, #fitnessgoals, #fitnessjourney, #exercise, #training, #health, and #wellness.
The balance can be tricky. You don't want to be too generic because if you choose frequently-used hashtags, your content could get lost in the shuffle. However, if your hashtags are too specific, you might not get noticed because it's not something people are searching for.
Remember, find a balance to stay on track with content relevant to your business that includes your audience, services, clients, and classes.
Focus on long-term goals
Start thinking about your long-term goals. Building your audience to increase your memberships and fill those classes should be a top priority for your social media marketing plan. Do the research to develop a strategy that'll get your business to the next level. When developing your strategy, consider the following:
What hashtags are your competitors using? Where are they seeing success?
Use hashtags that inspire new followers to learn more about your business.
Mix trending hashtags with specific ones to start building a following for your content.
Get your staff in on it. Ask your team to use hashtags to reach their audiences and grow their following, too.
Involve your community. Host a contest, ask for reposts. and get your clients using your hashtags to reach an even broader audience.
By incorporating these techniques, you'll see your audience grow right along with your profits.
Let's understand your #audience
Get to know your best customers and you'll know what they're searching for on social media. You're looking to grow your business with like-minded clients, so use hashtags that attract your ideal customer. Use hashtags that appeal to your ideal customer related to:
Your business: #yoga, #pilates, #businessmanagementsoftware
Towns, city of your business: #newyorkyogastudio, #torontogym
Your clients: #busymoms, #activeprofessionals, #athletes
Goals: #weightgain, #gains, #balance, #worklifebalance
What tools can help manage your hashtags?
While some hashtags should always be listed (like your business name), creating specific hashtag lists, sorted by subject is an important part of your strategy. For example, creating lists that relate to yoga, weightlifting, or cardio will really narrow down your audience.
You can also create groups for trending hashtags, like #mondaymotivation, #tiptuesday, #throwbackthursday, #fridayfeeling, or #weekendinspo. You can then track which hashtags are getting the most attention. There are apps that can help you manage, track, and inspire your hashtags. Here are some of the best tools in the biz to help you get ahead in your hashtag game:
We all need inspiration at times. Get ideas for a specific post with suggestions from apps like Hastagify or RiteTag.
Track the best performing hashtags and get in on the trends with free apps like Talk Walker or Socialert.
Store your lists in the notes section of your phone for easy copying and pasting or use apps like Tailwind ($9.99 per month) to easily store your hashtags lists, captions, and to publish posts automatically to Instagram.
Custom groups of hashtags will help build your brand, increase engagement, and help people find you. For example, WellnessLiving might use: #wellnessliviging, #wellnesslivingwinner, and #wellnesslivingsoftware.
Include at least one hashtag with your business name so people can find you and keep your business top of mind.
#tips to post like a pro
Once you attract new members to your fitness business through your hashtags, you need to keep them engaged with great content. Here are a few tips to post like a pro:
Make captions 2-3 sentences with statements, facts, or questions to grab attention.
Include a solution or call to action.
Edit your captions—and then edit them again to make sure they are error-free and on brand.
Use interesting content, photography, and videos to have people coming back for more.
Be sure to brand your content, so you're building awareness for your business.
Create a buzz with new product launches, class intros, and contests.
Hashtag #growyourbusiness
Social media moves quickly, so stay on top of the trends and tweak your approach to stay relevant. Use hashtags to get more eyes on your content, keep your audience engaged, and grow your community. Hashtags need to be part of your marketing strategy to attract new members to your fitness business and reach your long-term goals.
Don't forget the rest of your marketing, though. Use social media promotion, automated marketing, and detailed reporting to make the most of your marketing. WellnessLiving can help you with the tools you need to better manage your business. To learn more, book a free, no-commitment demo with WellnessLiving today!