Sep 10 2019, 10:31 AM
Beginner's Guide: Sell Merchandise at Your Yoga Studio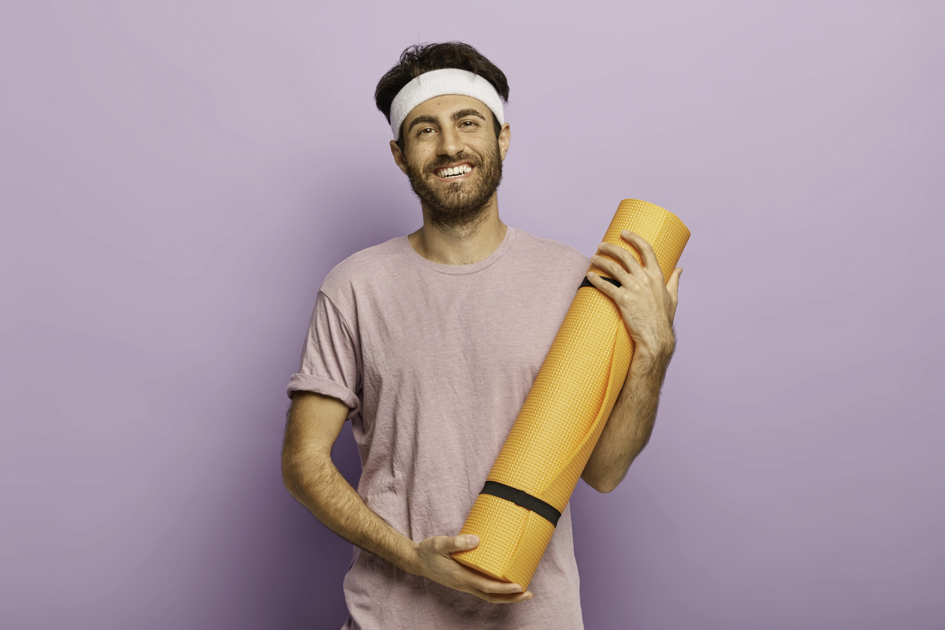 Have you ever thought about selling merchandise at your yoga studio? This is a great opportunity for you to expand your business and attract more customers. Whether you're opening a new yoga studio or already have an established business, explore the possibilities of what this could do for your establishment!
Yoga studio retail is a booming industry. In fact, millions of people around the world are practicing yoga. And 64% of yogis in 2018 stated that they want to practice more in 2019. Yoga's popularity can be attributed to its massive physical and psychological benefits. According to research, the top reasons that drive people to practice is that it releases tension, improves mental and physical strength, and essentially makes practitioners feel happier. In fact, 87% of people who try yoga leave feeling more content. And in our extremely fast paced and modernized world, a healthy stress-reliever is a must have.
Since so many people practice yoga, it's doesn't come as a shock that they are also willing to spend on everything from classes to equipment. Yogis spend up to $5.7 billion a year on classes and merchandise. Think of how much this can help boost your business!
Selling Yoga Studio Merchandise: How to Get Started
Now that you know the many benefits of selling your own merchandise, let's get started. Propel your business forward with our tips and tricks!
1. Research your customer base and their spending habits
To effectively sell yoga studio merchandise, you need to know your customer base. Take the time to research your target audience, their occupations, as well as their spending habits at your facility, so you can move forward with your yoga studio retail projections.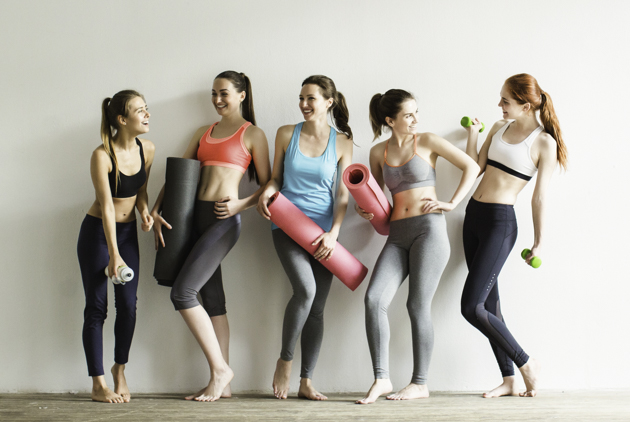 Your target audience is who you want to attract to your business. What types of clients are already taking classes at your yoga studio and what prospective clients do you wish to gain? Does your facility cater more to young millennials, working professionals, or the elderly? How many times a week do they come to your studio? How much money have they already put into your business already? Based on the answers to these questions, you can start to get an idea of your students' spending habits. For instance, older generations such as baby boomers tend to spend more money than millennials as they're more settled and established in their lives.
Knowing your customer base will also guide you when it comes to choosing the types of products you wish to sell.
2. Decide what you want to sell
Understanding who your clients are will provide you with all the answers you need to effectively sell your yoga studio merchandise.
Nowadays, most yoga studio retail stores sell water bottles, workout gear, blocks, yoga mats, and other products related to the practice. These items are a wise choice to start off with as many people prefer their own mats and basic equipment rather than use communal ones offered at the studio. Once your business starts to pick up, you can expand your products to include more items such as towels, candles, and natural oils. What's important to remember is to make sure that you stand out from the competition by offering something different that speaks to your customer base!
For example, millennials are very environmentally conscious and are trying to do all they can to go green. You can too by offering products that would resonate with them. Why not sell workout gear and yoga mats that are organic, made of recycled materials, or even bamboo? Bamboo is an alternate type of material that is extremely eco-friendly and can be used to make a lot of fun merch.
Another trick is to observe what your clients are already wearing to your studio. Based on their styles, you can begin to understand the types of products that would appeal to them. Then, you can adjust your merchandising options to cater to their taste.
3. Brand your business
One of the best ways to make your yoga studio a household name is by enhancing your brand through your yoga studio merchandise. By giving your clients the opportunity to act as your very own brand ambassadors, your facility's popularity will skyrocket!
When designing your merchandise, make sure to include your logo (and perhaps even tagline!). Feel free to adjust your design to make them aesthetically pleasing, no one wants to walk around with an awkwardly branded yoga mat or sweatshirt. But still stay true to your roots!
By including your logo and slogan on all your items such as t-shirts, water bottles, and yoga mats, your business will gain exposure around your community. Your own students will become your facility's brand ambassadors as they'll help bring attention to your studio just by wearing and carrying your products.
As you can see, selling merchandise at your yoga studio is a great opportunity to advertise your business and gain more recognition.
4. Research suppliers
After designing and branding all your yoga studio merchandise, research different suppliers who can help produce these items. Our pro tip is to go local!
Finding suppliers nearby has several advantages. First, it'll help save you money as you don't have to worry about the cost of long-distance shipping. Second, it'll give you more control over your facility since you can drop by and check in on the status of your items. Third, you can ensure that your merchandise will be closer to your vision, as you can have regular meetings with the suppliers to ensure that your designs match. You can even make sure the regular adjustments and modifications are made by being so close to your suppliers.
Browse different suppliers in your area and have regular meetings to stay on top of your yoga studio merchandise.
5. Price items and inventory
Deciding the value of the items you sell is such a delicate process. You want to make sure that they're not too expensive and not too cheap. Our advice is to once again, think about your clients when pricing your items. It's important to look at their spending habits and adjust your prices accordingly.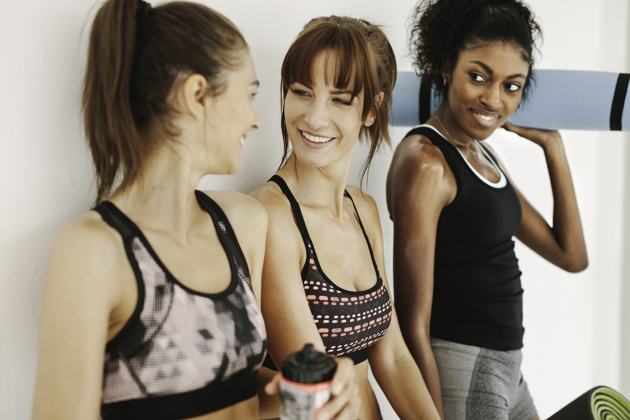 Make sure that the cost of your yoga studio merchandise is affordable and more desirable than your competitors. Look at what other yoga studios are selling their merchandise for and try to outsell them by offering your students lower prices. It's advisable to price your items 2.1 to 2.3 times the wholesale price so your profit margin is higher and your business will be able to sustain itself over time.
Be thoughtful when coming up with your price list to ensure that clients will keep coming back to your studio for more!
6. Set up your store
Get creative when setting up the space to display your yoga studio retail items! Presentation is key to enticing customers and making sales.
Attractive displays with the proper lighting and layout can make all the difference at your yoga studio. Make sure there's ample space in your facility dedicated to showcasing your products. Give your customers enough space to walk around and consider adding mirrors to double your sales by giving off the impression of a bigger, grander space. Amplify your displays with a range of colors and thoughtfully laid out items to provide your customers with a visually stimulating shopping experience.
Also keep in mind who is working your retail space. Friendly staff will attract more clients and provide them with a more enjoyable experience. Think about having your staff wear your yoga studio merchandise as well, to provide credibility when it comes to their knowledge of your products. If your students see that their instructors and staff members are wearing the products and talking from experience, they are more likely to trust their advice.
When all these elements are brought together in perfect harmony, your business will blossom!
7. Get online
Our final tip to make your facility more accessible and convenient for your clients is to set up an online store. With the help of modern mobile apps, you can bring your store straight to your customers!
Catapult your business with an online store, where your yogis can access your products at any time of the day. With this option, you are open twenty-four hours a day, giving you the opportunity to make sales in your sleep! This will also expand your target audience as you are now in the digital space, making you accessible to more than just the people in your community!
WellnessLiving can make this lucrative business option a reality with the help of our all-in-one yoga studio software. Set up an online store on desktop and on mobile. Letting clients make purchases on their phones will make selling your merchandise a cinch, while providing your customers with a user-friendly platform.
With our help, your business will become a virtual hot spot in the digital space!
In Conclusion…
Enter a whole new world of opportunity by selling yoga studio merchandise at your facility. Not only will it help you increase your revenue, but your business will gain more exposure both in the digital and real world!
We would love to accompany you on this new venture! Not only can we help you set up an online store, but our software can provide you with automated marketing options, client retention programs, and much more! Book a free, no-commitment demo with WellnessLiving today and watch your yoga studio flourish!