Jan 15 2021, 9:00 AM
Harvest Martial Arts: WellnessLiving's Virtual Tools Have Been a Real Game Changer!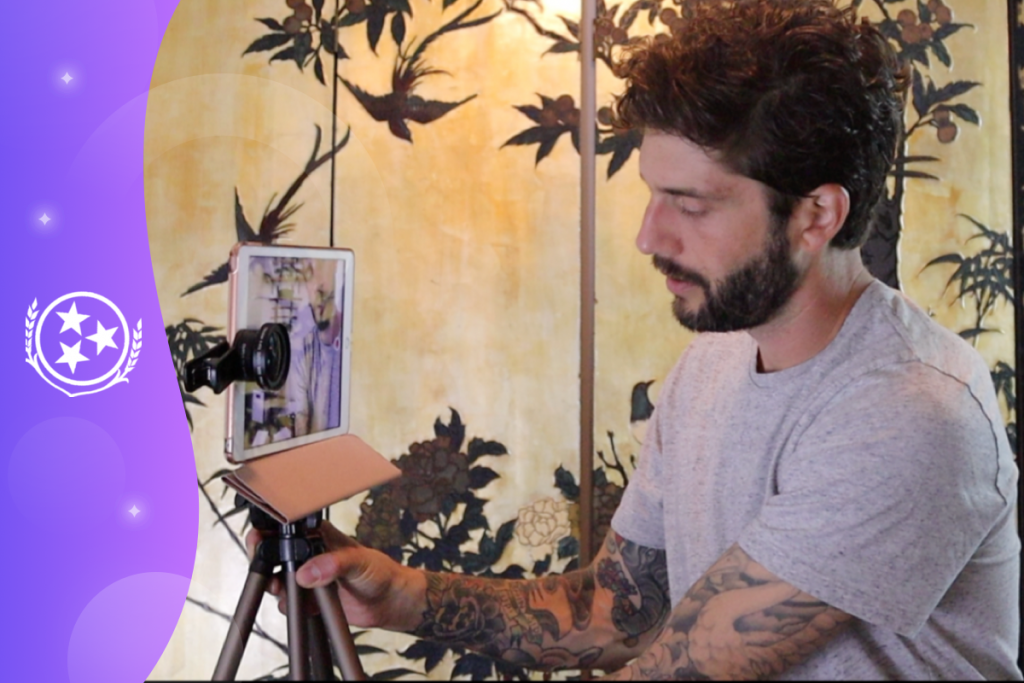 Let's be honest, the pandemic has not been simple for any business. This is especially true for high-contact martial arts studios. What could they do without any contact?
In the face of adversity, Harvest Martial Arts rolled with the punches! They did everything they possibly could to pivot online and deliver quality martial arts and fitness classes to their students.
Justin Martin is an ACE certified personal trainer and third-degree black belt in Tae Kwon Do and Han Mu Do. After teaching martial arts for about 10 years, Justin and his wife Amber Joy opened Harvest Martial Arts in 2016 to the small, suburb community of Franklin, Tennessee, which is located about 15 miles south of Nashville.
When Harvest was forced to close, they had to go online fast! Thankfully, Justin had WellnesssLiving's business management software by his side. This made it simple to bring online classes and on-demand videos to the Harvest community:
"WellnessLiving's tools have been a real game changer for our business! The Zoom integration lets us easily bring online martial arts classes to our students, while FitVID on Demand is perfect for selling our video programs and adding an additional revenue stream."
Read on to learn more about Harvest Martial Arts and their experience going virtual, teaching outdoor classes, and more!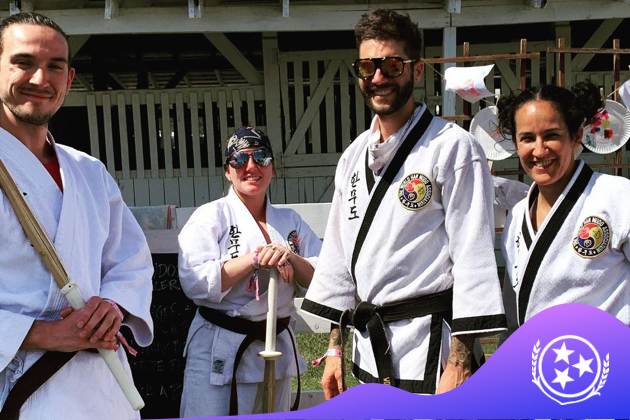 Harvest Martial Art's experience going virtual with Zoom
Harvest Martial Arts is a boutique studio that offers a wide range of classes, such as Korean-based Han Mu Do martial arts, self-defense training, fitness and kickboxing, and power yoga for both adults and children.
Business had been booming for Harvest! With a full schedule of classes, what more could they ask for?
Then suddenly, the pandemic hit, and the first COVID-19 case in Tennessee was at a primary school, which had students who also practiced martial arts at Harvest. The studio was forced to close, and Justin immediately developed a virtual martial arts curriculum and took the business online with Zoom!
It was all about pivoting from their normal methods of teaching to pre-planned martial arts classes.
"We used to sell years of training from beginner to black belt," says Justin. "So, now being able to pivot the business model with virtual options is a big change for us!"
Harvest offered discounted packages and started selling equipment like training tools for students. For the first few of months of the pandemic, Harvest had a lot of success with 95% in attendance for their online schedule!
"We were still making money and our only overhead cost had been from purchasing tools to help us teach online, from external microphones, cameras, and tablets," explains Justin.
How did things change in the summer?
In the summer, Harvest Martial Arts had to pivot once again to a hybrid business model and added outdoor classes, including summer camps for children. They even got creative by adding traditional Korean archery classes to the schedule.
"Martial arts typically involve a feeling of power with sparing and physical contact, and offering archery allowed us to give the students an activity that also required a certain level of strength," says Justin.
There was plenty of room for safe social distancing as participants each had their own bows and shot arrows at the targets. Everyone had a blast, and that led Harvest being able to maintain success into the fall!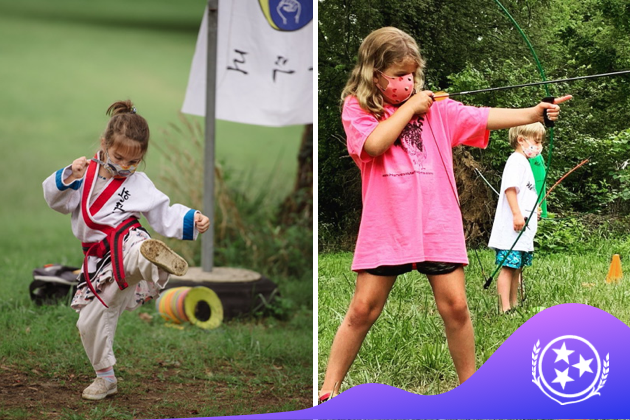 What was it like integrating with Zoom?
Justin had been sending students Zoom links to join class before finally integrating with Zoom, and when he did, it was a real gamer changer for his business.
All Justin had to do was connect his Zoom account to his WellnessLiving account, set up his martial arts classes, and everything was ready to go.
He then discovered clients could easily register for virtual classes from the Achieve Client App or the Client Web App.
It was also super easy for Justin to track payments and attendance, or instantly remind students so they never missed a class!
Can you be social despite social distancing?
How else does the Zoom integration benefit Justin's business? By teaching students online, Justin missed that social interaction with parents. That's why he started bi-monthly parent meetings through Zoom, which gave him the opportunity to socialize and check in with his students, while offering to help them any way he can.
Are you using FitVID on Demand?
Justin had been creating videos for several years now and storing them on YouTube. However, unlike third-party platforms, WellnessLiving's FitVID on Demand feature allows Justin to control who views his videos.
"I love the fact that I can upload and store my martial arts and yoga videos to FitVID on Demand and grant access exclusively to my on-demand video library for paying clients only," says Justin. "Classes are 35 minutes to an hour long, which is a lot of video content to upload, so to be able to store it on a controllable platform is very important to us. As it's also not a public platform, you can simply tell people to directly visit your website, which makes us look professional!"
What are some of the other benefits of FitVID on Demand for Harvest Martial Arts?
Videos can be categorized based on the type of class (martial arts, yoga, or kickboxing), classes for adults or children, and different levels (beginner, intermediate, and advanced).
These videos also help students to better understand a certain form of technical movement, so they are more prepared for the class.
Harvest had online classes but also produced bi-weekly video classes, so students could take the class whenever it worked for them.
While on-demand videos won't replace virtual or in-person classes, FitVID on Demand is now a big part of Harvest's plans for selling video programs and adding more revenue to the business!
How else has WellnessLiving helped you through the pandemic?
Besides helping them go virtual, there have been several other ways WellnessLiving has made going through this pandemic as smooth as possible. What are some of the amazing features that have been essential to Harvest Martial Arts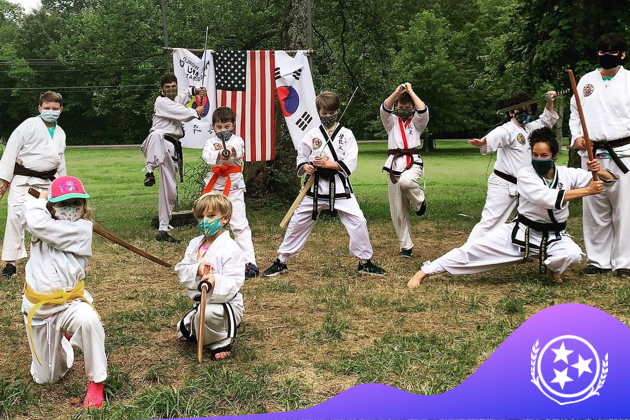 In-person or virtual, Harvest has the right software!
Even when the pandemic ends, Harvest Martial Arts and Justin know that they must be prepared for anything and will likely remain a hybrid martial arts studio going forward!
"What if there are more lockdowns? Whatever happens, we can always maintain our baseline and our goal is to continue to grow our virtual/hybrid business from there!"
Whether students take classes, online, outdoors, or by viewing an on-demand video, Justin knows Harvest Martial Arts will continue to function at its best, thanks to WellnessLiving's all-in-one system. How can WellnessLiving help pivot your business into a hybrid model? Book a free, no-commitment demo to learn more today!