Apr 06 2019, 1:00 PM
Got a Dance Studio for Adults? Here's How to Promote It!
When it comes to promoting your dance studio for adults, there are a few things to keep in mind. While many associate dance classes with children who are eager to be young ballerinas or tap stars, the truth is dance can be an enjoyable activity for both kids and adults. Promote this message, and your business will be a success!
Running a dance studio for adults is very different than running a children's dance studio. The way you market your establishment, the types of classes you offer, and the general atmosphere of your studio will vary greatly. For example, children enjoy bright colors and friendly mascots; however, these things don't mean much to adults. Keep these concepts in mind when promoting your facility.
To make things easier, read on to discover six ways to promote your facility. Follow our lead and together, we can take your studio to center stage!
1. Keep Your Target Audience in Mind
Before you go public, establish who your target audience. Do you want to focus on college students, working professionals, or perhaps a slightly older crowd? Once you know who you want to cater to, you can start to create your identity.
If millennials are your chosen audience, appeal to them in ways that would resonate. For instance, use trendy language and popular social media platforms to get on their radar. If you would like working professionals to sign up, you can make your studio alluring by adapting to their busy schedules. Start classes after 6 pm so they can attend classes after work. For those with hectic careers, market your studio as a stress-free zone where they can release all their tension from the day.
As soon as you've identified your clients, go one step further and create a buyer persona. A buyer persona is your ideal customer. It is important to be specific when imagining your buyer persona. What age are they? What types of job do they have? What are their likes and dislikes? What do they fear? Focusing on such detailed questions will allow you to establish how they think and discover what they can get out of your studio. As soon as you've figured that out, you can truly target their needs and build your brand with your buyer persona in mind.
2. Offer Something Different
If you can make your dance studio for adults a memorable experience for your students, they will be eager to spread the word and share it with their friends. Your facility should be different than all the rest by offering classes which are unlike any they've participated in before. Leave your traditional ballet and jazz behind and enter a new age of dance! Or at the very least, add something new to your current offerings by checking some current dance trends.
Offer a global treat to your customers by exposing them to different styles of dance from around the world. Belly dancing, most popular in the Middle East, is a sensual type of dance which focuses on…you guessed it! The belly! Dancers move their hips and torso in ways which seem fluid and effortless. Though it may look easy, this is a great ab workout.
Bollywood dancing is another one of a kind class which you can consider. Originating in India, this colorful dance style involves expressive gestures, fancy footwork, as well as powerful facial expressions. Many people are already drawn to this fascinating dance form after seeing it in Bollywood movies, so why not teach it at your facility?
Give your students a taste of something new! Your studio should be a place where dancers are introduced to classes that are different and exciting. Promote yourself as a diverse dance studio for adults, where people from all parts of the world can find something they will enjoy.
3. Host Your Own Dance Party!
Another great way to market your facility is to open your studio's doors to the public. Give people the chance to participate in a free lesson or host your own dance competition!
Promote your dance studio by offering free classes in a variety of styles! Provide a free hip hop class in May and a free salsa lesson in June! Once people get a taste of your facility and the skills they can learn, they'll be eager to sign up for more.
You can also attract more clients by managing a bi-annual dance competition in your studio! Spread the word and offer exciting prizes to the top three winners as an incentive. Generate a buzz with media coverage and well-known judges to get more people to participate and broadcast your business. If your dance competition becomes a popular community event, you can effectively market your dance studio for adults and attract a surge of new students.
4. Take Full Advantage of Social Media
Propel your business forward through the magical world of social media. With platforms such as Instagram, Facebook, and YouTube, your studio can enjoy the spotlight!
The key to engaging content is keeping it new and unexpected. Update your social media feeds often to keep your audience hooked. Upload dance moves, videos of the trendiest choreography being taught at your dance studio, and posts about your staff and students. Take advantage of interactive polls and emoji sliders on platforms such as Instagram to allow your students to interact with your studio and voice their opinion. If your audience feel like their voice are being heard, they're much more likely to engage with your daily posts. More engagement will result in more followers, resulting in a more popular facility.
Social media is your business's reflection to the world. If you project excitement and display a fresh twist on your studio's dance classes, your establishment's popularity will soar!
5. Appear on Local News and TV Shows
Alert the media that your dance studio for adults is open for new students! Introduce your business to your community through local news and talk shows to get the word out.
Contact your local media stations and introduce them to your dance studio. If you're enthusiastic that your business can offer the community something different and new, chances are they will be too. Take a few of your most experienced dancers (can be a combination of instructors and students) and let them take the stage with an incredible live performance. Make sure that the choreography is on point and that the song they have chosen to dance to is popular. If you can get people's attention with a familiar song, they will be more inclined to watch your performance.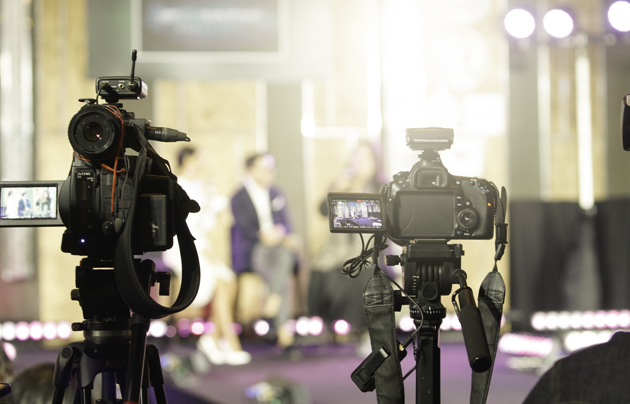 Soon after, tell your viewers about your studio and explain the benefits of dance. Dance is an excellent form of exercise and can boost your mood and energy levels! What's incredible about dancing is that you can have fun while improving your physical and mental health. When viewers see that they can have the opportunity to learn how to dance and do something positive for their bodies through the process, they will be more encouraged to register.
Local News and TV shows are a powerful force which can help you reach a wider target audience. Get people to tune in and make your dance studio for adults a household name!
6. Offer Special Discounts
Many people may see cost as an issue when thinking about spending money on themselves. Put your future dance students' minds at ease by offering special discounts!
An offer can immediately grab people's attention. Encourage students to bring friends to your studio by offering them a 10% discount on their registration fee for every newcomer they bring in. You can also give discounts to students who sign up for multiple rounds of classes.
Consider setting up a rewards program where your students can earn points when they perform certain actions, such as bringing a friend or writing a review online. Offering them the chance to redeem those points for tangible prices such as class discounts or free merch is a great way to incentivize your clients to stay loyal to your dance studio.
If your students feel that they can save money at your studio and be rewarded, they will choose it over anywhere else.
To Put it Plainly…
Marketing your dance studio for adults with your target audience in mind is of the utmost importance if you want your business to succeed. Get people's attention and keep them interested with what you can offer, and soon you'll win their hearts!
When building your brand and studio's image, always keep your target audience in mind. Take risks and stand out from all the other dance facilities by offering unique classes. Hosting free classes and dance competitions can also entice people to join your facility. Additionally, make sure to utilize social media as well as local media to broadcast your business and expand your audience. With more views you can expect a wave of new students. And don't forget those special offers! Giving people the opportunity to save money will always resonate, leading to loyal customers for life.
WellnessLiving would love to help you reach your goals with our incredible software. We can help you achieve your marketing dreams! Find out how by booking a free, no commitment demo with us today! With our expertise, we can make your dance studio for adults the talk of the town.
References:
https://www.forbes.com/sites/forbesagencycouncil/2018/03/21/how-to-identify-and-speak-to-your-customer-personas/#64da21044c4d  
https://www.thoughtco.com/types-of-dance-1007456  
https://www.huffpost.com/entry/reasons-to-take-up-belly-dancing-woman_b_6579680  
https://www.bbc.com/news/magazine-18686742  
Get Access To
Why Your Yoga Studio Needs a Loyalty Rewards Music
I'm already a WellnessLiving Customer
Getting your information.
Please Wait…