May 20 2022, 9:00 AM
Iyengar Yoga Sarasota Embraces Virtual with WellnessLiving's Livestreaming and On-Demand Video Tools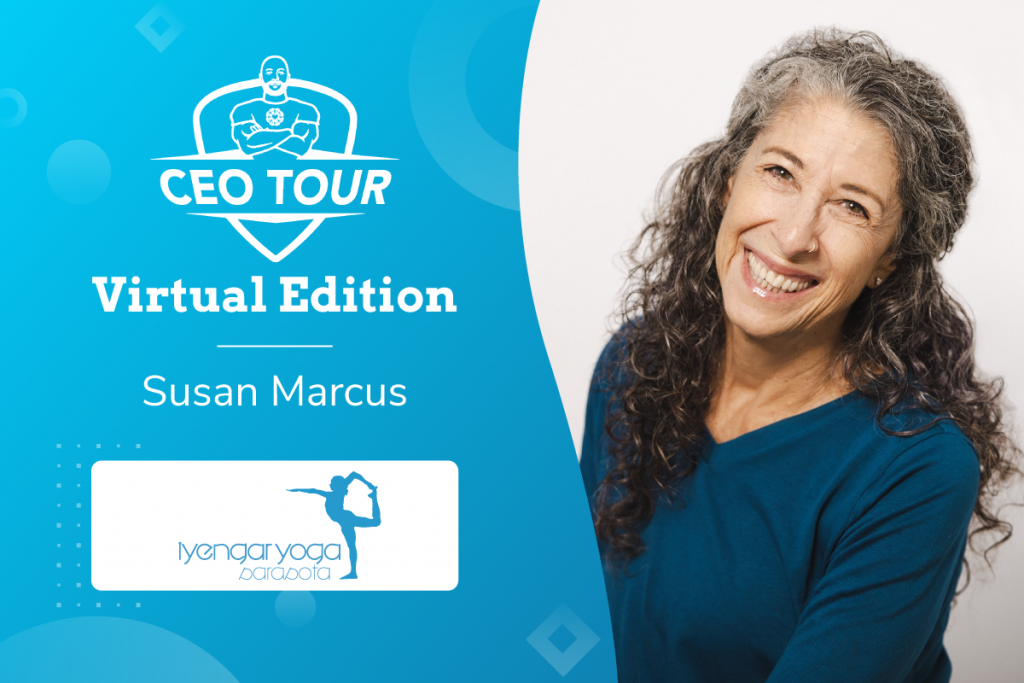 CEO and Co-Founder of Wellnessliving, Len Fridman, finds himself in sunny Florida on the next stop of his Virtual CEO tour. Len has been traveling the globe, virtually, to speak to business owners about how WellnessLiving's all-in-one software solutions have helped manage and grow their businesses.
On this stop, Len met with Susan Marcus, owner and instructor at Iyengar Yoga Sarasota. Learn how Susan and her staff openly embraced the changes that the pandemic brought by utilizing WellnessLiving's video on demand and livestreaming tools.
Iyengar Yoga at a Glance
📍CEO Virtual Tour Destination: Sarasota, Florida
📍Customer Business: Iyengar Yoga Sarasota
📍Website: https://iyengaryogasarasota.com/
📍Special Guests: Owner and Instructor Susan Marcus
📍Number of Locations: 1
Meet Susan Marcus, Owner of Iyengar Yoga Sarasota
Iyengar Yoga Sarasota in Sarasota, Florida, is deeply rooted in the practice of traditional yoga. Susan Marcus opened her studio in 2017, with the intention of practicing Iyengar yoga in its authentic tradition. Iyengar yoga encourages the spread of intelligence through the entire body, self-awareness, and a physical experience of the asanas (posture) as a meditative action.
As a hybrid studio, Iyengar Yoga Sarasota now offers a variety of in-person and online Iyengar method yoga classes for all levels. From three levels of introductory yoga to the more advanced Iyengar Intensity class, there is something for everyone. Iyengar Yoga Sarasota also offers hands-on support for their students, to help them ensure they are practicing safely.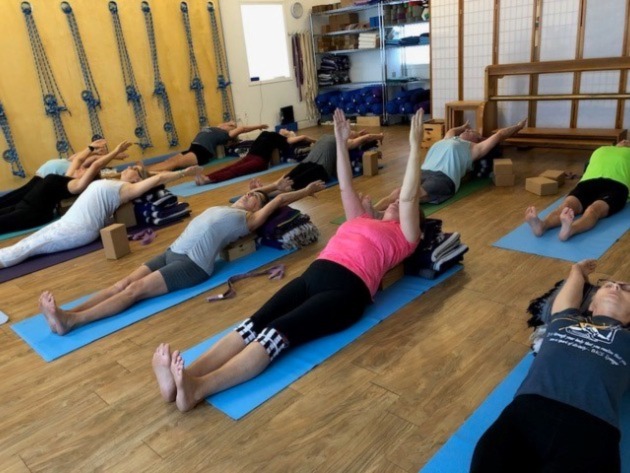 How did Iyengar Yoga Sarasota transition online?
For many, the sudden pivot to online yoga teaching and classes caused stress and anxiety, and some were reluctant to change. However, Iyengar Yoga Sarasota switched to WellnessLiving in 2019, so when the pandemic hit in 2020, Susan and her staff were well prepared for the transition online.
Virtual tools
"In yoga philosophy we know everything changes, so we were prepared to make a change, but it was still a challenge," explains Susan, who is also an online university professor. "I really want to acknowledge [WellnessLiving] for stepping up and helping every studio owner out there. When it comes to tools to run your virtual or hybrid studio, WellnessLiving is the way to go. I felt like we were learning to do this together. We've grown so much as a studio, and we owe that ALL to our all-in-one software provider!"
WellnessLiving is fully integrated with FitLIVE and FitVID on Demand so you can offer livestreaming or on-demand options to your clients.
Since the pandemic began, WellnessLiving has always supported the needs of their customers, who have evolved to a hybrid model—with in-person and online services—to run their businesses. First, WellnessLiving released a Zoom integration, but later upgraded to a full-integrated livestreaming service—FitLIVE.
FitVID on Demand makes it easy for clients to practice whenever they want, while viewing a library of on-demand videos. After a livestreamed class ends, business owners like Susan can upload, store, and organize their yoga classes within the WellnessLiving platform.
How else has WellnessLiving helped Iyengar Yoga Sarasota?
Susan admits that Iyengar Yoga Sarasota couldn't have been able to get through the pandemic without WellnessLiving's 24/7 Customer Support Team.
"It means the world to us that WellnessLiving has our back and has supported us whenever we've needed them, either by phone or email," says Susan. "It's just made life and running my business so much easier!"
Iyengar Yoga Sarasota continues to run a successful hybrid studio thanks to WellnessLiving
Change can be stressful, but with WellnessLiving's all-in-one software, it doesn't have to be. Thanks to WellnessLiving's virtual tools—FitVID on Demand and FitLIVE—Iyengar Yoga Sarasota continues to run a successful hybrid studio. As a result, Susan's business will always remain open to serve her loyal clients.
Are you ready to see how WellnessLiving can help your hybrid yoga studio thrive? Book a free, no-commitment demo today to learn more.