Jan 24 2020, 9:00 AM
Live Your Dream: Work Smarter, Not Harder with Sean Greeley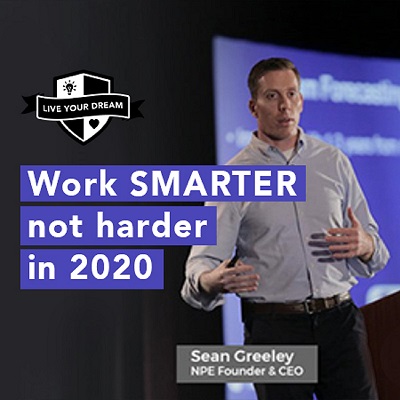 Propel your business forward and live your dream today! It's time to learn how to work smarter, not harder with business coach and expert, Sean Greeley.
Sean is the founder and CEO of Net Profit Explosion (NPE), one of the leading business coaching organizations for professionals in the fitness industry. NPE strives to help business owners start and grow profitable companies, guiding them along every step of their entrepreneurial journey. Sean has spent the last 13 years, helping over 45,000 business owners in 96 countries achieve their dreams of running a successful business. NPE has been listed eight times on the Inc 500/5000 list of fastest-growing companies, with offices in Los Angeles, London, and Sydney. They were also named the number 1 management training and education company in the UK!
On the seventh episode of our Live Your Dream show, Sean Greeley's goal was to help business owners identify where they are now, where they want to go, what's holding them back, and what they need to focus on to break through. It's time to radically transform your business and set yourself up for success in the years ahead!
Your 6-Point Plan to Making 2020 Your Optimal Year
Today, several business owners feel like they are missing the skills and strategies needed to take their businesses to the next level. This leaves them fatigued and unmotivated, as they find themselves stuck and unable to accomplish their goals.
"Everyone faces these problems, and they are not unique to you," says Sean Greeley. He reassures our community by telling them that it's never too late to change their circumstances.
NPE's 6-Point Plan is a proven and tested system, which has helped so many around the world. As a result, Sean knows it will help make 2020 your most successful year yet. Read on, as we explain each point on NPE's patented 6-Point Plan.
1. Get clear on what success looks like over the next 12 months
"It's easy to get stuck in just trying to manage the day," Sean says. "As a business grows, more time must be devoted to strategic work and planning for success. Take time away and start planning where you want to go."
There are several elements that can help guide you on your way, but Sean Greeley stresses what he calls "Owner Intent," as the most important. "This is your north star when you own a business," Sean explains. "Owner Intent is a statement that defines what success looks like for you in owning this business now. Without clarity of your Owner Intent, it's easy to get discouraged when you feel stuck running the daily operations of your business."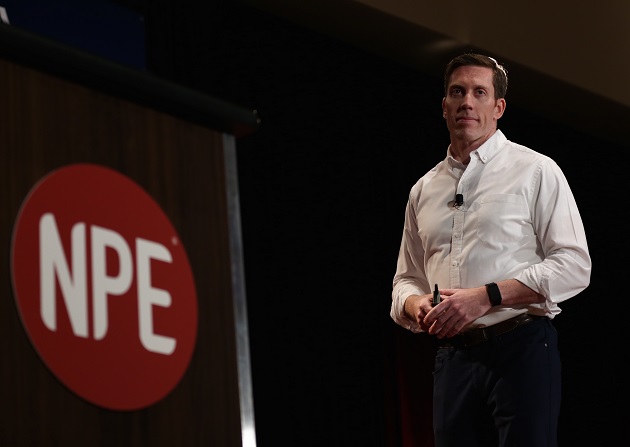 Sean also explains why many entrepreneurs fail to build a successful business. "Most people fail because they simply don't get clear on their intent, they put too much pressure on their business to do too much too soon, and they don't evolve their Owner Intent statement when needed."
Sean invites our WellnessLiving community to ask themselves three crucial questions to discover their Owner Intent:
1. Why this business?
2. What do you want from ownership, based on where you are in your life?
3. How will you measure if you're on or off track?
"Business Owner Intent often includes things like desires for autonomy, income, schedule flexibility, growth potential, and/or a greater sense of purpose," Sean tells us. "Bringing your Owner Intent to life will often require you to make changes to your mindset, lifestyle, and schedule. The goal is to line up your actions with your priorities, have a clear timeline with deadlines, and hold yourself accountable. It's also important to surround yourself with a support system that will help you live out your Owner Intent."
2. Get a clear picture of cash flow in your business
Looking at the bigger financial picture is one of the most fundamental aspects of any successful business. "Businesses need cash to live and grow," Sean says. "Too many business owners don't have awareness on their future cash positions, and as a result, they make decisions today based on what happened yesterday or where they are now, and that can kill your business."
"Finance is about looking ahead and making decisions based on what we expect will happen in the future," explains Sean. "If you don't have a cash flow forecast in place, then you are driving with your eyes closed. You must take the time to get clear on your projected cash positions 12 weeks ahead of time.
"Your awareness around cash flow and profitability will inform your decision and create urgency with your strategy in efficiently executing what matters," Sean says. "I can't overstate the importance of this enough. You must get informed and know the score to play the game."
"Once you recognize what your situation is, you can start to understand whether you are in what Sean calls, Growth or Survival Mode. "If you are in Growth Mode, make strategic reinvestments back into the business in the form of expansion, new hires, equipment purchases, and more marketing investment. Next, pay off debt, and finally take dividends for other investments."
"If you are in Survival Mode, however, you have to operate very specifically within a defined time frame," advises Sean. "First, audit your spending immediately and create weekly payment plans for large expenses. Then, improve pricing and packaging, raise your rates, and fix your sales process for increased conversion and great transaction size at the point of sale. Finally, launch a quick cash, no cost, easy marketing campaign, and most importantly don't ignore retention."
3.Define priorities for the next 90 days for increasing cash profitability
It's important to always look to the future and plan your next move, in order to run a successful business. Sean Greeley explains that a number of business owners get caught up in the day-to-day operations. "Most people don't get clear on their strategy and plan," he says. "They don't track progress against goals, and they don't align their team to their strategy and plan." Sean goes on to explain why this is crucial.
"Everyone needs to know where we're going and how we're going to get there," Sean explains. "You need to have a quarterly and annual plan. What will influence this is looking at your strengths, weaknesses, opportunities, and threats."
"You also need to go through a comprehensive business assessment. This will highlight specific areas of the business, such as your biggest opportunities, revenue, and how happy you are with it. If you're not happy, that's a threat. If this is the case, you must take a step back and adjust so you can be in a better place. Try to retake this assessment every 90 days as part of your quarterly planning pre-work."
Sean also advises entrepreneurs to look at the prices and packages you are offering your clients. "One of your priorities should be to price and package your services for profit," Sean says. "Revisit how you charge for your programs and how you're packaging them. Don't be a transactional business, but a long-term commitment customer-focused business. This is what will impact someone's life, so align what people's goals are to the frequency of how often they should be coming in to get to where they want to be."
One of the most important things to keep in mind when it comes to your pricing is your margins. "Healthy margins equal profitability and choices. For a private model, 60% gross profit margin is the minimum, while a semi-private model can see 75% gross profit margin. Group training models can see anywhere from 75% to 85% gross profit margin."
Once all these elements are aligned, your business will scale like never before!
4. Increase capacity by establishing a team for continued growth
It's easy for business owners to feel stressed since there are many factors that go into running a successful business. "Operations make you tired," Sean tells us. "The intensity and energy required gets mentally, emotionally, and physically exhausting."
Earlier in Sean Greeley's presentation, he explained the six different stages of owning a business. Stage one to three is known as the start-up phase, whereas in stages four to six, business owners are committed to more long-term growth. "In stage three, you're doing everything," Sean says. "In stage four, you start to get help with servicing clients and with day to day operations. In stage five, you start to develop other people to manage and run the team on a day-to-day basis to get you into an ownership position."
"Team structure and leadership systems matter here," Sean goes on. "There are key areas to look at with your structure, scorecard, hiring and development plan for the team, and the overall way you lead them. This is from how you align people around the vision, how you multiply them, how you deliver results, and ultimately how you empower them. What's key for this is scorecards and operational checklists," Sean explains. "Scorecards define the outcomes each position is responsible for, while operational checklists define the work that must be done to produce the outcomes required."
The way you choose to grow and develop your team are integral elements that will lead to long-term success for your business.
5. Refine the profile of the ideal client for your business and differentiate your programs and services to establish a competitive advantage
There is so much competition in today's market, so it's vital for you to stand out and be unique. Sean Greeley shares his tips to come out on top!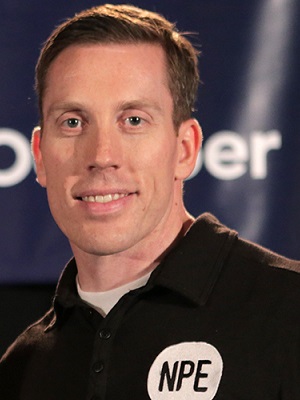 "First, define the ideal client profile for your business," Sean tells us. "What is the problem that you are solving? People engage with fitness for different reasons and have different goals, so it's important to cater to them."
"Understanding your customers comes down to three things: demographics, geographics, and psychographics," Sean explains. "Demographics are age, gender, and other things that define them. Geographics are where they live or work. Most business owners usually pull from an eight to 10-mile radius. Finally, psychographics includes what your clients buy, as well as their desires and challenges. Try to understand their mindset and what they want."
The more you understand your target demographic, the more you'll be able to tailor the experience you offer to them.
6. Get new marketing strategies to attract more top-paying clients who stay for years
Sean Greeley's final point in his 6-point plan involves using effective marketing techniques. Once you master your marketing strategies, you'll start to attract the right types of clients to your business.
"Marketing usually comes last as you need to have all other things in place," he explains. "Most business owners complicate things when it comes to marketing. They think they need to learn 20 new marketing strategies to get 10 to 20 new clients. There are four simple steps to increase new client acquisition:
1. Define your message
2. Craft a powerful offer
3. Master your sales system
4. Use the right lead generation strategies
Once you put these together, this will fuel the engine you need to drive your business forward and bring the right people in the door."
Sean Greeley's Professional Opinion…
"Wherever you're at with your business, get smart and level up your personal development as a business owner to make 2020 your best year yet!" Sean advises. "Invest time in developing a strong, strategic business plan that will help you get to where you want to be, and surround yourself with support systems that will allow you to become the best that you can be."
Learn more about Sean by checking out his incredible company NPE, as well as their Community Facebook group.
So, what are you waiting for? Live your dream and make 2020 a year to remember with Sean Greeley's incredible 6-point plan!