Stay Gold Discovers More Value with WellnessLiving's Complete Solution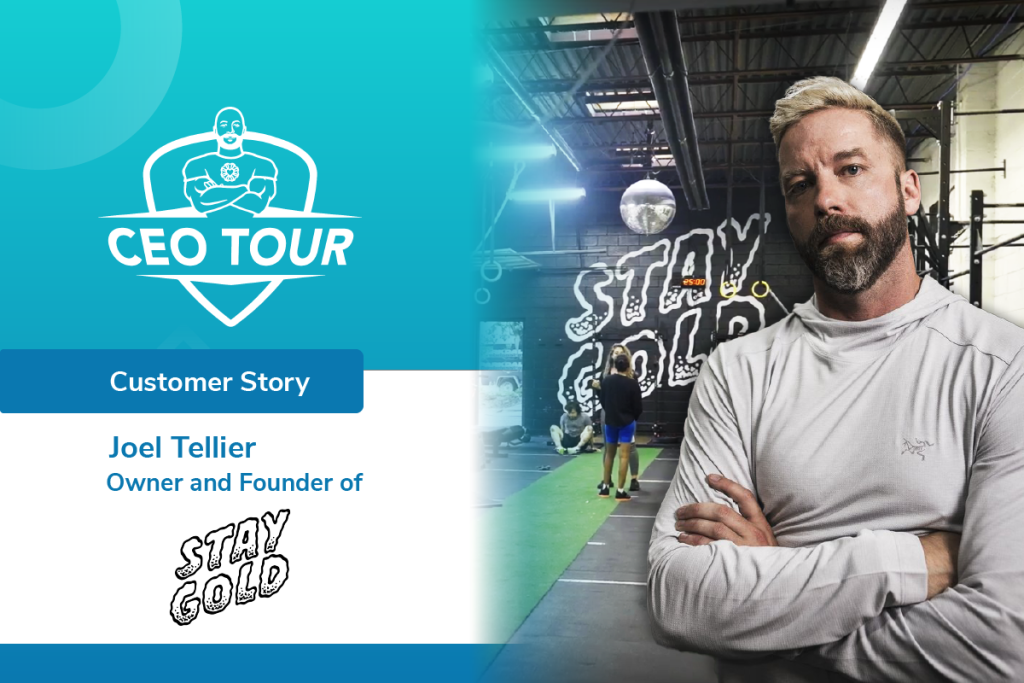 For Joel Tellier, owner of Stay Gold in Toronto, Ontario, fitness isn't just about staying fit, but also about being open to everyone, no matter who they are. He was dissatisfied with the way the fitness community managed issues of inclusivity and representation of the LGBTQ+ and BIPOC communities. As a result, Stay Gold was born to provide a safe space for everyone.
Stay Gold—an indoor and outdoor gym—values community above all else. That's why when Joel selected a fitness studio management software to run and grow his business, he wanted to partner with a business that cared about community as much as he did.
Joel found the perfect match with WellnessLiving and hasn't looked back. WellnessLiving offered his business and community with the tools and support to streamline class and facility scheduling and elevate business operations.
In 2022, Stay Gold shared their inspiring story when they entered WellnessLiving's #StandwithStudios Grant Program, a program all about fostering growth and community, and received a grant to help support their mission. WellnessLiving CEO and Co-Founder, Len Fridman, visited Stay Gold as part of his CEO Tour to learn all about Joel's amazing community and how WellnessLiving's support and all-in-one business management solution help their gym rise above any challenge.
Read on to discover how Stay Gold cut their business management software costs in half while building a thriving community with the help of WellnessLiving's complete business management solution.
CLICK HERE to learn how you can leverage our tools and start saving money while growing your business just like Stay Gold.  
Stay Gold at a Glance
📍Location: Toronto, Ontario, Canada
📍Business Name: Stay Gold
📍Business Owner: Joel Tellier, Owner and Founder
📍Website: https://staygold.fit/
📍Joined WellnessLiving Date: July 19, 2022
📍Switched From: Pike13 and GoHighLevel
📍Active Subscriptions: Professional Plan; White Label Achieve Client App
Meet Joel Tellier, Owner and Founder
Joel is the man with the plan. Whether he's crushing it as a competitive athlete or unleashing his creativity as an artist, Joel has always chased after the best version of himself. Along the way, he made it his mission to reduce barriers to fitness, welcoming the LGBTQ+ and BIPOC communities.
"We don't just want their money and we don't want their experience to end when they leave our space. Having members who connect with our values is important to us as we create a community that is solid, laughs, and grows together as people first and athletes second," says Joel. "We decided to create a space that's for everyone, like outsiders and people that felt they didn't belong. That's part of the reason our clients have been with us since the beginning!"
Back in 2017, the Stay Gold adventure kicked off in a cozy corner of Toronto. And guess what? By 2020, they upgraded to a bigger space that not only housed indoor training zones but also spilled out into the open air for outdoor sweat sessions. It was right around the pandemic, creating the opportunity to build indoor and outdoor training spaces, offering eight-person classes for strength, mobility, HIIT, and Olympic lifting.
Fast forward to today, and Stay Gold isn't just one building – it's two towering hubs of fitness awesomeness. The first building is like an open playground for solo gym warriors and personal training sessions. Meanwhile, the second building is the nexus of group training, where the energy cranks up a notch. Every single client is treated like a star, with workouts tailored to their dreams and limits.
There's also a sauna and ice bath program, and in the future, they'd like to offer other services, like chiropractic treatments and massage therapy.
How do you attract new clients?
Stay Gold aims to engage with people in a real way in their marketing while bringing in new clients with community-focused running groups, free trials, and discounted packages for couples.
In addition, Stay Gold offers the BeYou program, a free/PWYC class on Sundays that welcomes the trans, queer, non-binary, and gender non-conforming communities.
Why did Stay Gold switch to WellnessLiving?
Joel worked with multiple software providers over the years, from Pike13 to GoHighLevel, to help streamline booking and stay connected with his clients. They worked but didn't offer him the robust feature sets he needed for end-to-end business management.
Stay Gold needed a software provider that could manage four different aspects of their business—1:1 personal training, open gym (self-booking), events, and small group training—and no software could perform more than two of them.
Joel discovered WellnessLiving and hasn't looked back.
"There's just so many possibilities with WellnessLiving," says Joel. "Whether our trainers are booking clients, or our members are booking themselves, there's so much flexibility for them to perform those tasks on their own time."
Stay Gold now saves more than 50% in software subscription fees vs. their previous software provider, all the while having superior mobile apps, reporting tools, and functionality.
How was the transition to the new software?
Data migration and support are the top concerns for business owners switching platforms. But WellnessLiving was there for Joel, ensuring his data was safely migrated.
"Every step of the way, we felt supported, and we even received the proper training until we were comfortable utilizing the system," says Joel. "It also helps that WellnessLiving knows more than just software. They understand the fitness space and our industry."
Continuous feedback and support
Joel appreciates the powerful capabilities within WellnessLiving's features, but says without the Customer Support Team, his experience with the software wouldn't be the same.
"The support system is amazing," says Joel. "Whether it's email, the call center, Knowledge Base, or Community Forum, there's so many ways WellnessLiving provides ongoing support at each step of our client journey. Plus, they're very quick to get back to you and can answer even the most complicated of questions. They always have our back."
In addition, WellnessLiving consistently listens to feedback and updates its software.
"The problem with our previous software provider is that they stopped developing and growing. That just maintained the status quo," says Joel. "They didn't always fit our business model, but WellnessLiving is completely configurable to meet our unique needs."
Purchase Options
WellnessLiving makes it easy to manage Joel's memberships, drop-in fees, and packages, all in place.
"We love having the ability to curate the fitness experience for every individual based on their goals," says Joel. "The software gives us the flexibility to sell different offerings, allowing us to apply discount codes, especially when our members purchase memberships with a friend or family member. With all our purchase options, we can offer and promote something that fits how frequently our clients come to the gym, their financial situation, preferences, and more. So that's incredibly powerful!"
Client Communication
Like most business owners, time is Joel's most valuable resource. Rather than rely on multiple systems to communicate with clients, Stay Gold utilizes WellnessLiving's powerful communication tools to automatically send clients or specific client groups reminders, notifications, offers, and more.
"The client interaction aspect is essential and when people get reminded, they booked a class, it nudges them to get to the gym and prevents no-shows. It's nice to be able to easily contact a small group of people and tell them the information that they need," says Joel. "I also love the retention capabilities within notifications. If our clients haven't booked in a while, we simply send them an email to check in, and often they respond back and let us know when they'll be in next."
White Label Achieve Client App
Offering a custom branded Achieve Client App for his members with the Stay Gold colors and logo was very important for Joel, who also has a background as an art director and creative director.
"As a design-forward brand, we love everything about Achieve," says Joel. "If our app wasn't white labeled, we might seem less established than other competitors. And, if someone is spending money monthly, we want them to have that trust and faith in our brand, and the White Label App gives you that edge, making you feel like one of the heavier hitters in the fitness space, even though you may be a small studio."
Customer Reviews
WellnessLiving's customer reviews feature is another useful tool that allows Joel to improve Stay Gold's credibility.
"It's the perfect tool to boost our reputation, giving us the ability to request reviews after clients have taken a class, then track and respond to them," says Joel. "If they leave a negative review and didn't have the greatest experience, I could address it before it goes up on Google Reviews, where a 1-star review can hurt you."
Transformation Log
Through the Achieve Client App, the transformation log is a useful tool, allowing the clients at Stay Gold to track their personal fitness metrics (like heart rate, measurements, or body fat percentage) and reach their goals .
Staff Management & the Elevate Staff App
Joel says everyone on the admin side really enjoys utilizing the Elevate Staff App. It's easy for staff members to navigate the platform with not much handholding, requiring minimal training.
The staff app is also the ultimate tool for Joel and his staff to view the schedule, book clients, and mark clients as attended, no shows, and late cancellations. Plus, the app is handy for communicating with clients directly.
Advanced Reporting
WellnessLiving's dashboards and predictive reports help Joel organize his business, discover trends, and make informed decisions about finances, inventory, payroll, and more.
"One of the biggest things that WellnessLiving provides us with is reports, analytics, and tracking, helping us generate data so that we can better understand our clients and reach our growth goals," says Joel.
Specifically, Joel loves the attendance reports, breaking down how many bookings are made each day, week, and month while tracking trends with memberships, sales, and projected revenue.
What has had the greatest impact on your business since joining WellnessLiving?
As a value-driven platform, WellnessLiving provides Stay Gold with more features, resources, and support, for greater value and at a more affordable price point.
"We're spending half as much per month than we were with our previous software providers," says Joel. "For a small fitness studio that's significant!"
What does receiving the #StandwithStudios Grant mean to you?
The #StandwithStudios Grant Program has been a huge boost for Stay Gold, giving them the confidence to rise above the pandemic and economic-related challenges.
"Honestly, we've been just trying to survive, but winning this grant gave us affirmation that we're on the right track," says Joel. "It came at a dark time, so the grant really eased some of the stress month-to-month, providing us with software, marketing support, business education, and money which helped us pay our bills and reduce our costs. It's been incredible how it's helped us grow our business."
Thinking about making the switch?
What would Joel tell other business owners looking for a new software provider?
"It's a no-brainer," says Joel. "The flexibility and how powerful the system is mean that it's the perfect solution for any studio. Everything is built in with no third-party add-ons required, and they're investing constantly in development and the user experience, while support is there for you 24/7. I'd recommend WellnessLiving to anybody!"
Ready to take your fitness business to the next level? Learn more with a free, no-commitment demo today!