Sep 28 2021, 9:00 AM
How Understanding Customer Behavior Trends Can Grow Your Business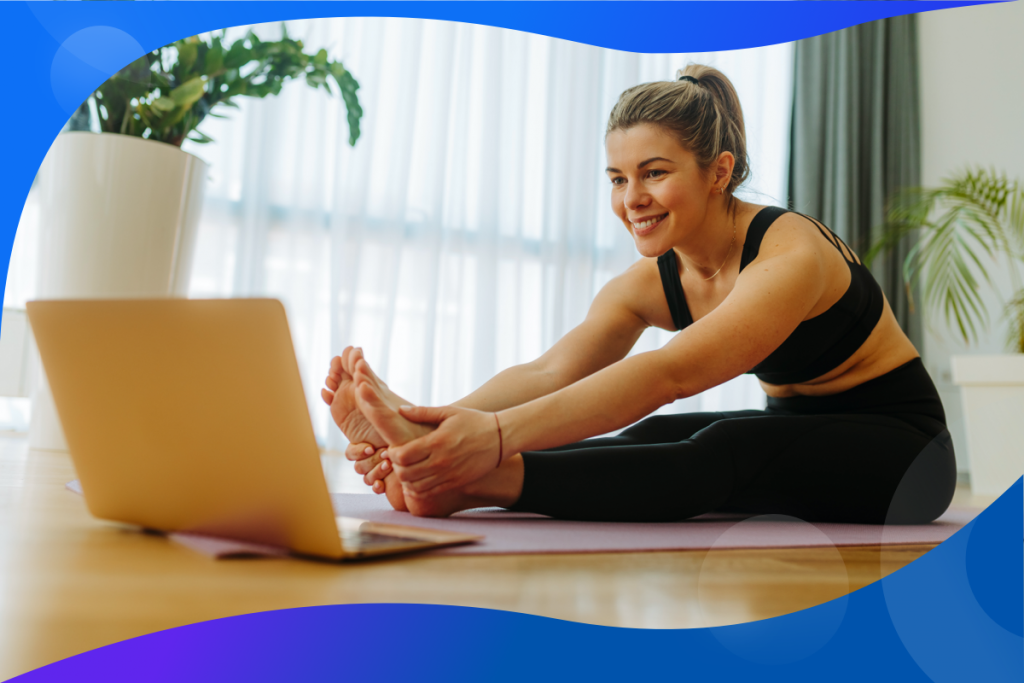 The COVID-19 pandemic has transformed the fitness industry in ways that we're yet to fully comprehend. On the one hand, the imposition of social distancing in 2020 meant many gyms had to shut their doors, often losing revenue as a result. At the same time, fitness fanatics turned to virtual services such as apps and online instructional videos.
Although many people have returned to gyms in the past few months, the virtual fitness industry continues to thrive and is expected to register an impressive compound annual growth rate (CAGR) of 30.1% by 2026. So, what can we learn from this trend? Put simply, the pandemic has alerted people to the benefits of online services such as convenience and low cost, meaning many are changing their consumption behaviors.
Even though the lifting of pandemic restrictions is allowing businesses to reopen, owners of gyms and fitness businesses shouldn't prepare for a return to the old ways of working. People are likely to continue working from home and pursuing different daily routines for many years to come. In other words, fitness and wellness professionals must adapt to new consumer needs. Don't worry if you own a physical gym studio—there will always be space in the market for in-person services. However, as consumers develop new tastes for digital products, it may be worth introducing online classes or additional hybrid services to ensure your offerings remain attractive.
Adapting to customer behavior trends in this way is fundamental if you want to optimize acquisition and retention rates and grow your business. Want to better understand your customers' motives and priorities? We've put together a handy guide to the personal, social, and psychological trends that could be affecting your bottom line.
What factors influence customer behavior trends?
Here are just a few factors that could be influencing the behavior of your customers:
1. Motivational issues
Broadly speaking, the pandemic has split gymgoers into two camps:
Those whose fitness routines have fallen by the wayside.
People who've wholeheartedly embraced home workouts and indoor fitness sessions.
According to a new study by the IHRSA, 48% of fitness consumers have lacked the motivation to get active since the start of the pandemic, with some avoiding exercise altogether. At the same time, recent survey data shows that people who exercised one or two times a week before the pandemic have increased how much time they spend exercising by around 88%.
So, what does this mean for fitness businesses? Reigniting people's desire for exercise may seem tricky. But, motivational texts and introductory offers could help entice people to go back to the gym. For those with a newfound love of exercise, why not make the most of their new routines? Offering discounted gym memberships for repeat visits or organize a lighthearted fitness competition. The opportunities are endless!
2. Hybrid fitness routines
Around 10% of Americans have set up home gyms, allowing them to keep fit from the comfort of their own living rooms. At the same time, however, around 95% of people who joined a fitness club before the pandemic miss at least one element of exercising at the gym.
In other words, people have embraced a hybrid approach to fitness—enjoying both home workouts and in-person gym sessions. For fitness and wellbeing businesses, this could mean offering more online classes in combination with in-person sessions. With the fitness streaming market set to expand by 35% every year until 2026, it's worth getting in on the action early.
3. A taste for convenience
On-demand services have become the norm across all sorts of industries, from entertainment to healthcare. In fact, subscriptions to services such as Netflix and Spotify have ballooned, growing by over 350% since 2012.
In response to this trend, fitness business owners have started offering online personal training sessions, on-demand classes, and all sorts of personalized apps. Therefore, addressing growing consumer preferences for convenient online experiences will help you adapt to a tough market environment and protect your revenue stream.
4. The rise of wearables
Wearable fitness devices such as smartwatches have enjoyed high adoption rates since 2014, allowing people across the world to track fitness metrics such as heart rate, sleep quality, and daily step count. With recent stats suggesting that over 900 million people worldwide will own a wearable by 2022, it's about time gym owners paid attention.
What is great about wearables? Well, people can use them in conjunction with mobile apps to track health and fitness goals. This function provides fitness businesses with the opportunity to develop their own apps tailored for their subscribers.
5. Higher demand for personalized services
Around 88% of consumers prioritize personalization when selecting fitness products and services. Indeed, this correlates with wider trends surrounding personalized experiences as more and more consumers expect brands to cater for their needs and desires.
Fortunately, there are plenty of options available to fitness brands hoping to cash in on this trend. You could, for example, offer one-to-one check-ins to discuss your customers' fitness goals. Or, offer small group classes for members with specialized needs. Gym owners offering digital services could even offer personalized fitness videos or send downloadable guides containing tailored menu plans and nutritional advice. Get creative and remember to make your subscribers feel special!
6. Customer retention issues
Around 54% of U.S. gymgoers canceled or froze their subscriptions during the pandemic and, while some have since returned, 60% haven't. The reasons for these retention issues are wide-ranging. Some gymgoers have faced financial struggles throughout the pandemic, meaning they have been priced out of fitness facilities. Others prefer not to re-enter public spaces while COVID-19 is still circulating. Or, they have simply discovered a passion for exercising outside.
Tempting these customers back will require a range of different approaches. Cash-strapped gymgoers, for example, may benefit from discounted rates or special offers that encourage them to rejoin. Germ-conscious customers, on the other hand, may feel more confident about using the gym if you send frequent communications about your commitment to customer safety and the measures you've put in place to prevent viral transmission. While outdoor exercisers may take a little more persuading, attractive hybrid offerings could encourage them to sign up again.
What consumer behavior metrics should I track?
Okay, so we've outlined a few of the most important customer behavior trends affecting the fitness industry right now. But what about the future? If you want to maintain a thriving business, you'll need to track consumer behavior metrics regularly and adapt your offerings.
As we've explored in previous blog posts, measuring a few key performance indicators (KPIs) should help you measure success and identify areas for improvement. Here are a few KPIs that could indicate a shift in consumer behaviors:
Client retention rate (CRR): A declining retention rate suggests that customers are developing new needs and desires. As a result, you must adapt.
Average daily attendance (ADA): Are your attendance rates plunging? Consumers may need something more from instructors.
Revenue per client (RPC): If your RPC is low, consumers may be bored of your services. As such, you may need to increase their engagement with digital fitness products.
Give consumers what they want with WellnessLiving
Need help adapting to shifting customer behavior trends? WellnessLiving is here to help. Our intuitive online platform offers video-on-demand services to help you embrace the digital revolution, as well as automated marketing tools, staff and client apps, and a popular rewards program. If you're hoping to grow your business in a tough market environment, WellnessLiving will significantly improve your chances of success.
Want to learn more about WellnessLiving? Go ahead and book a free, no-commitment demo today!