WellnessLiving Announces First Round of #StandwithStudios Grant Winners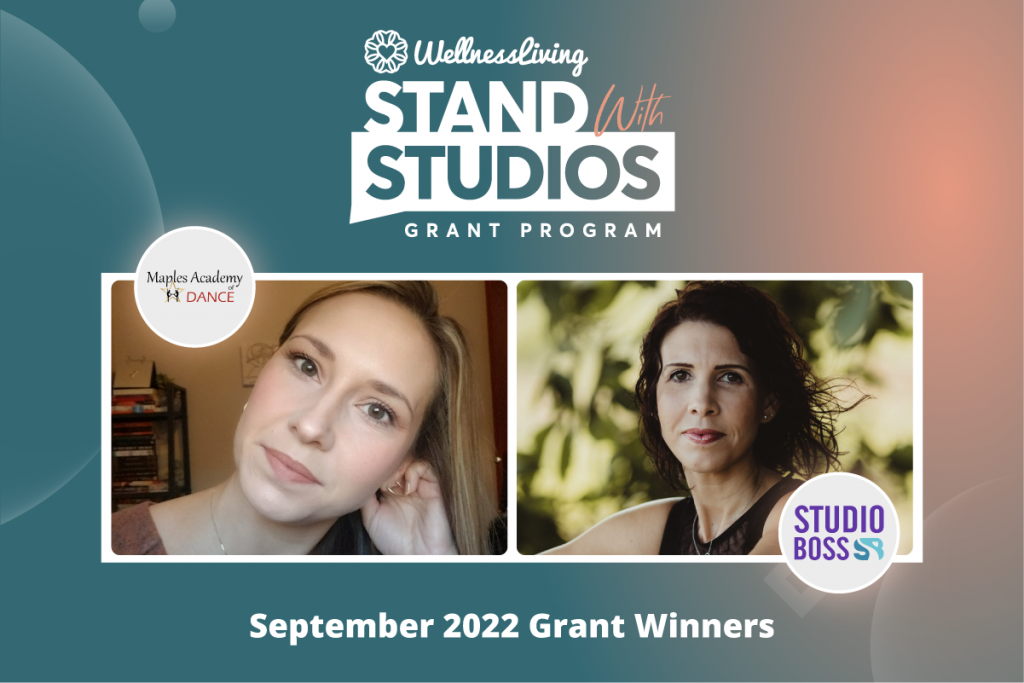 Congratulations to Shauna Jurczak of Maples Academy of Dance and Stacie Ellis Boss of Studio B.O.S.S. for receiving #StandwithStudios Grants.
TORONTO, CA – September 29th, 2022 – WellnessLiving, a leading all-in-one software solution for fitness and wellness businesses, is excited to announce the first round of #StandwithStudios Grant Program winners—Shauna Jurczak of Maples Academy of Dance and Stacie Ellis Boss of Studio B.O.S.S.
"Since launching the #StandwithStudios Grant Program, we've heard some inspiring stories, showing us what community truly means," says WellnessLiving CEO and Co-Founder, Len Fridman. "We're honored to select Shauna and Stacie in our first round of grant program winners, providing them with the tools and support to positively impact their communities, while helping them overcome the challenges they face at each stage of their entrepreneurial journeys."
Shauna Jurczak of Maples Academy of Dance
Under the direction of sisters, Shauna and Jamie Jurczak, Maples Academy of Dance is dedicated to providing professional, high-quality, and affordable dance programs to its community in Winnipeg, Manitoba, Canada.
"It's our passion to create a community of individuals who feel empowered, supported, and encouraged at a greater level beyond dance, every single day, so they can serve their communities as well," says Shauna. "Winning the grant is amazing and is such a big reminder to us that our business is on the right track!"
Stacie Ellis Boss of Studio B.O.S.S.
Stacie went from being overweight and self-conscious to a personal trainer helping women overcome the same challenges she had. Studio B.O.S.S. now offers small group personal training, massage therapy, and lifestyle/behavioral change coaching to the community of White House, Tennessee.
"Through every up and down, our community has grown together," says Stacie. "I feel blessed to do what I love with a community of people that I love, and being selected as a winner of the #StandwithStudios Grant Program is the icing on the cake! I'm thrilled to put my grant towards some much-needed renovations. Thank you so much WellnessLiving!"
With the support of our valued business coaches and brand partners, 14 more studios will be selected and will receive up to $10,000 in grants, software, marketing support, and business education.
Thank you to everyone who submitted their #StandwithStudios application. If you haven't applied or completed your application, it's not too late. The next round of grant winners will be announced on October 27th, 2022, and the last day to submit your 2022 application is December 15th, 2022.
Visit www.standwithstudios.com for more information and apply today!
About WellnessLiving
WellnessLiving is a leading provider of cloud-based, end-to-end business management software and integrated payments solutions that are disrupting the fitness and wellness technology ecosystem through continual innovation and dedication to fulfilling the needs of customers. Dynamic features like their automated marketing suite, advanced reporting, easy booking tools, and rewards program allow customers to attract, convert, and retain more clients. WellnessLiving is one of the fastest-growing software companies in North America with over 15 million users worldwide and are the proud recipients of the 2021 Deloitte Technology Fast 50™ and Fast 500™ award programs. For more information, visit www.wellnessliving.com
Contact Details
Media Relations: Noelle Beauregard
Email: PR@wellnessliving.com
Website: www.wellnessliving.com
Share
https://www.wellnessliving.com/blog/wellnessliving-announces-first-round-standwithstudios-grant-winners/
Copy
Subscribe To Our Newsletter
wpDiscuz