WellnessLiving's Continuous Support Empowers Iron Lion Training's Growth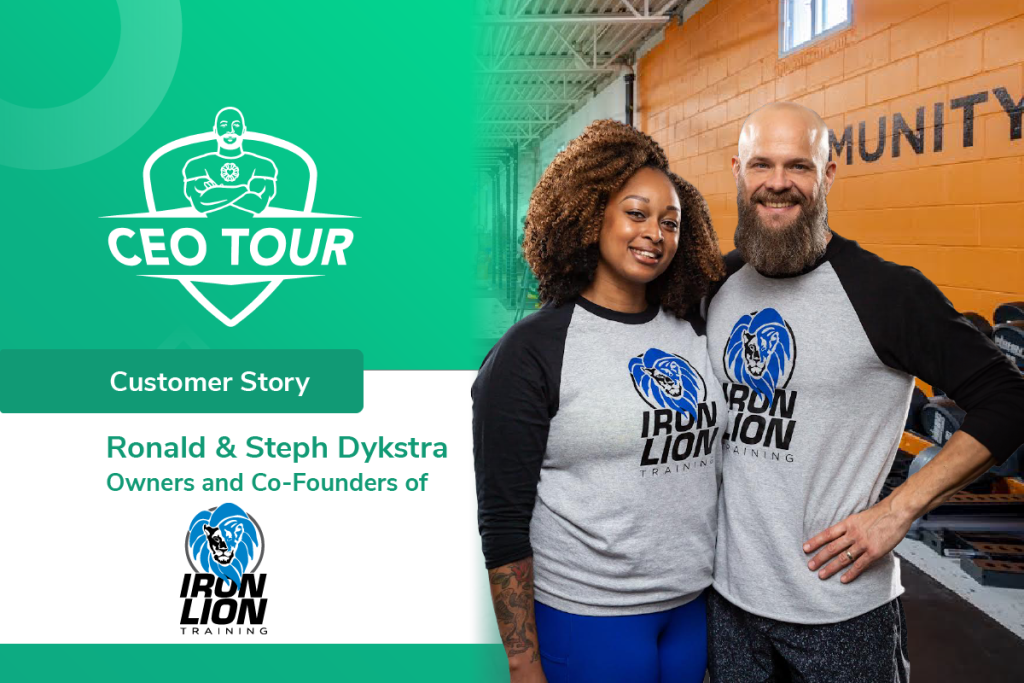 Iron Lion Training Inc. husband-and-wife owners, Ronald and Steph Dykstra, take pride in offering a space that's inclusive, not exclusive. It's the difference between joining the gym and enjoying the gym—where everyone cheers each other on and moves together through every challenge they face.
As a safe and inclusive space, community means everything for Iron Lion Training—a small gym in Toronto, Ontario. That's why Ronald and Steph were ecstatic when they found a gym management software with a similar community-centered mindset.
In the summer of 2022, Iron Lion Training's roof came down and needed repairs.  WellnessLiving gave them the tools and support they needed to get back on track. The small gym even received the #StandwithStudios Grant—the program created to help studios re-imagine, re-fuel, and re-build their businesses.
"We were really struggling," says Steph. "Then, I almost cried when I got the call about winning the grant!"
CEO and Co-Founder, Len Fridman, visited Iron Lion Training as part of his CEO Tour. He got an incredible workout in and learned all about Steph and Ronald's amazing business owner journey of perseverance.
Read on as we discover all about Ronald and Steph's story and how WellnessLiving's mobile apps, advanced reporting system, client experience tools, and first-class support have helped take Iron Lion Training to the next level.
CLICK HERE to discover why Iron Lion Training and hundreds of other fitness studios switch to WellnessLiving every day.
Iron Lion Training at a Glance
📍Location: Toronto, Ontario, Canada
📍Business Name: Iron Lion Training Inc.
📍Business Owner: Steph & Ronald Dykstra, Owners and Co-Founders
📍Website: https://ironliontraining.ca/
📍Joined WellnessLiving Date: Feb. 28, 2022
📍Switched From: Mindbody
📍Active Subscriptions: Professional Plan
📍Number of Partner Program Referrals: 1
Meet Steph Dykstra, Co-Founder, Creative Director, and Martial Arts Coach
After years of working in finance and insurance, Steph decided to step into the ring and pursue amateur boxing full time while working as a personal trainer on the side.
Steph founded Iron Lion training with her husband, Ronald—a former champion powerlifter and weightlifter, who has worked with more than 500 clients.
In 2012, Steph the Iron Lion brand started, but it wasn't until 2016 that they opened their physical location.
"It's been a really hard thing to do, especially with your partner," says Steph. "But it's probably the most fulfilling thing that we've done in terms of what we're able to deliver, helping people move, feel, and live better."
What sets you apart from other small gyms?
Iron Lion Training is inclusive, not exclusive. That no-nonsense descriptor isn't a marketing ploy or wishful thinking; body positivity is abundantly evident on the gym floor where all shapes, abilities, ages, and stages of life are present, celebrated, and feel welcome.
"Our goal was to create a space where gymtraverts—people who don't feel comfortable at the gym—could stay consistent with their workouts and achieve their goals," says Steph. "We obtained valuable feedback from long-time clients by asking them, 'why do they come to us?' We made people feel powerful. They come to us just as they are and not what others think they should be. And, when people show up, we celebrate that."
In addition, there's a personal touch and level of accountability, which explains why Iron Lion Training's average client lifespan is about five years.
"In bigger gyms, I feel they bank on you not showing up, where at Iron Lion, if you haven't shown up in a week, we're texting you, asking if everything is OK," says Steph. "Our gym really is like 'Cheers,' where everyone knows your name. People become family here! I also know people's schedules better than they do, and they appreciate that level of care. We're sort of like a health concierge, letting them know when they need to go to the chiropractor, massage therapist, etc."
What services does Iron Lion Training offer?
Steph and Ronald guide and empower their clients along their individual fitness journeys, offering personal training, semi-private training, group classes, nutrition counseling, and online coaching.
"Fortunately, with online training, people that live outside of Toronto or can't make it to the gym can still work with us," says Steph. "We introduced it because of the pandemic, and it just stuck. Sometimes people just don't want to leave their home."
There's a variety of classes, including stretching, stretch training, boxing, kettlebell, and powerlifting. They also hold community and charity events. Ellen Ripley, the Iron Lion dog, will even greet clients at the studio door, making everyone feel at ease.
Why did you choose WellnessLiving?
Lion Iron Training had been using Mindbody for four or five years, but Steph became frustrated with the constant price increases every six months.
"I spoke to my account executive at Mindbody and told him we were struggling and asked if there was anything he could do for us because the price didn't really work for the type of revenue we were bringing in at the time. He said, 'Well I guess we're not for you' and that was the end of that relationship," says Steph.
Since Lion Iron Training is a small gym, they needed a software provider that met their unique business needs, and fortunately they found WellnessLiving.
How was the transition to the new software?
While Iron Lion Training feared losing client data, everything from client profiles to credit card info had been safely transferred to the new system.
"My onboarding specialist really put my mind at ease, and they patiently explained how everything worked," says Steph. "We had a ton of clients, so the entire process took about two weeks."
How has WellnessLiving's supported your business?
In the summer of 2022, Iron Lion Training's roof came down and needed repairs. WellnessLiving happily figured out a short-term payment solution that worked for Steph.
"It's rare to deal with a company that actually wants you to do well and will put things in place to help you succeed," says Steph. "I'm super grateful for WellnessLiving and the support they provide us, day in and day out."
What else does Iron Lion Training love about WellnessLiving?
Whether it's streamlining the mobile app experience or delivering first-class support, WellnessLiving has everything Steph needs to manage and grow her gym every step of the way. Here we break down what Steph has loved the most about her all-in-one software.
24/7 Customer Support
Steph says that while the software features are incredible, it's the team backing the system that's really impressed her.
"As a business owner, it's all about building relationships that last and I feel like WellnessLiving has that same mindset," says Steph. "Whenever I need help, the Customer Support Team clearly and patiently provides comprehensive support, while resolving our concern quickly and sending us resources in the Knowledge Base we can refer to later."
In addition, the Community Forum allows Steph to request new features, report issues, and ask questions.
Flexible Booking
Steph encourages her clients to book classes at the beginning of each month to avoid the wait list.
"That's prompted members to sign up early to get their spot," says Steph. "This allows clients to take control of their class schedule and book ahead of time.
Achieve Client App
Offering a custom branded, Achieve Client App was very important for Steph and Ronald.
"How our clients feel about our brand is important to us and they prefer WellnessLiving in terms of how it looks on their end," says Steph. "They use the app and it's been a thumbs up from them and a much better experience than our previous software."
82% of WellnessLiving customers who offer a custom branded app like Steph and Ronald see a boost in retention, along with an average increase of 22% in revenue. How? Well, the app easily allows Iron Lion Training clients to:
View the schedule, book services, make payments, and add the service to their calendar. Clients also get notification reminders before their class or appointment.
Purchase gift cards, class passes, memberships, and products.
Write reviews about their experience.
"I love how the app helps grow our reputation," says Steph. "Our clients are busy and may forget to leave a review about us. Fortunately, WellnessLiving doesn't allow them to forget, prompting them to leave a review after they've completed a class or service with us."
Client Profile & Transformation Log
Tracking and celebrating client goals is very important at Iron Lion Training. Through the Achieve Client App, clients can access the transformation log, view their goals, track their nutrition data and food intake, and update their progress pictures.
If other practitioners like chiropractors or message therapists, need to send Iron Lion Training additional information, Steph and Ronald can attach the file to the client profile—the hub that keeps track of personal info, attendance, communication, goals, progress, and more.
"I love viewing and leaving notes, adding a task, or following up with the client based on the information within the transformation log and client profile," says Steph. "It does wonders for allowing us to enhance the client experience."
Speaking of elevating the client experience, in the future, Iron Lion Training intends to leverage the belts system for their boxing and kettlebell programs, providing another level of accountability and something to work toward.
Client Communication
WellnessLiving allows Iron Lion Training to streamline communication and create more meaningful connections with clients through the automated marketing suite. Steph can set up customized marketing campaigns with SMS, email, or push notifications.
"I love getting that bird's eye view of the client profile, so I send them birthday wishes or celebrate their anniversary with us. We usually celebrate at the three-, five-, and 10-year mark," says Steph.
Staff Management with the Elevate Staff App
WellnessLiving's Elevate Staff App has been the ultimate time saver for Steph and the rest of the staff and contractors that utilize the space at Iron Lion Training. It allows Iron Lion Training to manage their staff and finances all in one place.
"Easy scheduling is a big thing for us because we have our trainers and contractors utilizing our space," says Steph. "The way the schedule is laid is very simple, making it easy for us to create different appointment types, view or update the schedule, or reschedule appointments, manage our multiple revenue streams, track how much we made on renting our space, right from our mobile devices, which is perfect because I'm not always in front of my computer."
Advanced Reporting
WellnessLiving's powerful advanced reporting feature is essential to allow Steph to take control of her business's finances and uncover trends and metrics to forecast the year ahead and better grow Iron Lion Training. There are a couple of specific reports Steph utilizes the most.
All Sales Report: This detailed report allows Steph to view and manage all transactions processed at your business, including total sales, total payments, and failed payments within a specific date range.
Batch Reconciliation Report: The Batch Reconciliation Report is similar to the All Sales Report. However, if a credit card is compromised, you'll see right away if you need to contact that client.
What does receiving the #StandwithStudios Grant mean to you?
WellnessLiving's #StandwithStudios Grant Program has been a huge game-changer for small fitness studios like Iron Lion Training, who were selected as a winner in November 2022.
With the support of WellnessLiving's valued brand partners and business coaches, studios received grant money, marketing support, software, and business education to help businesses like Iron Lion rise above their hardships.
"When I got the call, I almost cried and couldn't believe it," says Steph. "It was really mind blowing to have that type of support thrown behind us, and from our software company of all places. It's made all the difference in the world!"
Ready for WellnessLiving to empower your business?
For Steph and Ronald, they know that there's so much more to discover within WellnessLiving and they can't wait for what's to come. WellnessLiving is constantly evolving and releases new updates on a regular basis!
"Iron Lion Training is all about building relationships that last and I feel WellnessLiving has a similar mentality, especially when it comes to how they treat their customers. It's a symbiotic relationship. There's just so much respect and commitment for every business owner that uses their software," says Steph. "My previous software provider didn't take the time to listen and get to know my business and how I'm utilizing the software. Thank you WellnessLiving. It makes all the difference!"
After all, it's WellnessLiving's mission to empower small business owners like Steph and Ronald with the tools and support they need to attract, convert, and retain more clients.
How can WellnessLiving take your fitness business to the next level? Book a free, no-commitment demo to learn more.