Jul 11 2017, 6:33 PM
Learn What to Sell (And How) With Your New Online Store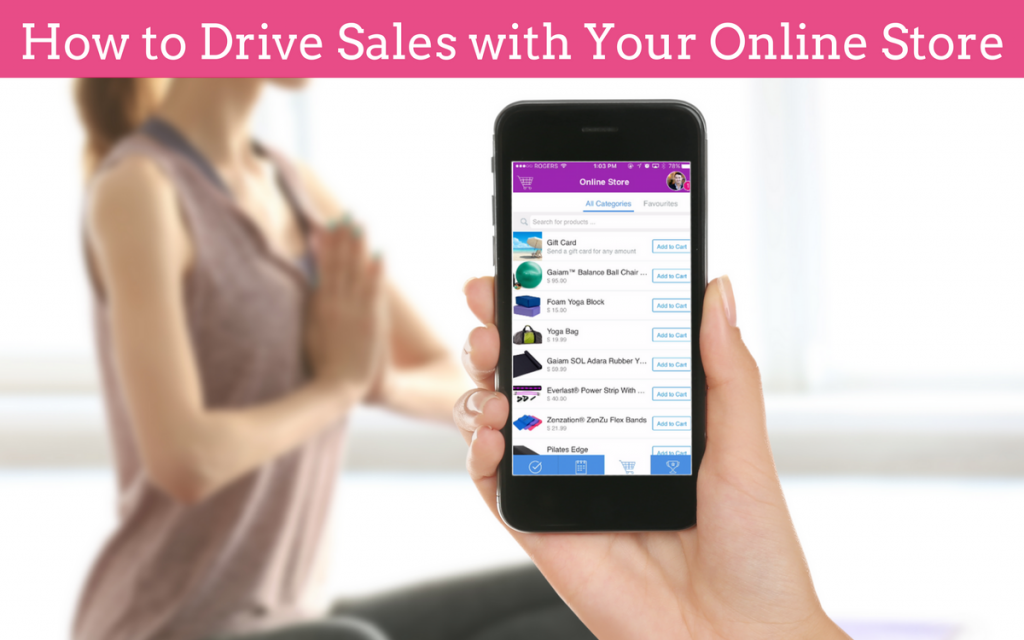 You are good at what you do. That's why you're in business! Whether it's operating a gym, running a massage studio, or teaching dance lessons, you're a master of your trade. But, retail? That's a whole other ballgame. But, it's one you shouldn't be missing out on.
With the fitness food and beverage industry seeing consistent growth in past years, and fitness clothing showing a similar pattern, now's a better time than ever to stock up on merchandise at your wellness business.
Maybe you're hesitant to offer retail at your business, or maybe you've got some stuff in the lobby, but you haven't taken the next step of building out your online store. But with WellnessLiving, it's easier than ever to get the retail side of your business off the ground and bringing in regular cash flow. Imagine how much revenue you could bring in if your studio was open 3-4x longer each day. With an online store, clients can make purchases anytime, anywhere, which can bring in more revenue for your business without you having to lift a finger. Here's what you should be doing to get your online store up and running:
Supply the Right Stuff
Before building out your online store with WellnessLiving, you're going to need to decide what you want to sell. Understanding what your clients want can be as easy as asking! Ask clients what products would be helpful to provide or what kind of gear they'd want to wear.
Talk with your team, as well. You and your team are experts in the wellness industry, so it's likely you're recommending certain supplements or products to help your clients live a well-rounded healthy lifestyle. For example, if you're a massage studio, you may find yourself regularly recommending specific essential oils or foam rollers. If you offer those products on your online store, you make it even easier for your clients to purchase them, and you can benefit from the transaction as well.
Make It Easy to Buy
In today's society of online shopping and quick purchases, people don't just want a hassle-free buying experience — they expect it. When designing your online store, be sure to give clients a quick and easy way to make a purchase, like WellnessLiving's Quick Buy option. Shoppers can make a purchase without ever having to leave your schedule interface. So, if they book a spot in your kickboxing class, they can easily purchase a new pair of gloves right there in the same window.
Go Mobile
The average smartphone user spends more minutes online via their phone than their desktop. And when it comes to building out your mobile purchasing, there are two important things you're going to need: a mobile-responsive website and an app. The split between mobile purchases on a webpage and on an app is nearly 50/50, so it's equally important that both your website and your app are convenient and user-friendly.
Lucky for you, WellnessLiving handles both. You can add products to your online store directly through your WellnessLiving account, and our Achieve Client App allows members to make purchases with just a few swipes of the finger.
Promote Your Merchandise
Once you've stocked the right stuff and optimized your online store, you're going to need to get people excited about what you've got to sell. First, start with your team! Get your staff wearing the latest gear with your business's name on it so your members can see what you have to offer and get excited about it. Make sure your team is well-versed in the products you offer too, like supplements, equipment, etc. so they can make the best recommendations to your clients.
Mobile marketing and email campaigns can be great ways to get the word out about your gear, as well. Send members a text message about a weekend flash sale or send clients an email showcasing the newest gear that just arrived. WellnessLiving offers all types of marketing campaigns that you can easily set up and send out to drum up excitement for your mobile store.
Getting additional revenue for your business through an online store is easier than you think! And when you schedule your free demo with our team, we can walk you through exactly how to set up retail for your business.