Cristini Athletics' Secret to Success: Fitness, Family, and WellnessLiving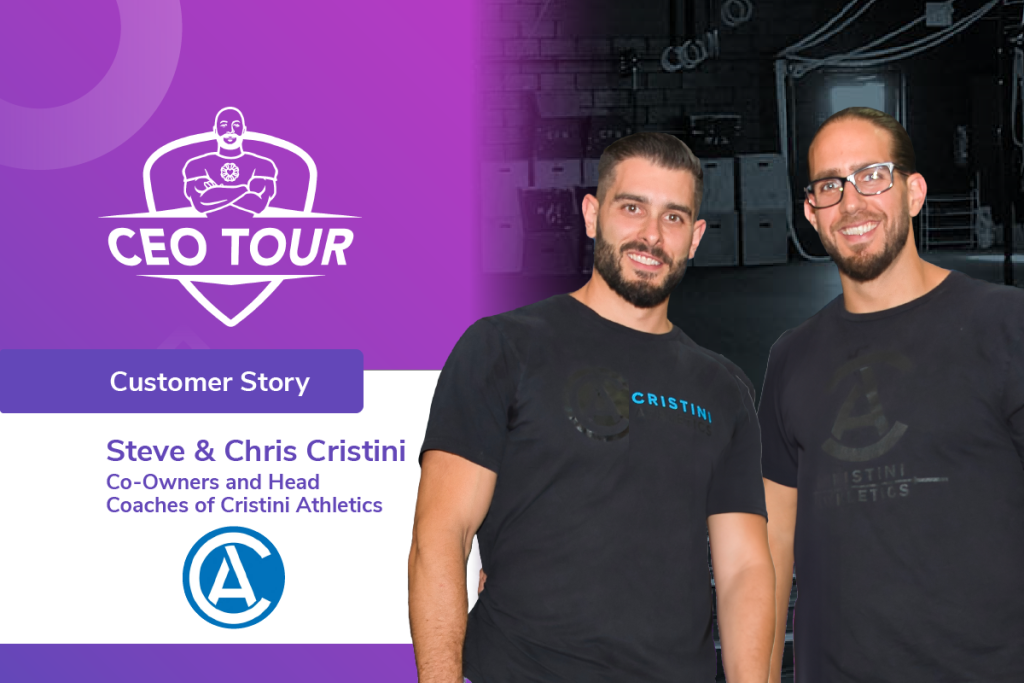 For the dynamic Cristini brothers, Chris and Steve, Cristini Athletics is more than a business—it's a family legacy.
From the early days, Chris and Steve were immersed in the world of fitness through their incredible mother, Anna, who impacted countless lives as a charismatic spin and aerobics instructor.
Today, the Cristini family has united their passion and expertise to form Cristini Athletics, an upscale fitness training and CrossFit gym that thrives on making a difference. With two expansive 5,000+ square foot locations in Markham and East Woodbridge, Ontario, they've forged a unique fitness experience. It's one that's high-intensity, results-oriented, and, most importantly, welcomes every member as an extension of the family.
After navigating through a series of different platforms, Cristini Athletics discovered a pivotal addition to their fitness family: WellnessLiving. As an all-in-one software provider with a proven track record of transforming brands into industry powerhouses, WellnessLiving became an integral part of the Cristini Athletics success story.
The WellnessLiving team, led by CEO and Co-Founder Len Fridman, paid a visit to Cristini Athletics in Markham, where they dove into a CrossFit class to get a firsthand experience. During the visit, Len had the opportunity to delve into the Cristini family's fitness journey and learn how WellnessLiving's unwavering support and cutting-edge tools have been instrumental in their ongoing success.
WellnessLiving's mobile apps, client communication tools, and custom reporting and dashboard system have all been essential in streamlining Cristini Athletics' day-to-day operations, allowing them to attract, convert, and retain more members. Read on to learn how they harnessed our tools, and how you can too.
CLICK HERE to discover how WellnessLiving helps thousands of fitness businesses strengthen their operations and boost revenue by up to 58%.
Cristini Athletics at a Glance
📍Location: Markham and East Woodbridge, Ontario
📍Business Name: Cristini Athletics
📍Business Owner: Steve Cristini & Chris Cristini, Co-Owners & Head Coaches
📍Website: https://cristiniathletics.com/
📍Business Size: Very Large
📍Joined WellnessLiving Date: June 11, 2020
📍Switched From: Mindbody and RhinoFit
📍Active Subscriptions: Professional Plan ; Presence Custom Websites ; White Label Achieve Client App
Meet Steve & Chris Cristini, Co-Owners and Head Coaches
Fitness has always been a big part of the Cristini family, with Chris and Steve practically raised in the aerobics room under the guidance of their mother, Anna.
This early exposure ignited a shared passion for fitness that only deepened their bond. Both brothers pursued careers in the fitness industry, becoming personal trainers, obtaining kinesiology degrees to bolster their expertise, and securing numerous CrossFit certifications.
Chris, a Canadian Muay Thai Champion and a seven-time CrossFit Games Regional competitor, alongside Steve, a three-time CrossFit Games Regional athlete, embraced their competitive spirits to reach new heights. Their dedication led them both to participate in the CrossFit Games in 2016.
Playfully, Steve remarks, "It's our mom's fault. We witnessed the profound impact she had on the fitness community, and we were determined to follow in her footsteps."
When did Cristini Athletics open?
In 2009, Chris and Steve fitness business journey took flight as they established CrossFit Markham, operating out of their parent's garage. At the time, they were the sole CrossFit gym in the area, with a modest membership of 27 individuals.
Just two years later, the brothers expanded and transitioned from the garage to a dedicated 2,000-square-foot space. As their ambition and dedication continued to grow, the Cristini siblings joined forces with Reebok in 2012 to launch Reebok CrossFit East Woodbridge.
This collaboration marked the start of something remarkable, eventually leading to the rebranding of the gym as Cristini Athletics. They now operate two spacious facilities, each spanning over 5,000 square feet, located in Markham and East Woodbridge. These state-of-the-art establishments boast two therapy rooms, shower facilities, men's and women's changing rooms, and are equipped with top-tier CrossFit equipment.
What does Cristini Athletics offer?
Cristini Athletics is a gym that embraces diversity, welcoming individuals of all ages, body types, and fitness levels. Their mission is to create an inclusive and supportive environment where members feel not only motivated to achieve their fitness goals but also part of a close-knit fitness family that they never want to leave.
While CrossFit is a big part of what they do, it's not the only thing that Cristini Athletics offers. What else is on the menu?
Personal training with customized workouts and accountability.
LiteFIT, a bootcamp-style course focusing on metabolic conditioning.
Teens and kids' programs that introduce them to the basics of training.
Individualized design programming to help clients achieve personal fitness goals.
Nutrition counseling to help clients achieve proper education around what meals to eat and how to prepare them.
A 90-minute weightlifting group session that focuses on the Snatch, Clean, and Jerk movements.
A gymnastics program that teaches gymnastics fundamentals used within CrossFit.
A mobility class that helps clients' muscles recover from a week of training.
Pre-season team training for competitive sports teams and individual athletes.
Cristini Sports Training to develop the basics of all sports, allowing athletes to be faster, stronger, and less likely to be injured.
Cristini Athletics also offer a hybrid membership, which includes unlimited class access to CrossFit, mobility, and open gym classes.
Why did Cristini Athletics switch to WellnessLiving?
Cristini Athletics initially used traditional methods like pen and paper to track memberships, then attempted to switch to Microsoft Excel. However, as their business continued to grow, it became evident that these methods were no longer sufficient. They then tried using RhinoFit, a gym management software, but found themselves spending more time providing feedback on necessary improvements. Following that, they gave Mindbody a try, but over time, they were paying more fees for less service.
Recognizing the need to stay ahead and continually improve, Cristini Athletics set out to find a new software provider. With a reputation for transforming businesses and a commitment to innovation, WellnessLiving was the natural choice for the gym.
Chris, one of the co-founders, shares, "On a call with our sales representative, we were really impressed. Not only were we going to save money, but we'd also receive better service. The functionality and simplicity of WellnessLiving surpassed any competitor. Moreover, WellnessLiving's commitment to ongoing improvement and evolution year after year aligns with our growth goals."
In January 2020, Cristini Athletics made the switch to WellnessLiving, and the decision paid off significantly, saving them thousands of dollars, particularly during the challenging times brought about by the pandemic.
How was the transition to the new software?
Chris was excited to make the switch, but as someone who isn't particularly tech-savvy, one concern loomed large in his mind: the fear of losing client data, especially sensitive information like credit card details and auto payments.
However, Chris soon found that his apprehensions were unfounded. He explains, "That wasn't the case at all. WellnessLiving made our data transfer their top priority, ensuring our business operations were not interrupted. They ensured that all our data was transferred securely, and the entire transition process was remarkably smooth."
Continuous Growth
Chris appreciates how WellnessLiving consistently listens to their needs. He can easily request new features and provide user feedback on our Community Forum, which has been instrumental for regular updates.
"It's fantastic to be part of a platform with such a strong community where everyone shares their insights. It's reassuring to know I'm not the only one wanting certain features," says Chris. "WellnessLiving not only considers our suggestions but also enhances them, bringing innovative ideas to life in a new release. We're incredibly impressed by their dedication to improving the software."
Automated Marketing & Communication Tools
Chris values the seamless integration of every WellnessLiving tool, which has significantly streamlined Cristini Athletics' client communications.
"Thanks to our comprehensive metrics, we can take action by setting up personalized messages that automatically dispatch SMS, email, or push notifications to clients who've been absent from the gym for a few weeks," Chris explains. This level of automation has significantly improved their member engagement and retention strategies.
Branding: White Label Achieve Client App & Custom Presence Website
WellnessLiving has significantly elevated the Cristini Athletics brand, particularly with the introduction of their custom branded Achieve Client App. This cutting-edge app has proven to be a game-changer, offering a myriad of benefits to both the gym and its clientele.
Chris explains, "The app is a massive value add for us, and our clients absolutely adore it. It might seem like a simple thing, but it adds a whole new level of professionalism. Clients can easily locate and download our app, where they're greeted with the unmistakable Cristini Athletics logo and our signature colors. It's a subtle touch, but it speaks volumes about our commitment to delivering a top-notch fitness experience."
This personalized app has cemented Cristini Athletics as a leading, forward-thinking fitness brand that values both its identity and its clients. Plus, it's easy for members to book classes, make purchases, and update their billing and credit card information.
Taking the next natural step in their journey, Cristini Athletics is embracing WellnessLiving's Presence—a comprehensive, agency-style website design and management service.
This tailor-made solution is designed to supercharge their online presence, enhancing search engine visibility, reducing bounce rates, and creating an unparalleled user experience. It's a powerful stride forward in further elevating the Cristini Athletics brand and ensuring they continue to deliver excellence to their valued clientele.
Customer Reviews
The Achieve Client App isn't just a convenience for clients; it's a powerful tool for enhancing Cristini Athletics' reputation. After clients complete a class or service, the app prompts them to leave a review, creating a seamless process.
Chris highlights its significance: "In today's world, you need more than just word-of-mouth. Online reviews are essential, especially for small, family-oriented gyms like ours. What's great is that the entire review process is automated, making our job much simpler. Moreover, the reviews we receive work wonders for our local SEO (search engine optimization), bolstering our credibility. We can easily track all our reviews in one convenient place. When we do receive a negative review, 99% of the time, we can rectify the situation simply by reaching out."
The Achieve Client App's review system has become a vital tool for promoting their gym's reputation, strengthening its online presence, and addressing customer concerns proactively.
Staff Management & the Elevate Staff App
In a bustling setting with two thriving locations and a dedicated team of over 30 staff members, the Elevate Staff App has proven to be an indispensable tool for Cristini Athletics. This dynamic solution serves as a vital bridge, enabling seamless communication and interaction among staff members, fitness coaches, and clients alike.
Chris enthusiastically shares, "It's not just easy; it's the easiest way to stay connected with my team members. What's more, our staff can efficiently handle various tasks, from managing clients to facilitating class sign-ins, rescheduling appointments, and so much more." The Elevate Staff App keeps the Cristini Athletics team aligned, coordinated, and empowered to provide top-tier services to their cherished clients.
Transformation Log
Another highly valuable tool is the transformation log, empowering staff members and fitness coaches to efficiently monitor client progress and key fitness metrics such as body fat percentage, muscle gain, measurements, heart rate, and other vital factors. This comprehensive platform also enables coaches to add notes on both short-term and long-term client health objectives and upload client photos to facilitate progress tracking.
"In the past, at big box gyms, client goals were usually jotted down on a piece of paper, filed away, and promptly forgotten," Chris remarks. "But with the Transformation Log, it's remarkably simple to hold clients accountable. All the information we need is right at our fingertips. This level of detail allows us to celebrate their achievements, identify areas for improvement, motivate clients, and personalize their experience to get them back on track if they've fallen behind. It also equips us to recognize significant trends at different points throughout the year, providing valuable insights into what might have gone awry."
This tool has revolutionized the way Cristini Athletics interacts with their clients, resulting in a more proactive and engaged fitness community.
Dashboards & Reporting
The robust reporting tools provided by WellnessLiving are nothing short of revolutionary for Cristini Athletics. With these tools, the team can finely tune and personalize their metrics through a versatile dashboard, offering deep insights into leads, attendance, membership renewals, promotional sales, and overall revenue.
Chris gleefully shares his experience: "The custom dashboard is a game changer for us. It provides us with a comprehensive overview of all the critical information we need to make informed decisions. This level of insight empowers us to stay one step ahead in our marketing, engagement, and retention strategies. It's been an absolute game changer for us and has transformed the way we operate." These reporting tools have propelled Cristini Athletics to new heights in optimizing their business operations.
Ready for an all-in-one business management solution?
For the Cristini brothers, who consider fitness a family affair, WellnessLiving isn't just a software provider—it's a community where they feel like family. Chris and Steve are thrilled to have an active role in shaping WellnessLiving's future and ensuring it aligns perfectly with their needs.
In their own words, "WellnessLiving has been the ultimate solution that streamlines our processes and eliminates the need for multiple third-party connections. The sleek and intuitive interface, rich functionality, and the consolidation of numerous features and systems all in one place, from mobile apps to our website, communication tools, reports, and more, make it an exceptional choice. What truly sets WellnessLiving apart is its commitment to innovation. We can request and test specific features, actively participate in the software development process, and feel heard. It's not just a business relationship; it genuinely feels like being part of a caring family."
WellnessLiving provides the support, resources, and tools you need to optimize your gym operations and foster growth. Book a demo today to discover how we can help your fitness business thrive and become part of our ever-evolving family.