Jan 07 2022, 9:00 AM
Heart and Light Yoga Weathers Storm Through Pandemic with WellnessLiving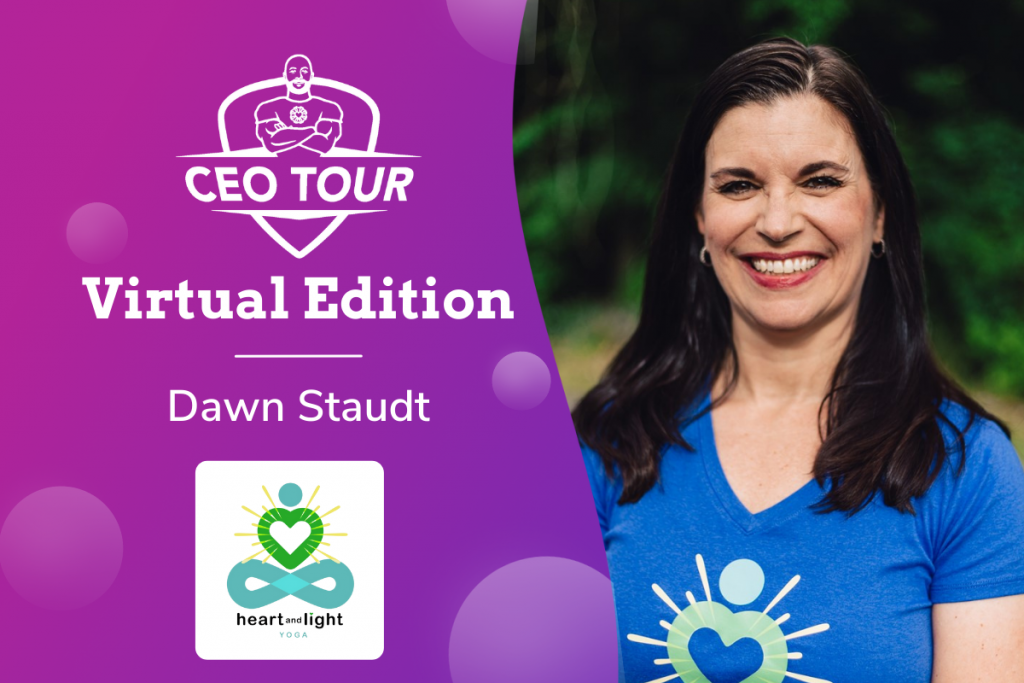 Discover all the reasons our customer loves WellnessLiving's software on our latest CEO TOUR!
For WellnessLiving's CEO and Co-Founder Len Fridman, connecting with our international customers on his CEO Tour is truly a passion project. The pandemic forced WellnessLiving to pivot from in-person CEO Tours to connecting online with our customers. Len is still doing what he loves, learning how our customers leverage our software to grow their businesses, only now he's doing it virtually.
Join Len as he meets owner and instructor of Heart and Light Yoga, Dawn Staudt, from Nashville, Tennessee. On this leg of the tour, discover how she got through the pandemic with our all-in-one features and "phenomenal customer service," plus her unwavering resolve for pushing forward through adversity.
Meet Dawn Staudt, owner and instructor of Heart and Light Yoga
First-time business owner, Dawn Staudt, had some obstacles to overcome when she first opened Heart and Light Yoga. After finding the perfect location for her yoga studio, her city was hit with a tornado, which delayed her grand opening. She was able to officially open on June 1, 2020, which was right in the middle of the pandemic, but had to keep the studio temporarily closed.
Thanks to WellnessLiving's all-in-one software and her unwavering resilience, Dawn was able to pivot online by offering Zoom virtual classes until she could reopen again.
She is passionate about teaching yoga, breathwork, and meditating. In fact, the name for Heart and Light Yoga came to her while she was doing a meditation workshop! "The name felt like it was my Dharma (her truth)," says Dawn.
"Our systems are so overwhelmed with stress, uncertainty, anger and division, and so now more than ever people need yoga! ~ Dawn Staudt
Heart and Light Yoga at a Glance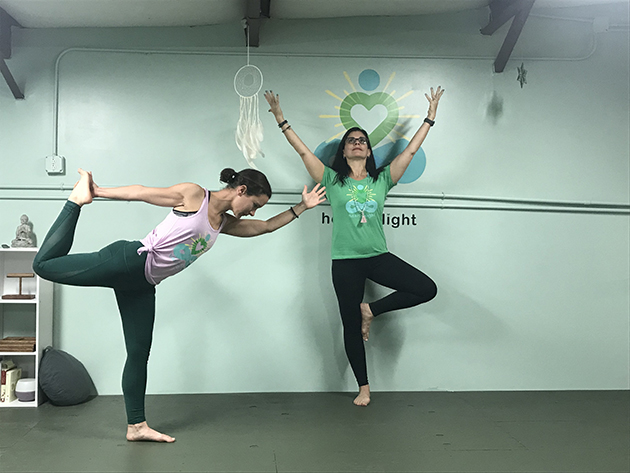 📍 CEO Virtual Tour Destination: Hermitage, Tennessee (a Nashville borough)
📍 Customer Business: Heart and Light Yoga
📍 Website: https://www.heartandlightyoga.com/
📍 Special Guest: Studio Owner and Yoga Instructor Dawn Staudt
📍 Number of Locations: 1
Dawn is dedicated to providing a safe and welcoming environment for her students at Heart and Light Yoga. She is an avid nature and animal lover who meets her clients "where they are," holding space for them so that they can step into their own greatness. Post pandemic, Dawn emphasizes the ethos of "slowing down," by offering more Yin classes to her clients—a form of restorative yoga.
Yin is a slow-paced style of yoga with a focus on your muscles. Yin yoga targets your deep connective tissues. The slower, more meditative movements give you time to focus inward, so you can tune in to your mind and the physical sensations of your body. Poses are held for a longer period of time than traditional yoga, helping to stretch those rarely used tissues.
Heart and Light Yoga classes include:
Yin Yoga
Vinyasa Yoga
Power Yoga
Breathwork
Meditation
In addition to classes, Heart and Light Yoga offers engaging workshop events. Dawn is hosting a Vision Board Workshop on Friday, January 7, 2022.
"My WHY has always been to support the community and everybody, meaning every BODY is welcomed," says Dawn. "If I just have one student who leaves here feeling better, then I have achieved my goal."
Finding WellnessLiving
After a thorough search for a fitness and wellness business management software, it was clear to Dawn that WellnessLiving was the perfect fit for her yoga studio.
"I researched other competitors and they were very expensive. The entry-level price point with WellnessLiving offered so many features, it was shocking [to me]," says Dawn. "The onboarding was fantastic, and your software is so easy to use."
Pandemic Resilience
During their CEO Tour interview, Len asked how Dawn was able to push through all of the challenges of the pandemic and keep her brand-new business afloat.
"I just remained positive and kept my energy high, so that I could attract what I needed to me," says Dawn. "I just kept going and hoped there would be an end in sight."
When she was able to get back to in-person classes, it was clear how her yoga practice and fostering of community was needed more than ever. "Our systems are so overwhelmed with stress, uncertainty, anger and division, and so now more than ever people need yoga," says Dawn passionately.
What WellnessLiving features helped you through the pandemic?
The fact that Dawn could have an all-in-one solution on one platform without having to go outside the software, was "a huge plus" for her.
"The integration of all the features was seamless for me," adds Dawn. "I really love the dashboard because I can sign-in and see where my finances are for the month. I can change the schedule if I need to and see who signed up for classes—it's really the greatest!"
With additional stand-out features like FitLIVE, website widgets, and automated marketing tools, we made a challenging year and a half a little bit easier for Dawn to manage.
FitLIVE
Keep that live human connection by integrating your virtual services into your yoga class schedule with WellnessLiving's FitLIVE. Build a hybrid business offering that includes livestreaming video so that your clients can take part in their favorite classes—at their convenience.
Website Widgets
Adding our widgets to your website and Facebook page is like having a digital window into your business, easily increasing your client engagement, bookings, and sales.
"95% of my students book through my website, so the booking widget integration is really great," says Dawn.
Marketing Suite
Keep your clients connected to your business by staying in touch using our comprehensive marketing tools in our marketing suite. All your communications go directly to your clients' exclusive Achieve™ Client App inbox.
From emails to two-way SMS texting and push notifications, you can automate your marketing campaigns or send them manually for last minute updates or real-time communications.
"I love that I can send a quick email in the Marketing Suite to my students if there's a class or schedule change," adds Dawn.
24/7 Customer Service
There's a reason we're known as the software company with a heart, and this lends itself to how we treat our customers.
"Your customer service is phenomenal," says Dawn. "I love that when I ask a question, customer service gets back to me right away, and they send me these amazing [informational how-to] videos to figure out problems. I'll send an email asking a question on a Sunday, and I get an answer minutes later!"
Heart and Light Yoga: "the little studio that could—making a difference."
Both Heart and Light Yoga and WellnessLiving are looking forward to a long and fruitful partnership that will continue to help her yoga business grow.
"I really enjoyed hearing about your journey and thank you for sharing your story," says Len. "It's so amazing that you were able to take your passion and turn it into a thriving business."
"It makes a difference to have something that you're passionate about," says Dawn in agreement. "My dad always said, 'don't just take a job, find a passion where you're making a difference in the world.'"
With her studio's second anniversary coming up this spring, Dawn is thankful for making it through the pandemic and looks forward to what the future brings for her business.
"I'm glad I stuck it out, it's been well worth it," she says gratefully. "We're the little studio that could— we're still here and chugging along!"
Ready to learn more about how WellnessLiving can help you to grow your yoga business? Book a free, no-commitment demo today!