Jul 27 2017, 4:00 AM
July 2017 Release Notes
Ahhh, the summer time. A time for hot weather, patio relaxing, and…the biggest WellnessLiving feature release in history?! You heard that right. The team here at WellnessLiving has been hard at work to bring you some of the most ambitious enhancements to date. We have been bursting at the seams keeping this information a secret, but the time has finally come. So pull up a seat (preferably in the warm summer weather), and read on to see some exciting innovations and additions that are going to mean big things for your business.
NEW FEATURES
Reserve with Google
Thought you couldn't love your WellnessLiving subscription any more? Well, we're about to prove you wrong! Starting this month, Reserve with Google is a part of your WellnessLiving package. If you haven't heard of Reserve with Google and the unparalleled lead generation capabilities it provides, trust us when we say — this will mean big things for your business.
Reserve with Google allows Google users to book a class or appointment directly from Google search or maps. For example, when a prospective client searches "yoga near me" in Google, WellnessLiving businesses display a "Book" option right on Google. So clients can book services or classes without ever leaving their Google search tab. This will make a world of difference for prospects searching for the services you offer and make lead generation easier than ever. Check out this special sneak peek here!
For more information on this exciting partnership between Google and WellnessLiving, check out the full press release here.
To add a BOOK button to your Google My Business listing, you need to do the following:
Make sure that you have a Google My Business account.
In your location's Publish settings in WellnessLiving, enable Reserve with Google.
To learn more about how to enable Reserve with Google in your account, please see this Knowledge Base article.
60 Days of Achieve Pro for Free
Because we are so excited about the Achieve PRO Client App's array of awesome features, we had to share them with all of you. That's why we are offering every WellnessLiving user 60 days of Achieve Pro access for free!
You read that right! For two months, you can design and build your own custom app, all for free – here's a quick How-To video. Your clients will have unlimited use to book appointments and classes, learn about your business, post reviews, and more! To get started, simply click here to find your free 60 day offer and try the app now!
Staff Navigation Redesign
Enjoy a more streamlined experience on the back-end of your WellnessLiving system. We've overhauled our navigation to give you and your staff access to even more information and tools on every page, making it easier than ever to take care of your day-to-day business needs. Plus, our updated and simplified icons will make it even easier to find what you're looking for with the added benefit of more screen real estate.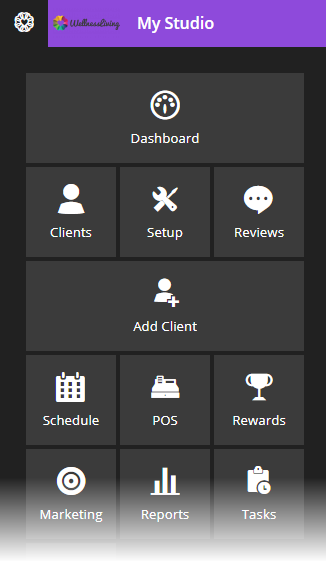 We've also added an additional sidebar so you can more efficiently navigate your WellnessLiving system. You can also customize your tabs through your Look and Feel option so it's easy to access the tabs you and your staff use most often.
PRO, Enterprise, and White Label apps
Push Notifications for Achieve App
Your WellnessLiving Achieve app is equipped with the ability to send push notifications to your clients' mobile devices, keeping them up-to-the-minute on all your greatest deals and offers. And with open rates of roughly 90%, push notifications are an excellent way to reach clients with important reminders or calls-to-action.
Push notifications are similar to automated notifications; however, push notifications appear as a mobile alert, while automated notifications are sent via email or SMS. Like automated notifications, push notifications can be adjusted for your entire business and for each client as desired.
For example, if your studio is coming up on a slow weekend, you can send a push notification reminding clients to make time for themselves this weekend and schedule an appointment. Or, you can set push notifications to automatically reach out to clients on your waitlist every time you have a cancellation. You can easily and automatically fill up your schedule and increase daily revenue by taking advantage of push notifications through our Achieve Client App.
Contract Variables
Your purchase options have a variety of contract variables now available, allowing you to customize your contracts for each client, location, and situation. Contract variables can be used as placeholders for specific values or information that you wish to include within your contracts. This means that when a staff member is setting up a contract for any purchase option, the contract can be formatted to automatically include the appropriate information for each individual client, purchase option, and location. Each purchase option may have a customized contract added under its advanced settings.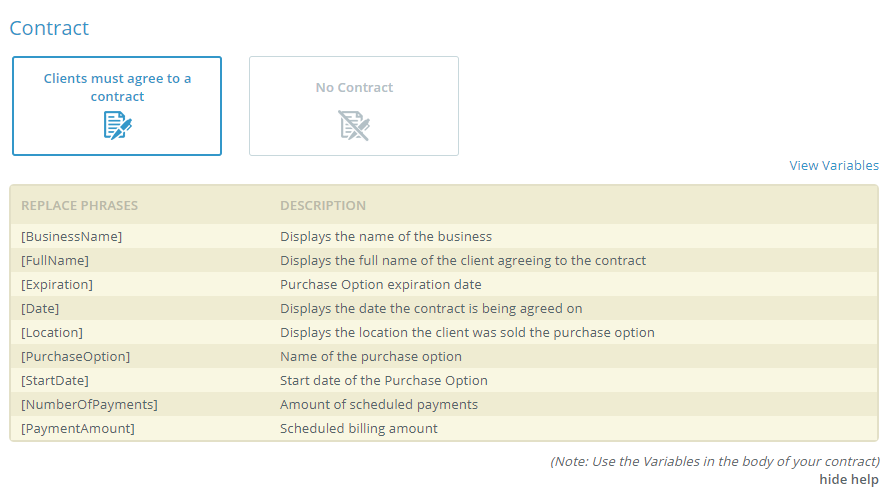 New Reports
Multiple new reports have been added to the system to give you access to more information about your business and clients, and to help you plan for the future. New reports added in this update include:
Sales Per Client Report: Lists all clients who made purchases at your business during a date range specified by you.
SMS History List Report: Lists your business's SMS sending history through WellnessLiving during a date range specified by you.
Time Clock Summary & Time Clock Detail Reports: Two new staff reports that display time clock information.
Cash Out Report: Lists the information from your cash closeout at the chosen location during a date range specified by you.
New Staff Notification: Substitution
A new notification has been added, which can be enabled to alert a staff member when he or she is assigned to a new class after a substitution has been made. This will ensure that your substitute instructors are always informed so that your classes are always covered.
IMPROVEMENTS
Client Profile Redesign
What would make a streamlined redesign even cooler than it already is? We have the answer to that too: better placement for the features you need right away. With better placement for client merging, family relations and account history, navigating the client profile just got a whole lot easier.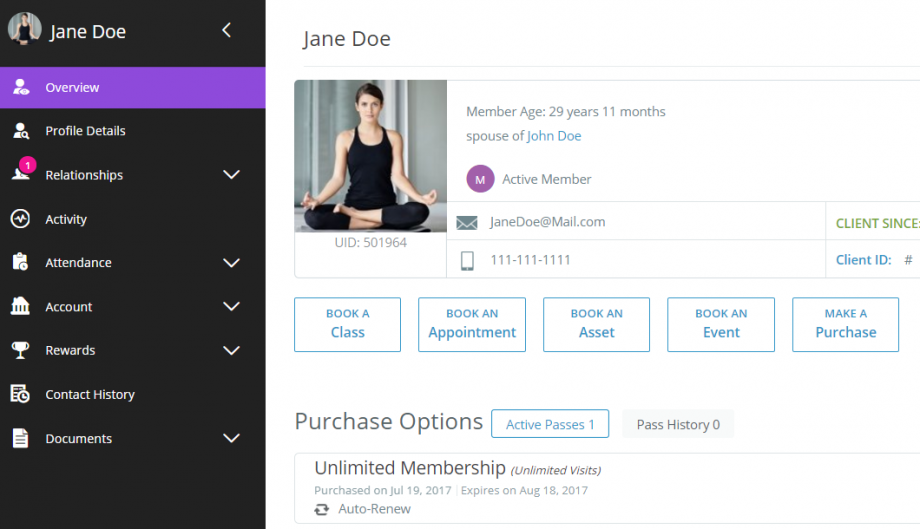 Automatic Client Check-in
Now, you can perform automatic check-in for your clients directly from the top menu search bar displayed on every WellnessLiving page. With this new option, you can make your check-in process even smoother and faster than before!

Report Changes
Various changes have been made to your membership reports, including new filters that allow you to get a closer look at expired and canceled memberships. Additionally, more detailed information about new and lost members has been added to allow you a deeper understanding of your client behavior.
To further improve your day-to-day and long term business operations, your Payroll Summary and Payroll Detail Reports have a new filter, which will allow you to include or exclude tips in your reports.
Reconcile from the Schedule
When a client has one or more passes that can be used for anything booked from your schedule, you will be prompted with the option to reconcile the payment directly. You may even setup the system to automatically reconcile all future visits with the same parameters, making your booking process faster than ever.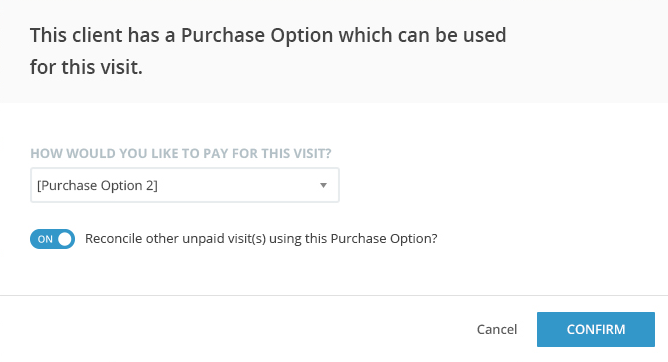 Hide Disable Booking Classes from Clients
While sometimes you may want to entice clients with an offer that will be available soon or sold out this time (but they can book next time around), most of the time when you disable online booking for a certain class, you also wish to hide that class from your clients' online booking options. With this update, you can hide all of these classes from your clients via your service setup options, ensuring that only your staff members will have access to any of the options or information included in these offers.
Online Store Improvements
A new client type discount allows staff members to now enter a dollar amount for discounts in the online store, while improvements to product setup options can now be customized to limit specific products to specific client types. With these improvements, your business can process transactions exactly how you need and desire.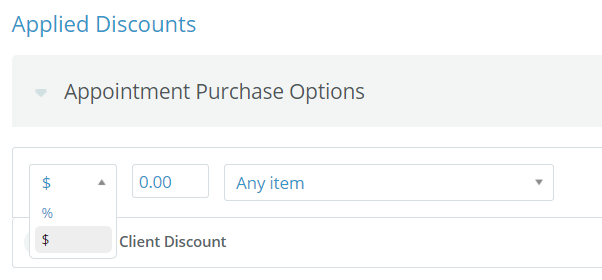 Software Optimizations
Get your information faster than ever before. With new internal restructuring, our systems load much more quickly, making your day-to-day smoother than ever. Whether you're searching in, adding to, or paying from the attendance list, as well as completing transactions and searching within our platform, your information will load even faster. Plus, we've optimized the system to function more smoothly and efficiently for businesses with 100,000 clients or more. By spending less time in the WellnessLiving systems, you'll have more time back in your day.