Oct 29 2019, 5:00 AM
October 2019 Release Notes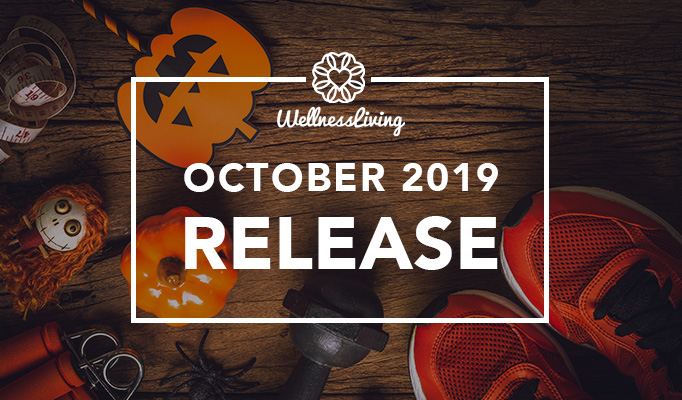 There's a chill in the air, but we've let it invigorate us to bring you a range of new improvements! Business owners and entrepreneurs like you are our number one priority, so we've been listening to your feedback and suggestions to provide you with a software that delivers. We're always working hard to tailor our platform to meet your needs, so we're excited to fill you in on our new release! Read on to find out how your WellnessLiving experience just got better.
Improvements
Improvements:
Schedule week calendar view start day options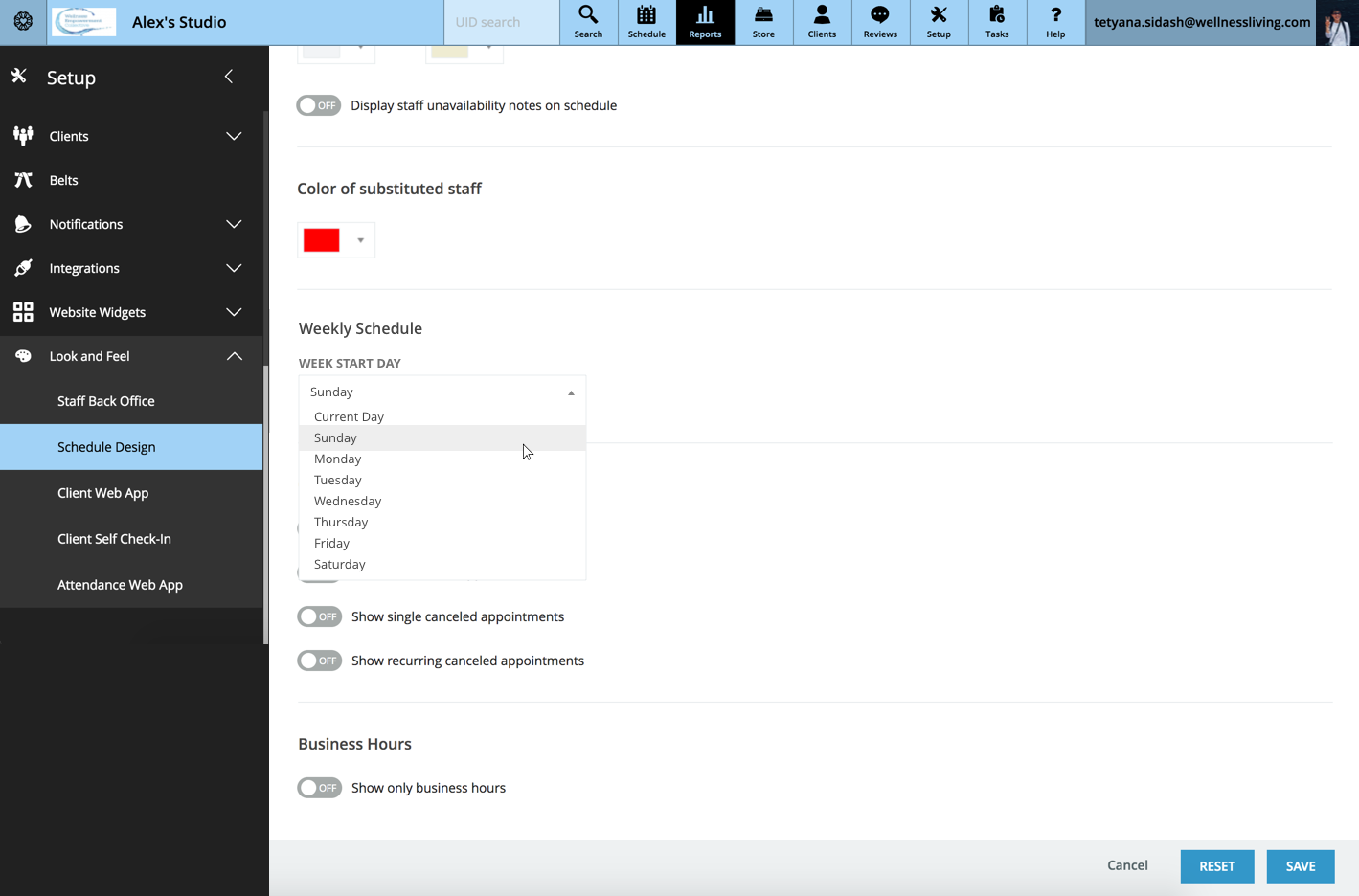 With our new weekly calendar view, you will be able to start your week from whatever date you wish, instead of it being automatically set to Sunday. This will give you a clearer view of what classes are coming up, instead of having to click ahead to search for them. Whether you would like to view your week from the beginning or the current date, you now have deeper customization options for a more organized platform.
For more information, see Look and Feel: Schedule Settings.
Viewing reasons emails, SMS, and push notifications bounce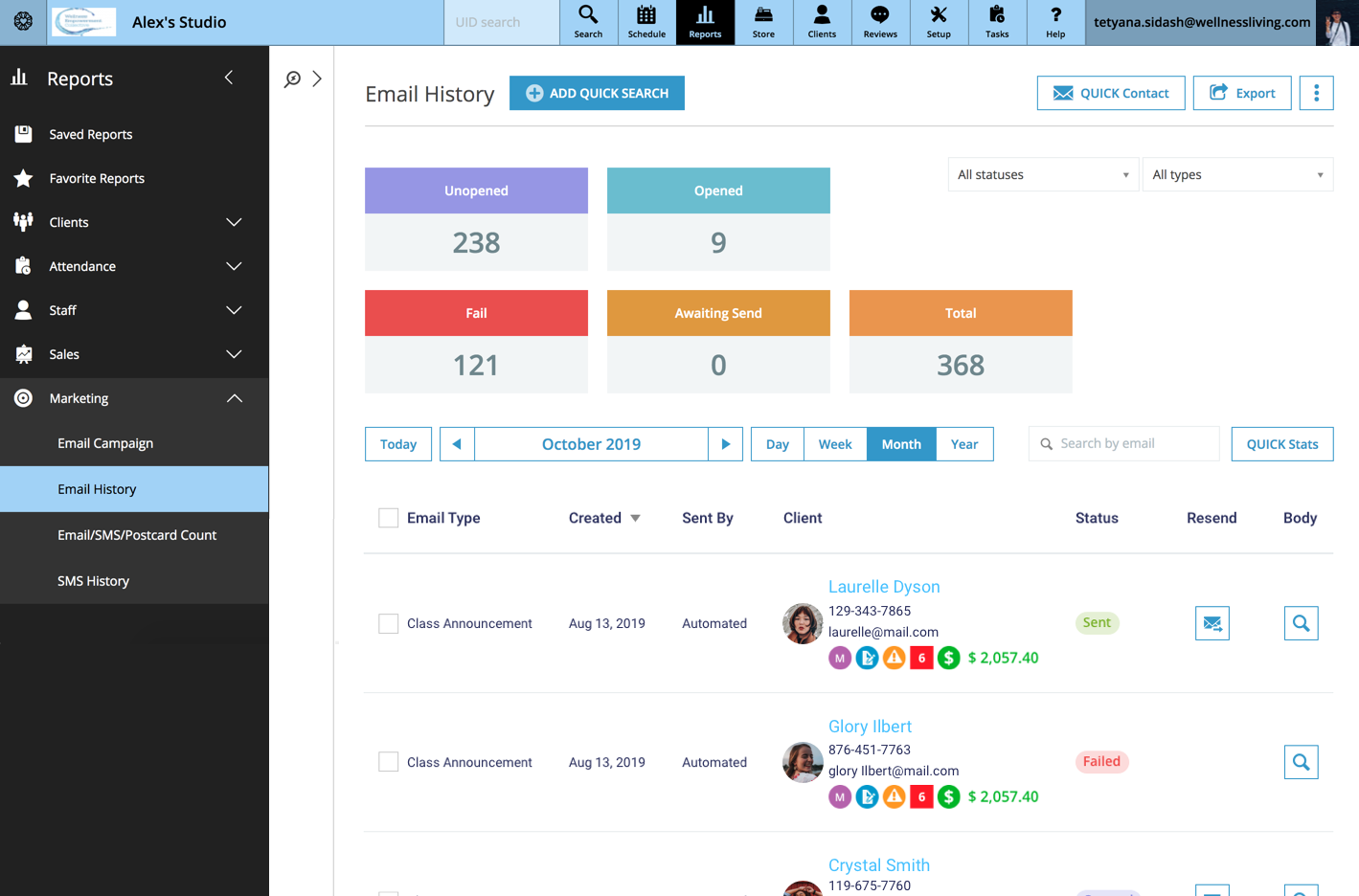 We want to provide you with effective marketing tools to help your business become a success. This is why we've now included the ability for you to view the reason a particular email, SMS, or push notification bounced in your email history report and on your client's contact history page. Whether it's because your clients' inbox is full or their address is invalid, you can now take the steps necessary to rectify the situation.
For more information, see Email History Report and Viewing Clients Contact History.
New staff notification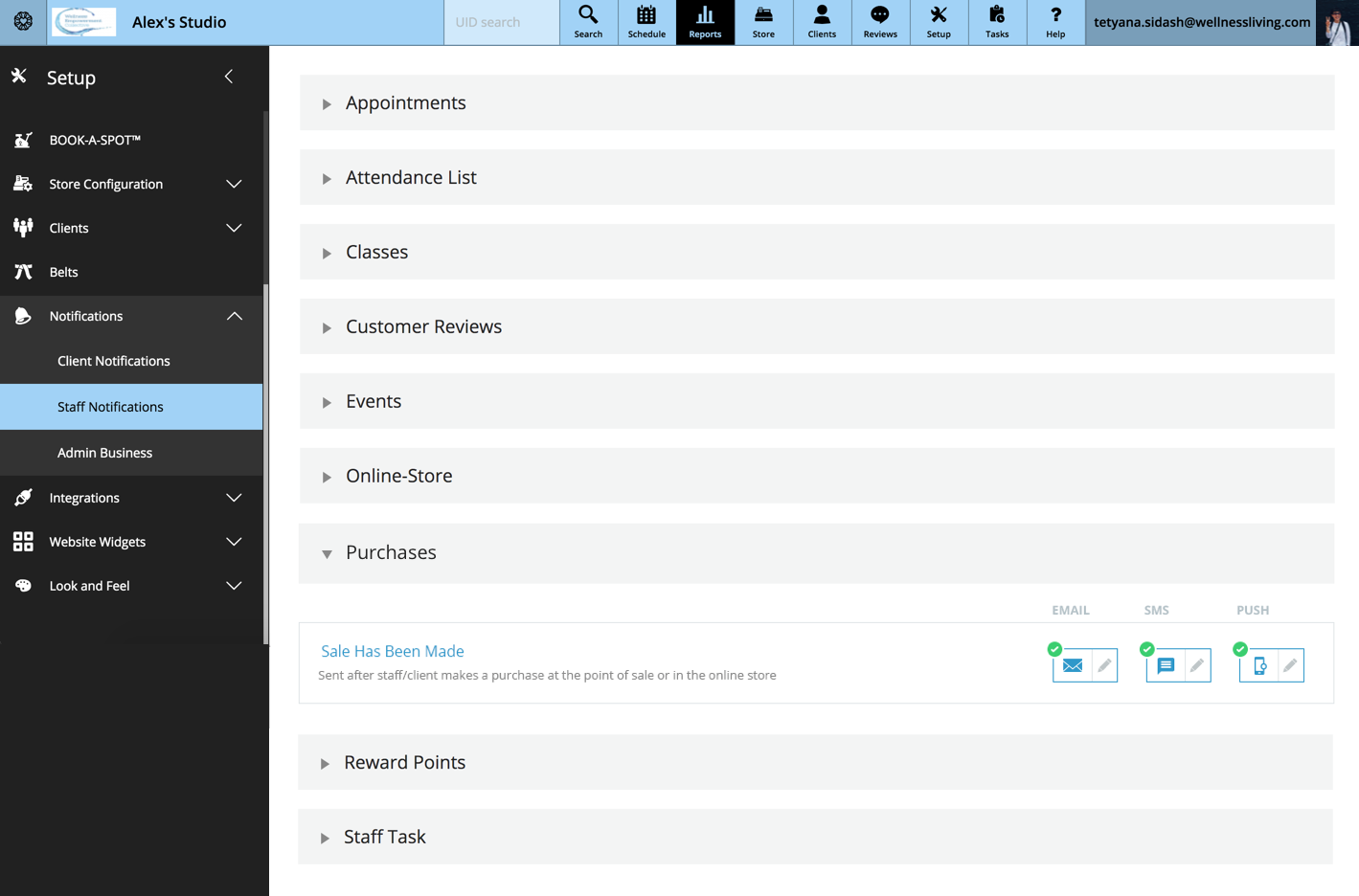 This improvement is quite exciting as staff members can now receive live updates whenever a sale is made! Bear in mind, this is only available to members of your team who have the right staff permission.
For more information, see Staff Notification Types.
New staff permissions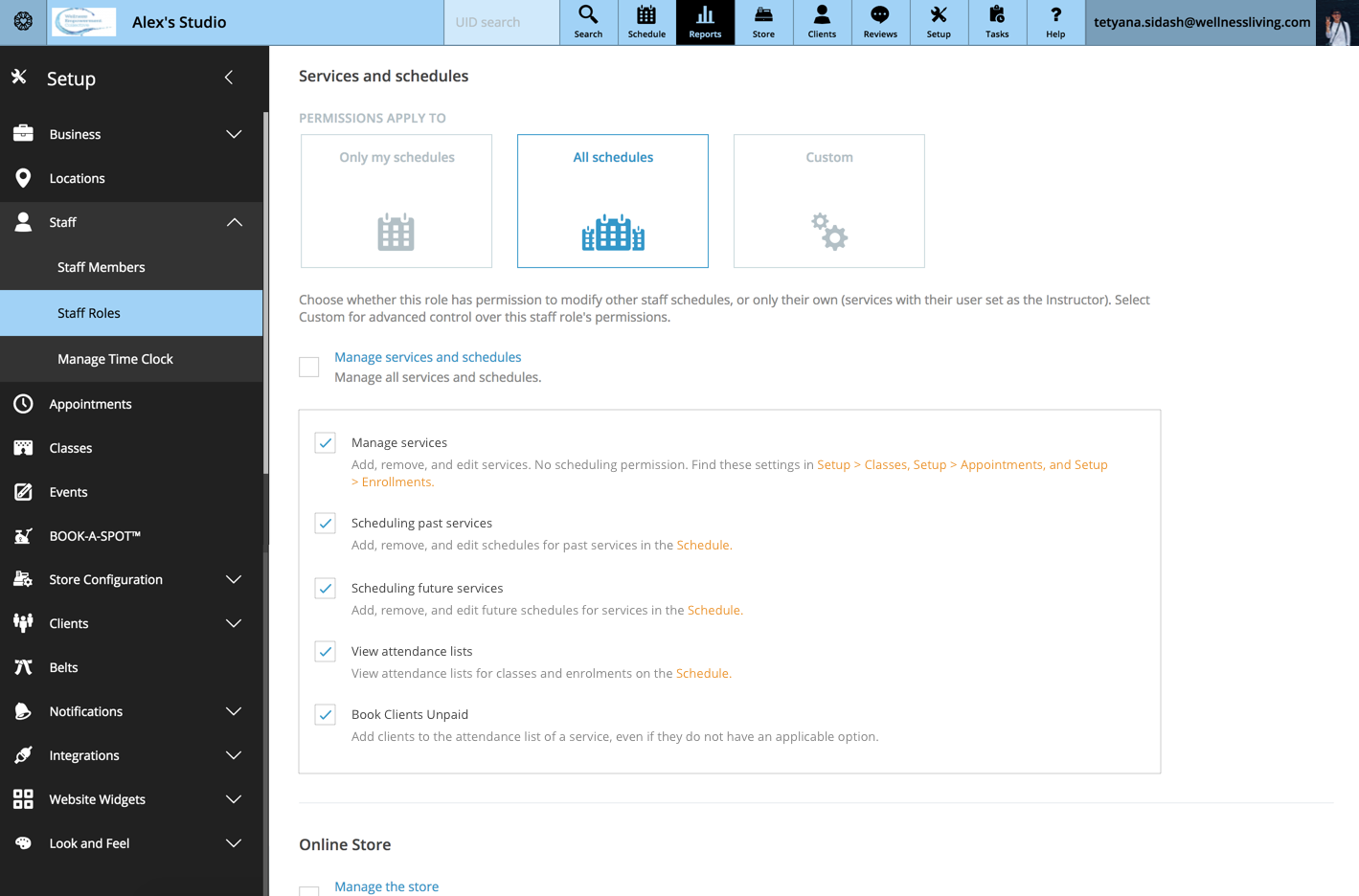 We have worked hard to give you better staff management tools so you can have complete control over what your staff can and cannot do! For example, if your staff role access is set to "Just my schedule" or "All schedules", they will now have the option to view attendance lists and book sessions which are unpaid. Long gone are the days when you had to search through and customize all booking permissions to give your team these options.
Your staff can now also view and add entries to contact logs, plus book clients into classes and event sessions that take place outside the client's current paid period! But that's not all! You now also have the ability to restrict a staff member from booking an asset, so as not to run into any issues with double booking. With these new improvements, we want to make sure that all aspects of your business are running smoothly!
For more information, see Staff Role Permissions.
Social media sharing in client activity log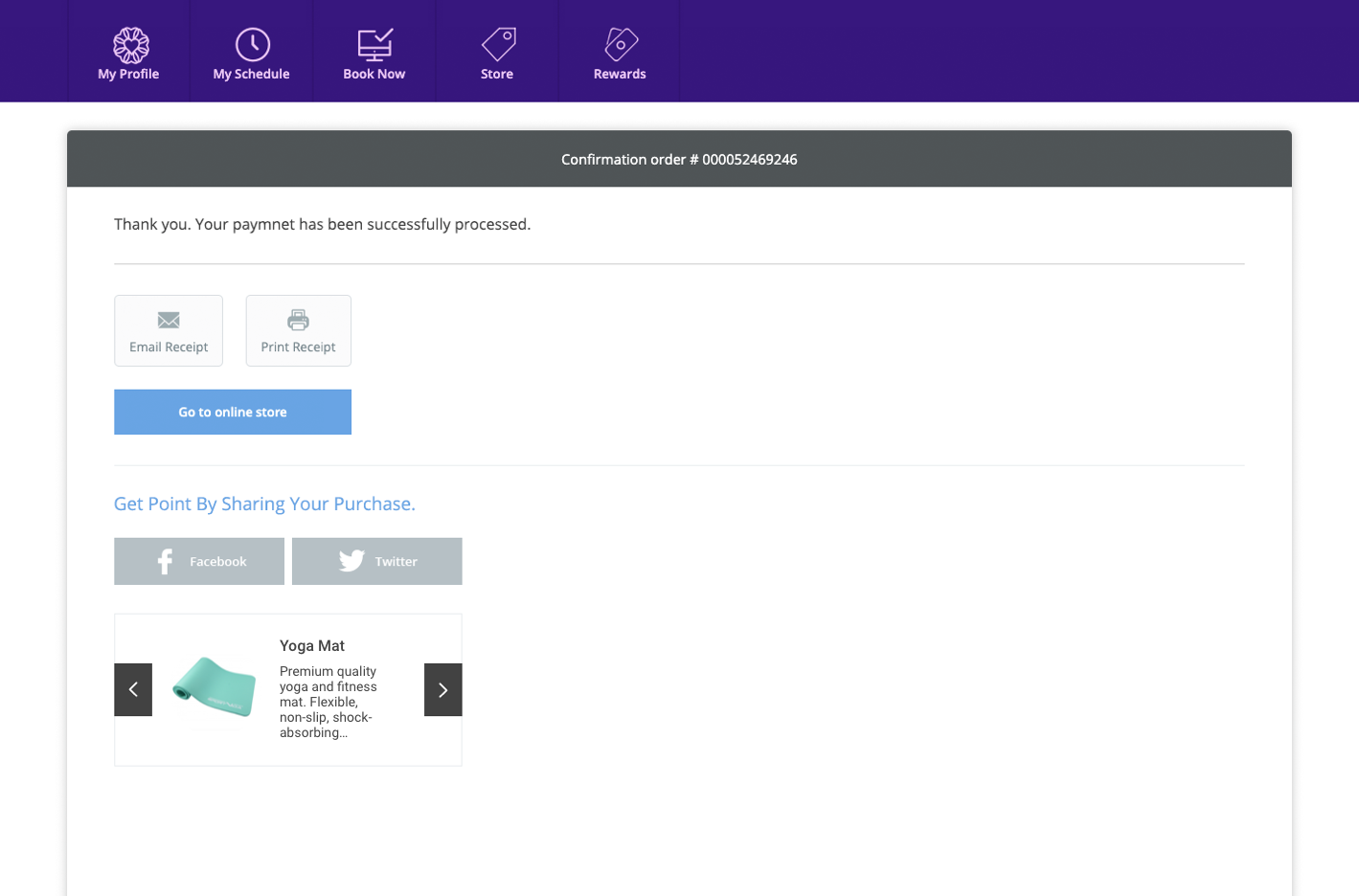 Stay up to date with your clients' activity more than ever before with the ability to see when they have shared their location, a review, or a purchase to Twitter or Facebook. Be more aware of when to give them rewards points and get a better insight into their relationship with your business.
For more information, see View a Client's Activity.
Swipe through schedule on the Elevate Staff App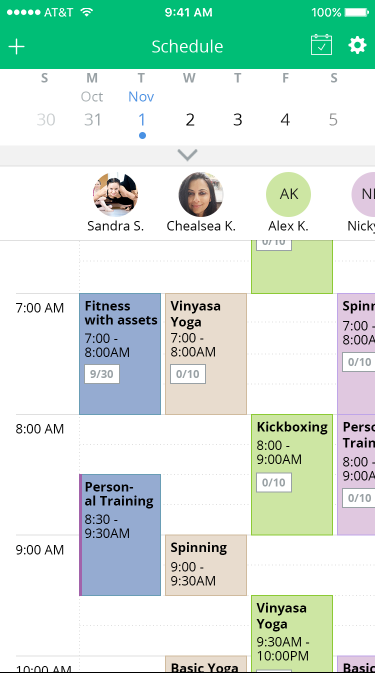 We're bringing even more convenience to the Elevate Staff App! This release gives you the ability to simply swipe to change the date on your schedule.
Fore more information, see Elevate Staff App: Viewing the Schedule.
A new purchase campaign for products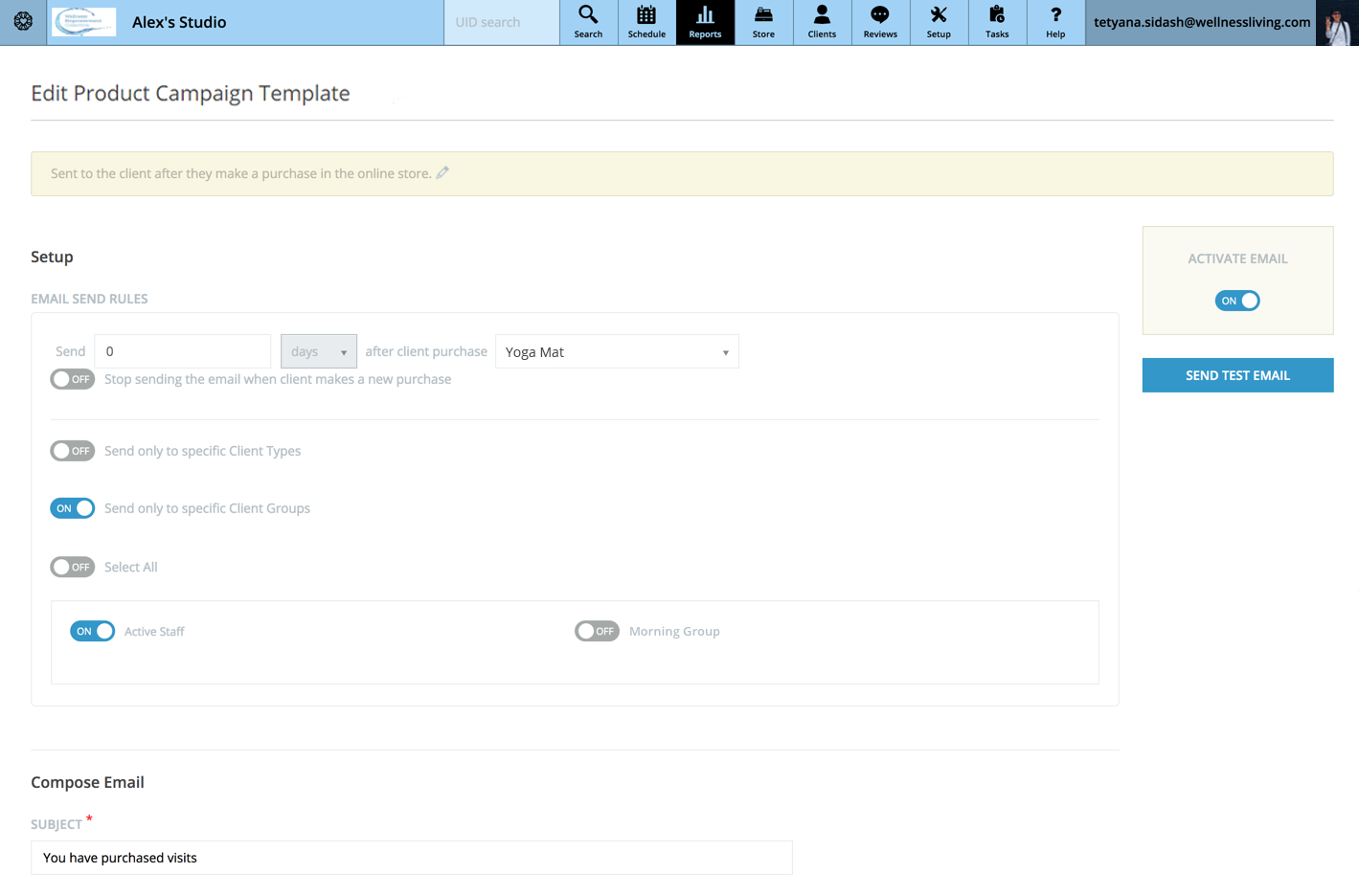 Enhance your automated marketing strategy with our improvements to Purchase Campaigns! Previously, your clients would only receive emails after purchasing passes, packages, and memberships. With this new release, we have added a brand new option known as the Product Campaign! Now, you can engage your clients even more by creating your own email template to send when clients have bought merchandise and items from your store.
For more information, see Creating or Modifying a Purchase Campaign.
Payroll summary and details report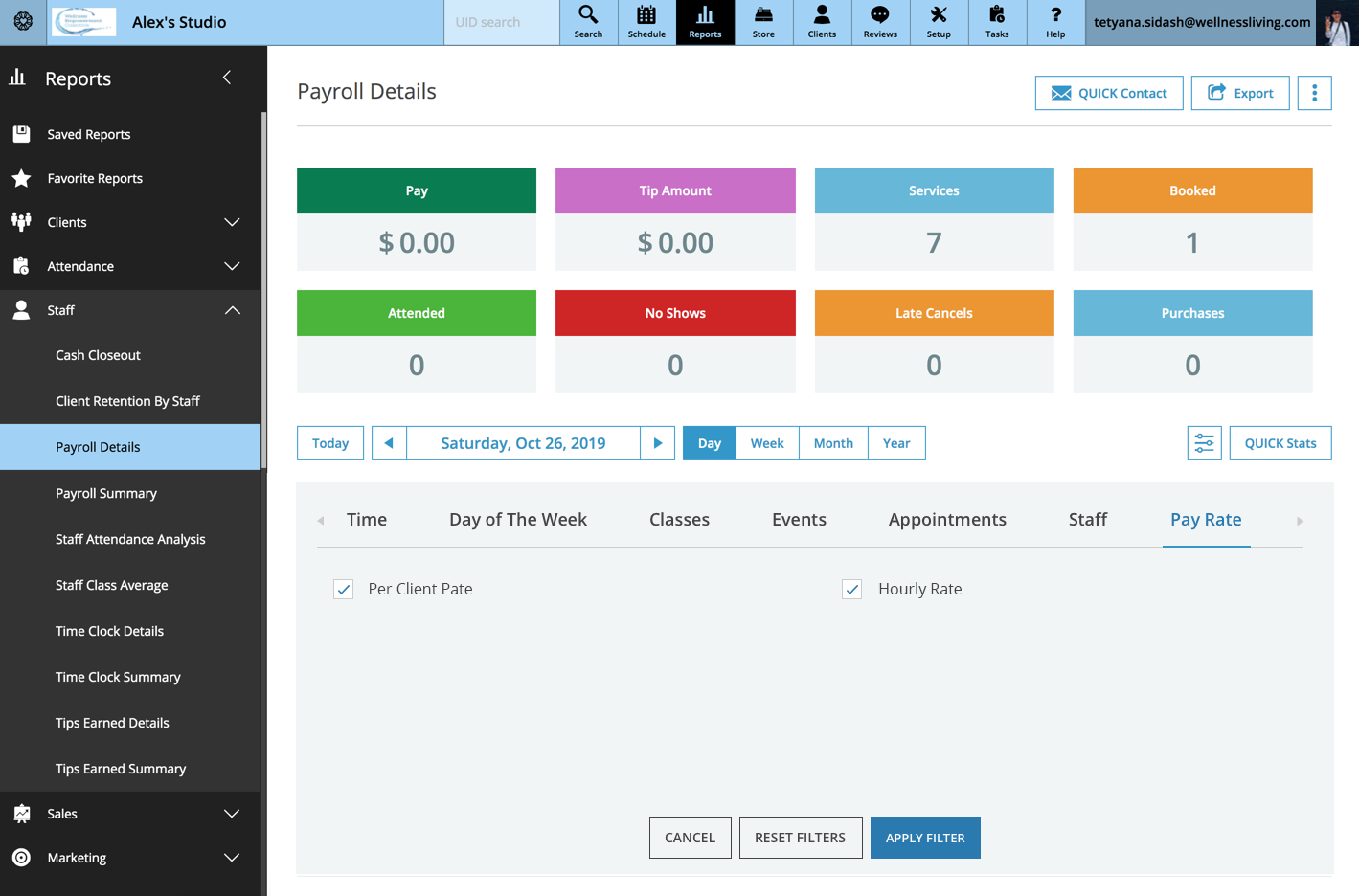 With this new improvement, we are making finding information about a specific staff member's pay rate easy. You can now filter reports by team members to get quicker access to the information you need.
For more information, see Payroll Summary Report and Payroll Details Report.
Attendance list shows event purchases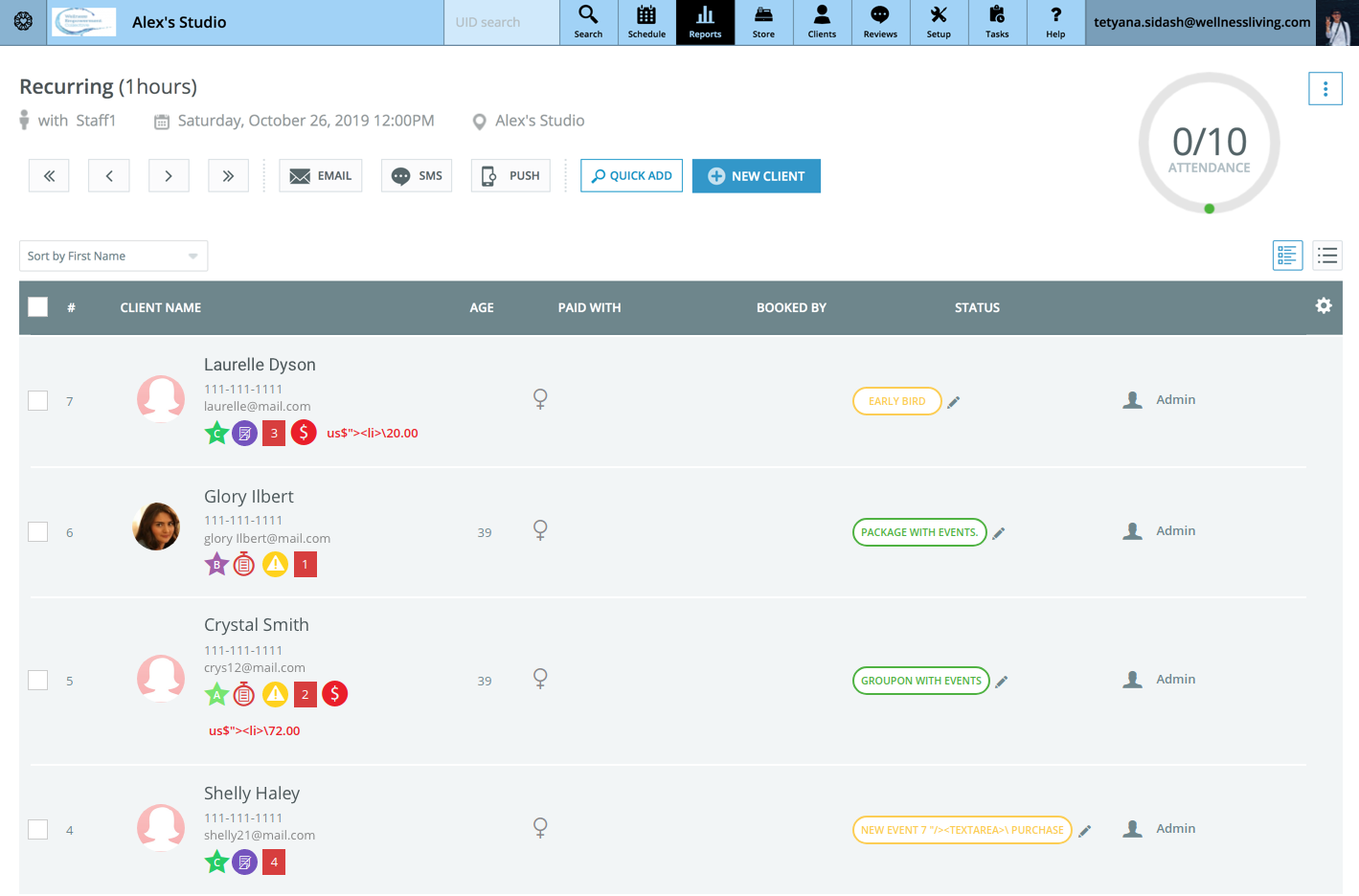 Now you can gain a better understanding of how your clients have paid for event purchases just by looking at your attendance list. Those who have purchased an event will now have "event purchase" next to their name rather than "single session."
For more information, see Viewing an Attendance List.
Balance due report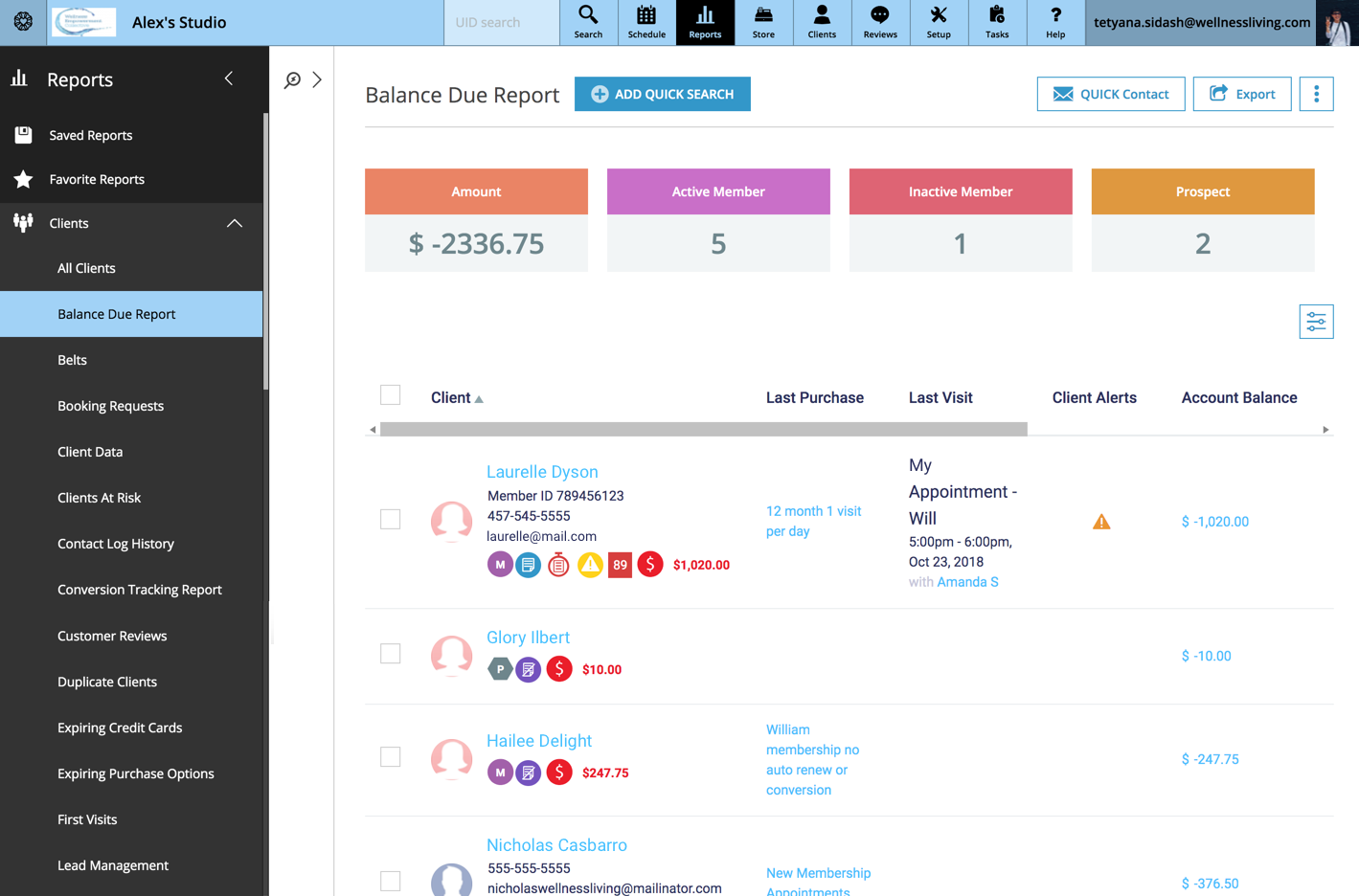 Stay up to date with all your client purchases with this brand new improvement to our balance due report! Now you can view purchases that clients have made not only for themselves, but for other customers as well in the Last Purchase column! With more insight into client activity, you can take the steps necessary to plan your next move.
For more information, see Balance Due Report.
Memberships report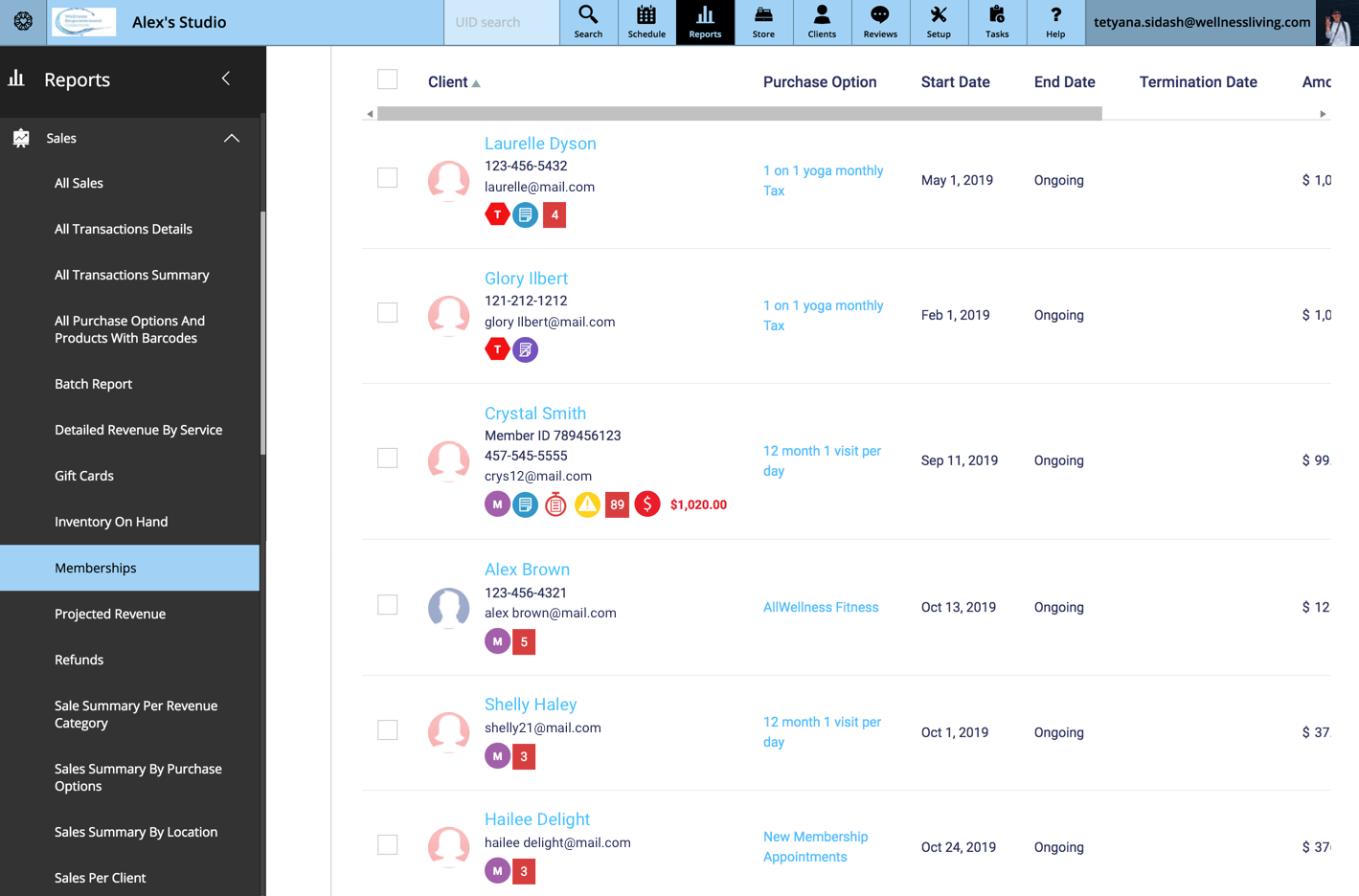 We have now brought you a clearer view of your memberships reports through our enhancements to prorated memberships. Now the date displayed will show the date the client was prorated from, instead of the date selected as the start date during checkout. This will give you a better view into managing your memberships and getting the most accurate information.
For more information, see Memberships Report.