Sep 25 2018, 8:45 PM
September 2018 Release Notes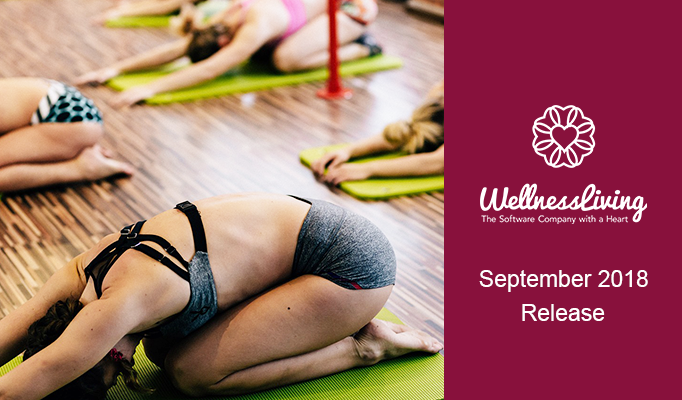 Sweater weather is on its way, so grab a tea and cosy up to WellnessLiving's latest update. In this month's update, you'll notice we've put a special focus on making our interface even easier to use to give you the most efficient day-to-day processes in every part of our software. Additionally, we've added a whole bunch of new features that will make tracking and incentivizing your staff members simple. Read on to learn all about how we've made running your business easier than ever before.
New Features
Improvements
New Features
Activity log
In this update, we've included a ton of new features and improvements to help you keep a closer eye on your staff members' activity and performance. The first of these is the activity log. This new feature will give you a detailed look at what your staff members are up to, when they are doing it, and from where. You can see everything: when staff members created, scheduled, or booked services, made sales, modified Purchase Options, adjusted business settings, or added new clients. Use this new activity log with our time tracker and other staff related features to ensure that your staff members are always performing at their best for your studio and clients.
To learn more about this new feature, see Activity log.
New staff pay rate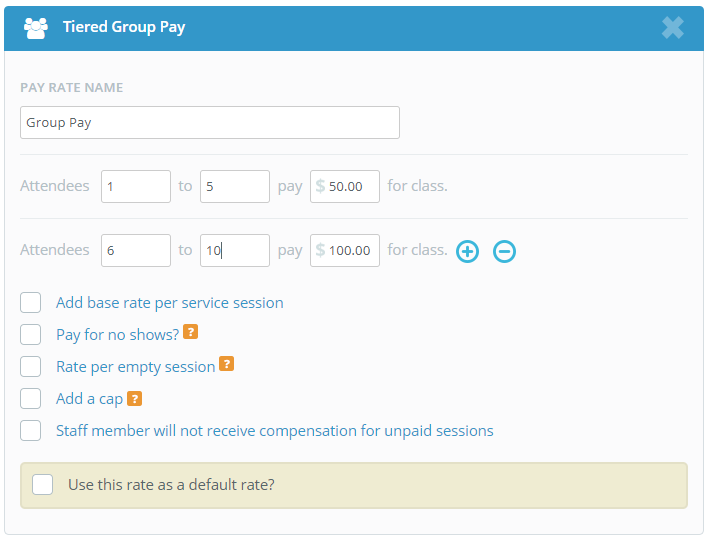 In this update, we've worked hard to help you further incentivize your staff members to book more clients and bring more business into your studio. With the new Tiered Group pay rate, you can offer your staff members a higher flat rate wage based on the number of clients that attend a service. For example, the staff member could be paid $20 for a Class with 1-5 clients, $25 for a class with 6-10 clients, and $30 for a Class with 11-15 clients.
To learn more about this new feature, see Pay rates.
New client retention by staff report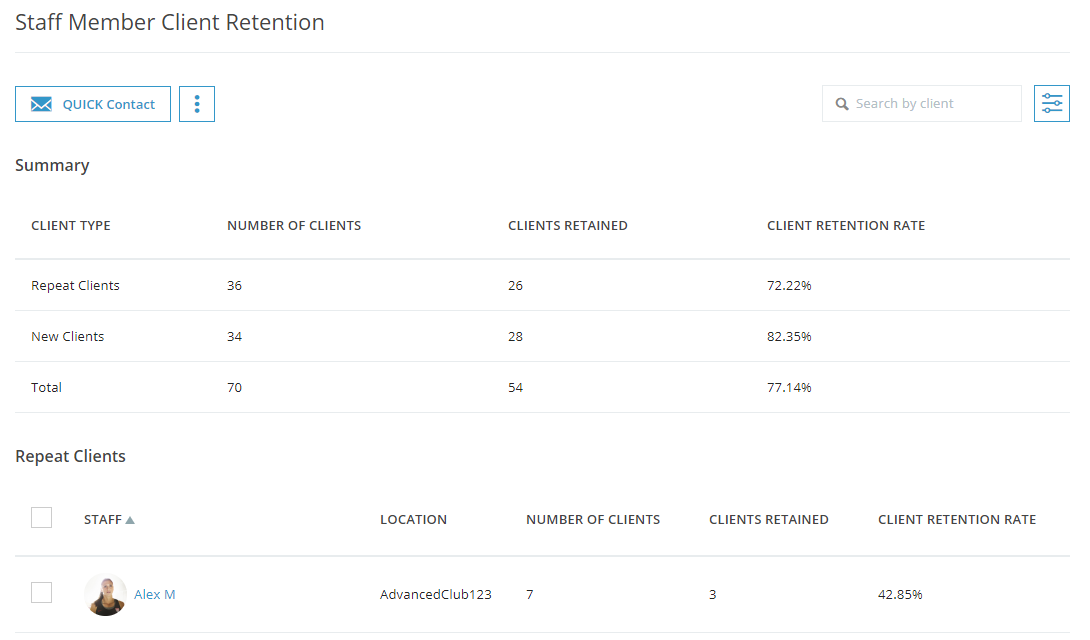 Along with your activity log, you'll see much more of what your staff members are doing while on the clock with the new Staff Retention Report. In this report, you'll see whether or not clients are satisfied with your staff members and which ones are retaining clients the best. Then you can learn about the methods that your most effective staff members use and teach those methods to the rest of your staff.
To learn more about this new feature, see Client Retention by Staff Report.
Age restrictions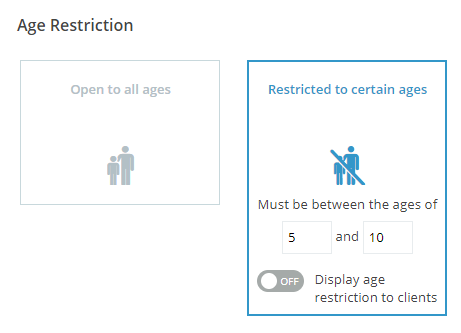 You can now customize your services in a brand new way. With booking age restrictions, you can create services just for children, teens, adults, seniors, or any age range that you prefer. Now you can be sure that your clients are in the right classes, appointments, and events with the perfect activities, instructors, and prices for their age group.
To learn more about this new feature, see Appointment Type settings, BOOK-A-SPOT™ Asset settings, Class Type advanced settings, and Event advanced settings.
Updated Help Center interface
When you need information or instructions about how to use WellnessLiving, you want to find answers as quickly as possible. That's why we've developed a brand new interface that will display relevant Knowledge Base articles based on the page that you are viewing. The software can now identify which page you are on to generate the articles most likely to help you. With this interface, you'll be able to find helpful information without ever needing to change pages. Now, you can access our Help Center faster and easier than ever before.
Improvements
Share memberships and passes with family members by default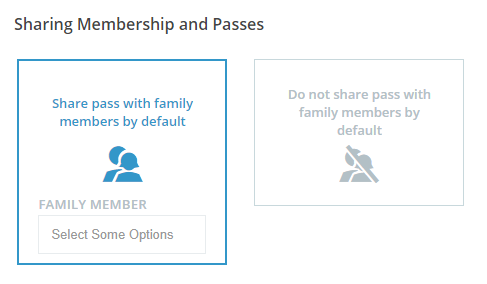 Now you can determine whether or not certain memberships or passes are shared with family members by default. You can even determine which types of family members each membership or pass is shared with in this way. Ensure that your Purchase Options are used exactly how you want and reduce the time spent making transfers or sharing passes among family members.
To learn more about this improvement, see Membership advanced settings and Session passes.
Changes to membership cancellation

You can now choose whether or not clients can use visits that remain on memberships after cancellation. With this improvement, you can be sure that purchased visits are always distributed how you intend.
To learn more about this improvement, see Canceling a client's membership and Membership advanced settings.
Improved canceled Appointment filters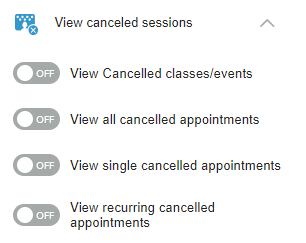 Your schedule should look the way you want, which is why we've implemented a new improvement that allows you to show all canceled Appointments, show single canceled Appointments, or show recurring canceled Appointments on the schedule. It's up to you to choose which Appointments you will see after they are canceled or choose to see none at all.
To learn more about this improvement, see Look and Feel: Schedule settings and Customizing the schedule individually per staff member.
Unavailable time on the schedule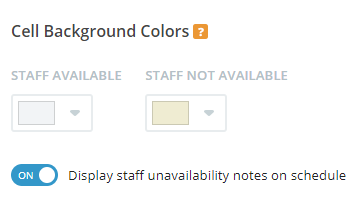 Your schedule should always keep you organized at a glance. With your new Staff Availability Settings, you can now decide if unavailable time notes are shown directly on the schedule or only when that block of time is hovered over. With this improvement enabled, you can see exactly what your staff members are up to in a clean, easy-to-access way. With it disabled, you still have all the information you need, when you need it.
To learn more about this improvement, see Look and Feel: Schedule settings and Setting a staff member's unavailable or vacation time.
Report redesign

Your reports have received a visual overhaul which will give you a deeper and better view of your business, along with simplified access to the tools that you need. You can even customize the columns, information, level of detail, dates, and selectable options for every single report that you view. With this new cleaner appearance, you'll get a quicker analysis whenever you need it.
To learn more about this improvement, see Viewing a report.