How to Thrive with an Online Fitness Subscription Business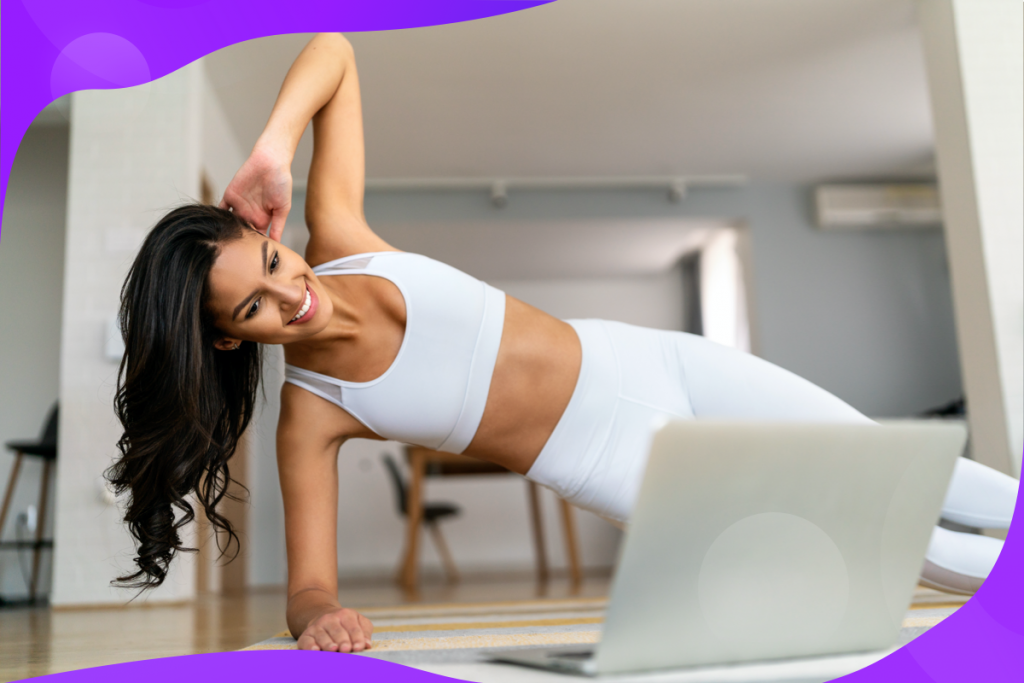 COVID-19 permanently changed the fitness industry for the better, leading many fitness enthusiasts to set up home gyms and subscribe to on-demand fitness platforms with their favorite local fitness business. Going to the gym once meant finding the time to work out in a busy schedule. Now it's as convenient as pressing 'PLAY' whenever it works for you.
In general, the subscription business model has been on the rise for the past decade. According to the March 2021 Subscription Economy Index Report by Zuora's Subscribed Institute, the subscription market has grown by 437% over the last nine years.
So, while the pandemic forced the need for a subscription-based model in the fitness industry, the truth is that consumers have "subscribed" for some time now. In fact, 85% of all gym members were already working out at home before the pandemic began. The difference now is that rather than compete with the Pelotons or Echelons of the world, your boutique fitness studio can deliver a personalized and unique experience that your clients won't be able to get anywhere else.
The pandemic has allowed the fitness industry to adjust, flip the script, and take stock. Yes, monthly subscriptions aren't exactly a new concept at gyms and studios, but with online fitness projected to grow at a rate of 30.1% to 33.3% per year until 2027, even local fitness clubs are jumping in on the virtual fitness space. Rather than trade their time for money, or per class or session, fitness subscriptions can help build sustainability, profits, and long-term retention in your business.
For fitness professionals, offering an online fitness subscription is key to the success of the business. Here, we'll break down how the subscription-based online fitness model will help your business thrive.
Set up a predictable and recurring revenue stream
Perhaps the greatest benefit of the subscription model for fitness businesses is ensuring you have predictable and recurring revenue coming in every month. It's no accident that 70% of business leaders say that subscription business models will be the key to their future success. In this model, clients make payments to you on a recurring basis—monthly in the case of most fitness businesses.
When clients opt into yearly pacts, you can forecast how much you'll earn from your members. In comparison, when clients purchase drop-ins, 5-class/session packs, or 10-class/session packs, the pricing structure is far less predictable. This idea is that you don't want users to try two on-demand classes and be done with you. You want them to subscribe and stay with you as long as possible.
Lower the barrier to entry for new clients
In a survey by The Harris Poll on behalf of Zuora's Subscribed Institute in which 13,626 adults across 12 countries were polled, 35% of subscription customers cite cost savings as a benefit.
While trainers and fitness professionals have a high value, it limits their opportunity to convert clients at a high volume. The average cost of a personal trainer is $70 or more per session, while drop-in group classes can also set consumers back $15-$20 per session. Purchasing a set of training sessions for $2,000 or more per month is also a big decision for most people.
How do you make it easy for people? On-demand fitness platforms offer more for less, letting clients pay $50-$100 for unlimited workouts. This is the same cost for around one training session or a handful of group classes. The lower you make the barrier of entry, the easier it is to convert more leads into clients.
Provide an opportunity for convenience and customization
Consumers continually seek ways to simplify their lives, and an online fitness subscription business does just that. Which is why, according to a Beachbody on Demand survey, 85% of people listed convenience and accessibility as benefits to at-home workouts that they can't get from working out at the gym.
A fitness subscription, especially with livestreaming or on-demand options, lets them work out at home and whenever they want. With online fitness subscription models, you can also provide clients with a more customized experience compared to a gym visit. How? Well, you can take your clients on a fitness journey, allowing them to reach new goals every month.
Organize your videos based on potential goals with a custom exercise protocol for muscle building, weight loss, or stress reduction. As they make their way through the month, you can also provide them with tools to help with their success. This is likely something that wouldn't have been included as part of their in-person subscription. These tools may include workout templates to track their progress, nutrition guides based on their goals, or ebooks with illustrations that show them how to perform their exercises.
Increase customer relationships and brand connection
Some studies suggest that a majority of members miss at least one aspect of their fitness club. So, while they may enjoy at-home workouts, they'd likely want to retain the relationships they build at your business.
In a traditional fitness business model, client interaction is limited to when they attend a class or session, or reach out to you. Online subscription models allow you to create a rich customer experience without having to be the point of contact.
Arguably there's even more contact with an online fitness subscription business. This is because clients come back to interact with your content. In turn, this increases loyalty as well as customer lifetime value. Nearly two-thirds of subscribers feel more connected to companies with whom they have a direct subscription experience versus companies whose products they purchase as a one-time transaction. How can you improve the relationship with your clients?
Implement personalized email campaigns with workout tips.
Share blogs with suggestions on best practices for buying equipment and how to use it at home.
Set up a Facebook group or exclusive client portals on your platform, allowing you to chat with your members.
These added benefits make your clients feel that you are invested in their fitness journey and strengthen their connection and loyalty to you and your brand.
Boost business and upsell your services
In a subscription, consumers prefer the ability to pay for what they use, rather than paying a flat fee every month. Basically, people want the security blanket of not having to overpay for something they don't use.
This brings us to an important question: how should you structure your subscription-based online fitness model?
While you could sell your online fitness subscription for a flat rate of $75 per month, another option is a tier-based credit system with a certain number of livestreamed and on-demand classes or services your users can access per month.  Here's how you could set that up:
10 credits for $35
25 credits for $70
Unlimited credits for $90
Besides classes, credits could take the form of nutrition consulting, one-to-one video chats, equipment rentals, and livestreamed training sessions. Alternatively, your subscription could be for a flat fee of $75 per month, and you could charge $5 extra for every add-on service. The possibilities are endless with your online fitness subscription model!
Manage churn with customer trends
The concept of subscription is powerful because it creates an environment where the default client behavior is retention rather than churn (cancellations). Basically, they're already locked into either a monthly or yearly subscription. Unless it's set to cancel, it will renew automatically.
People also don't like change and won't cancel if you produce results. With the right software, you can track your churn rate and subscriptions through an advanced reporting system. You'll be able to track consumer trends. This makes it easier to send marketing emails based on the services your clients prefer.
How else can you manage churn? A rewards program can boost loyalty, as your subscribers earn points when they view certain classes, reach their goals, or leave a review on your business. They can then redeem their points for rewards that you choose, such as discounts, free credits, or merchandise.
An online fitness subscription model is a recipe for success
While the pandemic has been a challenging experience for the fitness industry, online subscriptions are a recipe for your long-term, sustainable success. It's a win-win for your business, leading to increased profits, reduced churn, and an overall better client experience.
When it comes to managing your online fitness subscriptions, WellnessLiving can help. Host and record your live streams with FitLIVE, then store your videos with FitVID on Demand. Keep track of your attendance records with our advanced reporting system.
Want to learn more about how WellnessLiving can help grow your business? Book a free, no-commitment demo today to learn more!
Share
https://www.wellnessliving.com/blog/thrive-online-fitness-subscription-business/
Copy
Subscribe To Our Newsletter
wpDiscuz