May 02 2017, 11:19 PM
Top 7 Ways to Find New Fitness Clients for Your Studio
When you're busy all day teaching classes, collecting payments, balancing the books, and managing your staff, it can be easy to let the marketing efforts for your studio fall by the wayside. It's a catch-22 – if you get more clients, you can hire more employees to help you out… but you need more employees to free up some time for you to dedicate to marketing and generating clients.
It's a fine line to walk, but a necessary one to master. Neglecting your marketing efforts will prevent you from bringing in new clients and keep your business stagnant without growth. To help you out we've put together our top 7 ways you can attract new business – without running down the clock or breaking the bank!
Rank Well on Search Engines
Being on the first page of Google is critical to being discovered by new prospects. There are several ways you can do this, both organically or by buying placement, but the easiest and most efficient method is to use a service, like WellnessLiving, that already holds domain authority* with Google and will build you a search engine-friendly listing. When your business listing shows up in local search engine results, complete with reviews, booking options, and location information, you are more likely to encourage new clients to check out your facility.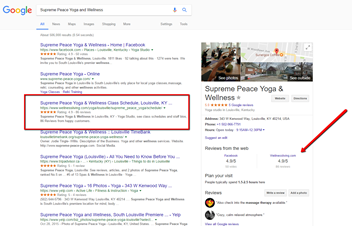 *"Domain Authority (DA) is a score developed by Moz that predicts how well a website will rank on search engine result pages (SERP). Domain Authority scores range from one to 100, with higher scores corresponding to a greater ability to rank." – Moz
Automate Email Newsletters
Creating newsletters and promoting your facility through email is a great way to attract new customers and bring back clients who haven't visited in awhile. You could include a signup capture on your website directory listing, then email prospective clients with special offers and discounts. You can even build lists depending on how you captured the email for more targeted messaging – for example, if you ran an ad specific to a yoga class, emails collected from that campaign can be made into a list that only sends messaging around yoga classes and products. Just ensure your emails are mobile-friendly because 29 percent of your conversions are likely to come from smartphones!
Stay on Top of Marketing Metrics
Having an innovative reporting dashboard can help your business in more ways than one. A visual display of your marketing data will not only let you see how your tactics are working and when it is time to adjust, but will also save you immeasurable amounts of time that previously would have been spent finding and consolidating different data points before crunching the numbers. An intuitive reporting dashboard, like the one in the WellnessLiving platform, helps you measure every aspect of your marketing campaign so that you are not just applying random marketing tactics you read about in a blog like this, but rather putting your spend behind the efforts that are proven by the numbers to produce results.
Create a Reward Program
Word-of-mouth advertising is still relevant, even in the digital age! In 2017 it just means that the interaction doesn't have to be face to face, it is now equally as likely to occur over social media. When someone refers your business to a friend, either in person or online, it will always hold more weight than an advertisement seen online or heard on the radio. Consider offering rewards with different tier levels for referrals – the more one client refers, the more rewards they earn. Tiers can encourage clients to refer more than one person – increasing the chances you will capture a few good clients.
Become a Public Figure
Consider touring at markets, festivals, and other events where you can educate the public, offer a free quick training session, and promote your business within the community. Putting a face to the company always helps customers connect with your brand, and plays into the current trend of sourcing products and services locally.
Offer Specials
Promoting a deal with a 'wow' factor is a great way to draw in potential clients that may not have been otherwise motivated to join your studio. Offering memberships for $1 for the first month on a three-month term or 3 months free when you sign up for a year are attention grabbing because of their high perceived value. While not everyone may stay on for an extended term, it's a great way to access the more opportunistic client.
Offer Shorter Commitments
While contracts help you ensure consistent income, consider offering shorter membership terms to attract the commitment-phobic crowd. A contract worker that doesn't know if they'll live in the same city in six months, let alone the same neighbourhood, probably won't want to be roped into a yearlong term. Try offering a range of membership options so the issue of commitment does not hold back any new clientele.
Get everything you need to email, track metrics, and manage your fitness studio with WellnessLiving. Switch to our platform for a free listing in our health and wellness directory to help you stay visible even in local searches. Click here to get your free demo today, or reach us by phone at 888-668-7728.