Posted on: 01 Feb, 2018
Categories: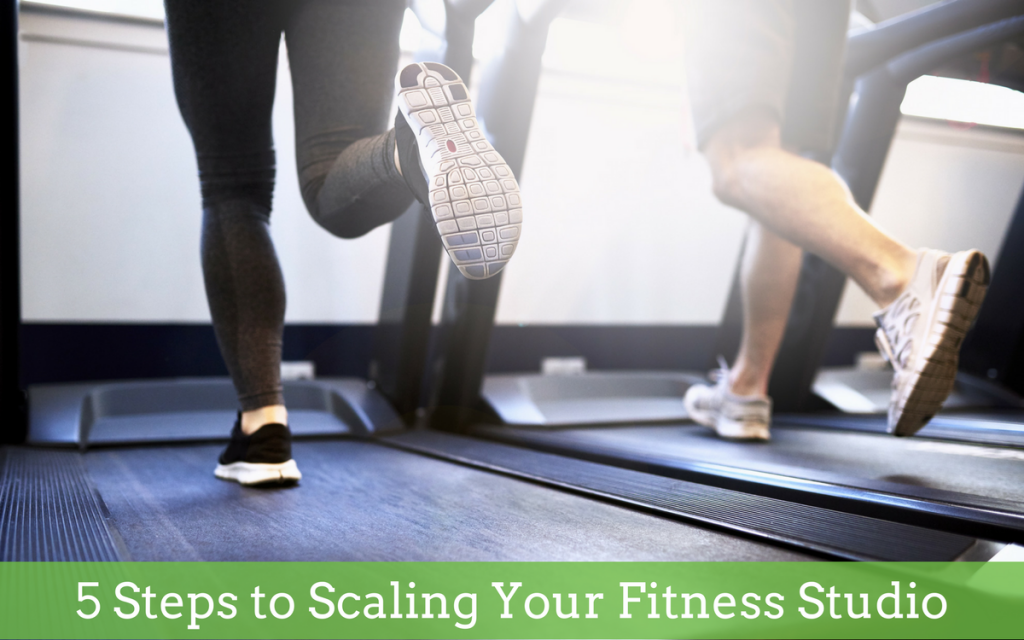 As a fitness studio owner, your main goal is to grow your business. But it's important to remember that smart growth is methodical, which means knowing exactly where to place your efforts that will help you to scale your business most effectively.
We've outlined 5 key steps below that will help you grow your fitness studio in a healthy and efficient way.
1. You Need to Commit Yourself 100%
This may sound like an obvious first step, but you might be surprised at how many business owners aren't fully committed to the growth of their business, even if they're taking steps to make it happen. In many cases, business owners might find assuming the risk related to growth difficult to handle. Scaling your business is going to take a lot of work, effort, and in some cases, extra cash flow. Be prepared for some level of disruption. If you're using the right strategies, they may only be temporary.
Speaking of cash flow…
2. Make Sure You Have a Healthy Cash Flow and Customer Base First.
If your fitness studio is brand new and you don't have a reliable and systematic way to track your members and transactions, you've got a ways to go before you can even consider scaling. It's critical that you understand your customer base and cash flow if you're going to invest in growth.
This doesn't mean you have to be at a point where you're turning away members, but you should always know where your revenue is coming from, what makes your members tick, cover your expenses on time, and pay your employees (and yourself) before you can take the time to aggressively (and strategically) scale without disrupting the business you've already worked so hard to build.
3. Invest in Technology and Tools That Streamline Your Vision
As you move forward toward a larger fitness studio, a bigger customer base, and more revenue, you'll find that taking care of administrative tasks can be taxing and take valuable time away from seeing your vision through, such as class sign-ups, new member registrations, and payroll. You have the power to mediate the impact these tasks have on your day-to-day by leveraging technology, such as fitness business management software that's designed to help you spend more time working to grow your business and less time working within it.
4. Transition to a Comprehensive Fitness Management Solution if Your Existing Software Isn't Cutting it
At some point, every business owner struggles with the idea of a sunk cost. This scenario comes into play when you've spent significant time investing in an idea, location or infrastructure that just isn't working. It's human nature to want to keep trying, push harder and see it through rather than admit defeat. Problem is, in some cases this approach can lead to even greater losses and opportunity cost. If you're in a situation where your business management software solutions aren't working together to manage your business efficiently, or you are simply over-paying to use so many different platforms and apps, switching to a single platform that handles all of these tasks for you is likely a better option.
The #1 reason most of our customers value the WellnessLiving platform is that it allows them to use a full range of business management tools, such as scheduling, email marketing, member and staff management (and more), with a single login. They're often relieved that don't need to have a number of different (and expensive) subscriptions to effectively manage their business.
When their fitness centers or studios are just opening, many learn to get by with a range of micro-solutions that may not fully meet their needs. With WellnessLiving, they're relieved by the platform's ability to provide them with a better view of their business and hand them the control of their entire operation, without any extra fees.
 "I was really hesitant to switch from MindBody, but I'm really glad I did. I'm now saving over $250 per month because I no longer need to use Heal Code, Constant Contact, Perkville and am enjoying so many more benefits." – Jonalyn Henle, Owner, Bikram Yoga Tracy
5. Gather Current and Target Customer Data and Start Marketing!
Once you've committed to growing your fitness studio, take the steps necessary to make sure potential clients hear about what you're doing. Leverage what you've learned about your existing customer base to uncover opportunities to attract new customers. And use the right channels to make sure your message is heard to get the most out of your investments, such as social media, which is a major source of opportunity for fitness studios seeking growth.
Growing any company is a challenge. But by following the core steps outlined above, you'll be on your way to successfully scale your business and grow it into the fitness empire you've always dreamed of.
If you'd like to talk to a WellnessLiving Product Specialist about how our next-generation software platform can help you scale your fitness studio, book a free demo of the platform, or call us at 1 (888) 668-7728.