Apr 27 2021, 9:00 AM
Fitness Trends: What Classes Should You Add to Your Virtual Fitness Studio?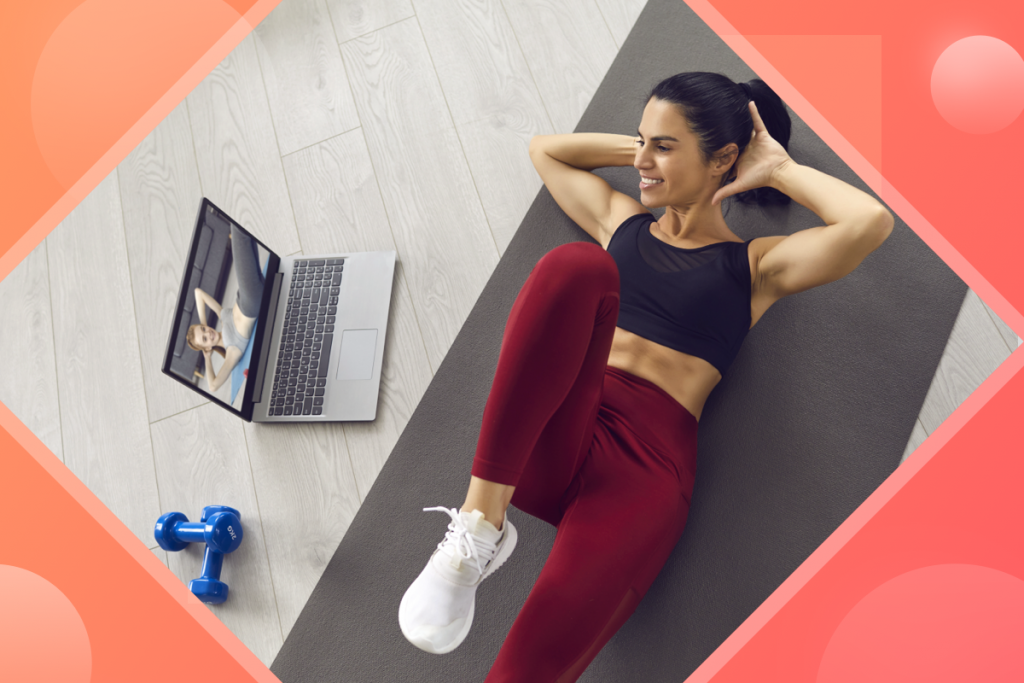 If you haven't added virtual classes to your offerings, now is the time. Livestream and on-demand workouts have become the new normal for fitness enthusiasts. This is only good news for your revenue. Digital fitness will continue to grow and the market is expected to increase at a 33% growth rate each year until 2027.  
According to a ClassPass trends report, there are a number of popular classes that were among the most popular digital workouts of 2020. The top classes on the list: high-intensity interval training (HIIT), dance, boxing/combat training, and stretching.
What fitness classes should you add to your schedule? Here we explore 5 of the top fitness classes that can benefit your virtual fitness studio based on consumer trends.  
1. Dance fitness classes
Dance classes aren't just for dance studios. Explore adding to your staff and hiring dance instructors or fitness experts with a dance background.  
Why should you add dance classes to your fitness studio? Research shows that dancing improves memory, burns calories, helps with cardiovascular health, reduces stress, and enhances your mood. When practiced regularly, it can also increase white matter in the brain as we age.
Whether you're livestreaming or creating on-demand content, dance classes are a step in the right direction for your virtual fitness studio. Need ideas? Stick to the classics like Zumba or get specific with a belly dancing class, featuring TikTok favorites like "Say So" or host a family class to get everyone moving.
2. Combat fitness classes
What is combat fitness training? Combat fitness training will take the best of martial arts, high-performance strength training, and conditioning. One example is Bodycombat—a full-body workout that combines self-defence techniques and fitness.
Combat fitness is perfect since no equipment is required. According to the American College of Sports Medicine, bodyweight training is in the top 3 fitness trends for 2021. Combat fitness can be offered through online or on-demand video classes and is great for clients who want to work out from home. All they need is a workout space and a computer, and they're all set.
3. Core training classes
Core training is a fantastic, low-impact workout. Studies show that a strong core improves mobility, stability, and flexibility, while improving posture and preventing back pain and injury.
Core training has come a long way from sit-ups and twists. You can now get creative with newer moves like hovers, bear crawls, dead bugs, and more. You can also up the intensity for more advanced classes with resistance bands, medicine balls, stability balls, and TRX equipment.
Want to add even more value? Use Facebook groups to host challenges that complement your services. One study shows that people who exercised with a more advanced partner boosted their plank results by 24%. Get your online fitness studio members seeing real results, improving their fitness, and engaging with your business with fun core training classes.
4. Special fitness classes for at-risk groups
COVID-19 created a greater need to develop classes for older adults and those at-risk of COVID.  A recent IHRSA report finds that 61% of boomers are worried about their immunity, but staying fit can help with that.
How can you best serve this part of your community? Not everyone feels comfortable about returning to your studio in person once that's available. That's why it's a good idea to incorporate individual or small group fitness classes (e.g., meditation, low-impact exercises, or  modified exercises). This lets your members to stay fit at their own pace.
If you're not sure where to start, conduct a survey on your clients to get their feedback. Find out what type of classes would best benefit them and work those into your roster to address specific needs.
5. HIIT workouts
Here's an option for members who really want to get their sweat on. HIIT (high-intensity interval training) is not new, but it might be new to your community. Starring in the top 5 fitness trends since 2014, HIIT took second spot in 2020.
These workouts feature short bursts of intense effort with low impact recovery intervals for effective results. Studies show that participants torch calories, up metabolic rates and reduce fat after completing a HIIT workout. It's also been credited with helping type 2 diabetes, boosting muscle growth hormones, and helping to fight aging. With little to no equipment required and workouts ranging from 10-30 minutes, HIIT is a great choice for livestreams or on-demand video classes.
Already have HIIT on your schedule? Consider adding Tabata, the newest craze in interval training. Tabata features 4-minute increments, with even higher intensity and shorter rest periods. Whether it's HIIT or Tabata, interval training is a must-have when considering this year's fitness industry trends.
Bonus tip: add music to your classes
Use music to set the mood. Choose soft, relaxing music for classes like yoga or meditation and crank the tunes for higher energy levels in faster classes. Music has been known to up the intensity, increase performance, and make the time fly by. Studies show that fast-paced music synced with exercises can:
Reduce perceived exertion by 12%.
Increase exercise effects by 15%.
Improve endurance by 15%.
Adding just the right playlist will keep your audience engaged, working hard, and getting more out of your classes. You can even ask your clients for suggestions.
Pro tip? Know your rights—it's important when livestreaming or creating a library of content to know the facts on music rights. Check out this WellnessLiving blog to learn everything about using music in your classes.
Take your classes to the next level
Once you're on top of the new fitness trends, manage your virtual fitness studio like a pro. WellnessLiving's fitness studio software helps you deliver a better product, reach more people, and stand out in the virtual fitness space. Keep members all in one place with easy access to your livestreamed classes with our Zoom integration. Manage and organize your content to keep classes full with FitVID on Demand. Use FitZONE to stay on top of client progress and coach them for success—coming soon!
Interested in learning how WellnessLiving's software can help manage and grow your business? Learn about all the ways WellnessLiving can help manage your business. Book a free, no-commitment demo today!