Stretch Health Canada Expands Horizons Thanks to WellnessLiving's All-In-One Solution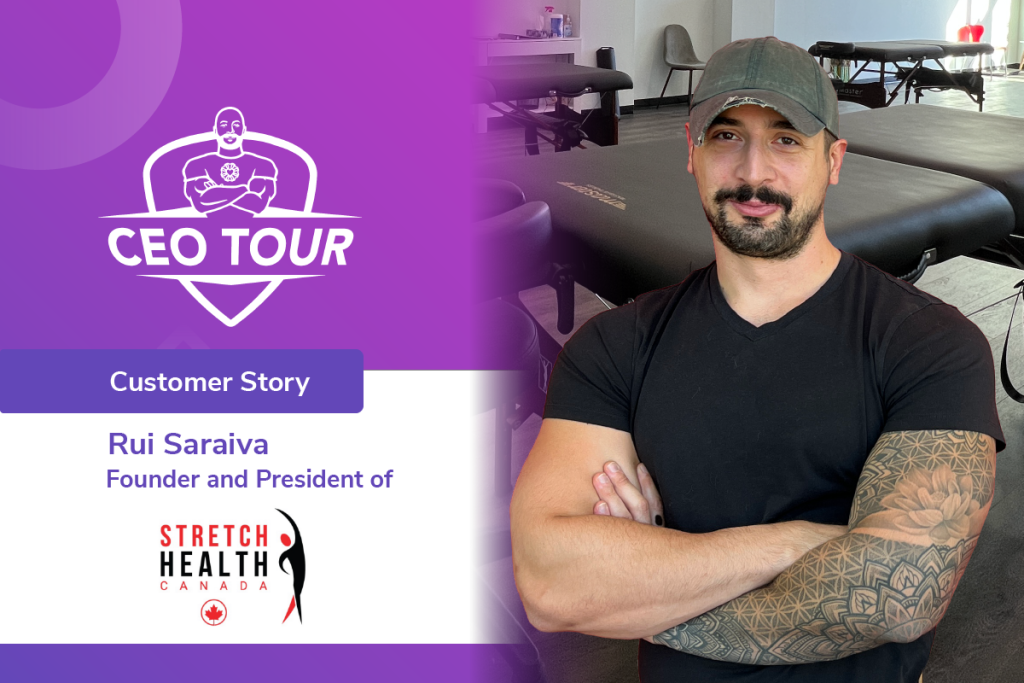 As the Founder and President of Stretch Health Canada, stretch therapy evangelist Rui Saraiva is transforming lives, one stretch at a time.
Not your typical lotion-and-linen relaxation massage, this fusion of massage, stretching, and fascial work is helping thousands of Canadians eliminate chronic pain, restore flexibility, and improve their health.
Rui is taking the fitness industry by storm, with four locations across Ontario, including two in London, one in Kitchener-Waterloo, and one in Toronto. WellnessLiving has been the perfect platform to support this growing enterprise, and Rui has taken full advantage of every tool and support available.
WellnessLiving CEO and Co-Founder, Len Fridman, visited Stretch Health Canada as part of his CEO Tour to learn Rui's inspiring story and how WellnessLiving helped stretch this clinic to its full potential.
Despite a pandemic and economic uncertainty, Stretch Health Canada tripled their revenue thanks to WellnessLiving's virtual tools, lead capturing capabilities, streamlined booking flow, AI-powered solutions, and much more. Read on to discover how!
CLICK HERE to discover today how to generate more leads and build momentum for long-term growth in your business.
Stretch Health Canada at a Glance
📍Locations: London (two) and Kitchener-Waterloo (one), Toronto (one), Ontario, Canada
📍Business Name: Stretch Health Canada (appointment-based business)
📍Business Owner: Rui (pronounced "Roo-ee") Saraiva, Founder and President
📍Website: https://stretchhealth.ca/
📍Business Size: Large
📍Joined WellnessLiving Date: July 8, 2019
📍Switched From: Mindbody
📍Active Subscriptions: Professional Plan ; White Label Achieve Client App ; FitLIVE – Zoom Integration ; FitVID on Demand
Meet Rui Saraiva, Founder and President
At 20 years old, Rui was headed down a dark path and found himself standing in front of a judge, criminally charged on two counts. Yep, it sounds like a movie plot, but this was real life for Rui.
This is where things get interesting. Rui didn't just do a 180-degree turn; he did a full-on pirouette.
"That whole situation? It was like a slap in the face, telling me, 'Hey buddy, it's time to smarten up and make something of myself," explains Rui, who would go on to airborne infantry training in the Canadian Armed Forces. He later graduated from the highly competitive Firefighter Education & Training program at Humber College where he was designated Platoon Leader.
It's  as if Rui unearthed a hidden gem within himself, not only to improve his own life but also to inspire others to discover their own inner strength. That drive to achieve something greater led him to develop a passion for fitness and become a caring personal trainer.
And, boy, did Rui find his calling. He dove deep into studying mobility assessment protocols and techniques. Then, at canfitpro Global Conference & Trade Show in Toronto, he completed a hands-on fascial stretch therapy (FST) certification.
"I was completely hooked," says Rui. "It was the coolest thing I had ever seen, and I wondered why more people don't know about it. I went down a rabbit hole to learn everything I could about this fascinating modality. While stretching is often a piece of a fitness program that's often neglected, it's the most important to maintain mobility, flexibility, and overall function."
Rui started using his new techniques with clients in the gym, blending 1:1 stretch therapy into training sessions, and received more than a few interested inquiries from gym members.
Tell us the story of how Stretch Health Canada started
"The crazy thing for me was the discovery that people are willing to pay money for a professional to stretch them because they know they're not going to stretch on their own," says Rui. "That's when BAM, a light bulb went off, and I thought this thing could be big. I envisioned running a team at a stretch therapy clinic or even a whole chain of clinics!"
Rui advanced through all levels of stretch therapy training and returned to school for his registered massage therapy (RMT) certification. That was a real game-changer. The RMT designation expanded accessibility for stretch therapy, allowing clients to use their extended health benefits towards treatments.
Fast forward to 2019, and Rui went from dreamer to doer. He kick-started Stretch Health Canada, enlisting the help of his RMT pals and renting a tiny space within a physiotherapy clinic. But that was just the beginning. Guess what? Stretch Health Canada exploded into not one, not two, but FOUR locations in Ontario—two in London, one in Kitchener-Waterloo, and another in Toronto.
"Amazingly, we're still in our infancy stage," Rui confesses. "Not many people know we exist, or what we really do. I could tell them: we focus on 1:1 stretch therapy to help with chronic pain and mobility, and most people still can't conceptualize what that actually means. So, our philosophy for generating leads is a simple phrase: Bodies on tables."
To help get more bodies on tables, Stretch Health Canada participates in numerous community events, festivals, workshops, and lunch-and-learn seminars.
"Community outreach is a huge component of what we do," Rui says. "Once you experience the session, all the dots start to connect, and many people end up booking a stretch session, convert to long-term members, and later even refer friends and family. So, our number one conversion strategy: get those bodies on tables."
What does Stretch Health Canada offer?
At Stretch Health Canada, clients can purchase three-, six-, and 12-month memberships, allowing them to come in at their preferred frequency, such as once or twice a week, or every other week.
Why did Stretch Health Canada switch to WellnessLiving?
Before opening their doors, Stretch Health Canada initially teamed up with Mindbody, but within weeks Rui realized he wasn't happy with them. His patience wore thin due to a frustrating onboarding process, prompting Rui to explore other options.
As a member of Net Profit Explosion (NPE) Fitness, a leading fitness business coaching company, Rui discovered WellnessLiving and was immediately impressed with the transition.
"We hadn't yet opened our doors and needed to get set up on our new system as quick as possible," Rui explains. "Fortunately, the switch to WellnessLiving was a very good experience with a smooth onboarding process. From our appointments to memberships and booking flow, all our data was safely migrated."
Booking Flow for Appointments
Because a vast majority of his clients utilize their health benefits towards stretch treatments, Rui needed to way to streamline the booking process.
Right now, Stretch Health Canada offers three booking options, allowing clients to book through their physio benefits, massage therapy benefits, or no benefits. This process allows them to schedule the client with the right practitioner based on a specific appointment type.
Whether on the Client Web App, Achieve Client App, or Reserve with Google, WellnessLiving provides Stretch Health Canada clients multiple options to book appointments.
Consistent Support
Rui says that while you can have the best features and benefits, the first question he asks before partnering with a company is, "how is your Customer Support Team?"
"WellnessLiving's robust support system means everything to us," says Rui. "The attention and focus on customer care is outstanding and I feel like they make my business a priority. Whenever I need them, I can get them on the phone quickly or get an email response in a timely manner. I know that in any circumstance, they have our back."
Another major factor that stood out for Rui is how WellnessLiving aligns with Stretch Health Canada's core values, including striving for excellence and consistent improvement.
"Like us, WellnessLiving is constantly listening to customers. I love how they always work to better the software, whether that's streamlining the user interface, enhancing the look and feel, improving the booking flow, or adding new integrations and automations," says Rui. "I appreciate, too, that I can participate in user testing, ask questions, view the product roadmap, and make requests for features or enhancements I want to see built, right on the Community Forum."
In addition, Rui utilizes WellnessLiving's many educational resource hubs, including the Knowledge Base, blog, and webinars.
Virtual Tools—FitLIVE & FitVID on Demand
When the pandemic first hit, Stretch Health Canada immediately implemented solutions to help their clients through the difficult time while enhancing their offerings with  WellnessLiving's virtual tools—a video library, FitVID on Demand and their Zoom integration, now called FitLIVE.
As a result, Stretch Health Canada jumped from an average of 68% conversions of initial assessments into long-term memberships, to a whopping 90%. Rui credits the spike to two key changes:
#1: Offering a money back guarantee.
#2: Adding a Stretch Health PLUS Membership to their offerings, which included in-person and virtual classes, 1:1 stretching sessions, and free access to an on-demand video library.
It became the perfect formula for assigning homework to clients. Rui and his staff would offer interactive virtual stretching classes, but they also recorded instructional videos on how to properly stretch or perform specific exercises, assigning them to clients to perform at home.
"FitLIVE and FitVID on Demand allowed us to take our business to a whole new level. We created a sense of urgency. After their assessment if they signed up for a Stretch Health PLUS Membership, they'd get free access to our video library," says Rui. "The funny thing is, we tripled our revenue at this time," says Rui. "We had plateaued around $10,000 per month prior to COVID, but in the months that followed, we grew to around $35,000 per month, which we didn't expect at all!"
Lead Capture Widget & Email Nurturing Campaigns
With WellnessLiving's Lead Capture Widget, Rui conveniently collects new lead information with a form embedded right from Stretch Health Canada's website. When prospects fill out the form, all the info, like their name, address, and email, is automatically saved and stored in a new client profile.
Rui then can automate his client communication and sales funnel with WellnessLiving's built-in marketing suite. For instance, when someone subscribes to Stretch Health Canada's email newsletter, a sequence of emails is triggered to engage and nurture each stage of the client journey, fostering deeper connections.
Fact: WellnessLiving customers have reported 78% more leads after implementing our lead capture form and lead nurture email.
Elevate Staff App & Staff Management
With four busy locations, Stretch Health Canada needed an efficient solution for staff members to manage clients, so the Elevate Staff App has come in handy.
"Our staff loves Elevate and it makes their life so much easier," says Rui. "It's been their go-to tool for completing SOAP [subjective, objective, assessment, and plan] notes for the client's chart. In addition, the app has been great for viewing the schedule, communicating with clients, and booking a session for new clients, especially at events, workshops, and seminars."
White Label Achieve Client App
Mobile apps are the number one place clients interact with businesses. The White Label Achieve Client App is a game-changing tool for appointment-based company, Stretch Health Canada, saving them countless hours in administrative work booking, confirming, or rescheduling hundreds of clients. The app also sends notification reminders before an appointment.
"Downloading our app is mandatory and an essential part of our intake process," says Rui. "The best part of the app is it gives our clients the freedom and autonomy to book their sessions and manage their own schedule. We don't have to do it for them and that's a big-time saver for us."
Customer Reviews
Clients can easily write reviews about their experience at Stretch Health Canada on the Achieve Client App, right from their mobile device. With the Review Widget, Stretch Health Canada can then highlight 5-star reviews on their website's homepage.
"WellnessLiving's customer review feature gives us the perfect boost to our credibility, while streamlining the process of requesting reviews after client appointments, monitoring when they come in, and responding to them," says Rui. "We're also able to address negative reviews and showcase the best ones on our website. It's definitely helped our reputation!"
Advanced Reporting
Rui spends a lot of time within the custom dashboard, analyzing reports and tracking sales, revenue, memberships, attendance, payroll, and more at a quick glance to view how his business is performing.
"I love the breakdown of how much money is coming in each month, from our three-, six-, and 12-month membership plans," says Rui. "I can also see exactly how much revenue is being processed through the system, in one convenient spot."
Isaac AI Churn Risk Report
The Memberships Report allows Stretch Health Canada to track memberships that are about to expire and are up for renewal. The stretch clinic will then offer a maintenance program or another membership that fits their clients' needs.
But, before it comes to that point, the Isaac AI Churn Risk Report works wonders to pinpoint whether their clients might decide to cancel their membership. At the start of each month, Isaac provides a detailed Churn Risk Report that identifies clients at risk of leaving within the next 30 days. This prompts Rui to call or reach out via SMS or email.
"It doesn't matter how many new leads you're bringing in and converting each month— if you're losing clients on a regular basis that means you have leaky holes in your bucket," says Rui. "Isaac is the perfect solution to plug those holes, allowing us to check in and support our clients. We ask how they're doing and gather feedback to ensure they're happy and we're delivering a top-tier experience for them."
Rewards Program
Referrals and word-of-mouth are a big part of how Stretch Health Canada generates new leads. What's great about WellnessLiving's loyalty rewards program is that a referral system is built right in. So, Stretch Health Canada promotes the rewards to their clients every chance they get.
"We send messages through email and videos, letting them know how they can earn reward points with us," says Rui. "It's just our way to say thank you for the referrals, reviews, purchases, referring friends and family, leaving a review, sharing their experience on social media, and more."
What does receiving the #StandwithStudios Grant mean to you?
After being selected as a winner in March 2023, the #StudiowithStudios Grant Program provided Rui with the tools, support, and resources to take Stretch Health Canada to the next level.
"I was blown away and I wasn't expecting to win," explains Rui. "However, the grant has had a lasting impact on our growth, allowing us to open a new clinic location in Toronto and help more people transform their health with the transformative power of stretch therapy. So, that's been huge for us! Thank you, WellnessLiving."
Ready for a software upgrade?
If you're on the hunt for a new software solution, Rui says the choice is obvious.
"Compared to other software providers, WellnessLiving comes out on top every time," exclaims Rui. "The depth of functionality and customization is incredible, with each feature configured completely to fit our branding, booking flow, and other business needs. Additionally, they're consistently improving to ensure your business is set up powerfully. In my opinion, it's no contest—WellnessLiving is light years ahead of the competition! Needless to say, anytime I can, I'm happy to recommend WellnessLiving."
Rui is also a big fan of WellnessLiving's Partner Program and earns a $500 bonus check, plus $20 a month for the lifetime of every referral that subscribes to our Business Plan. "I'm happy to spread the positive feedback to my large network of physiotherapists, osteopaths, and chiropractors, and anything I earn is a bonus!"
Are you ready to go from stress to success with WellnessLiving's all-in-one platform? Discover firsthand how WellnessLiving helps fitness businesses streamline operations and boost revenue by up to 180%. Book a demo today.