The School of Music Doubled in Size Thanks to WellnessLiving's Powerful Automations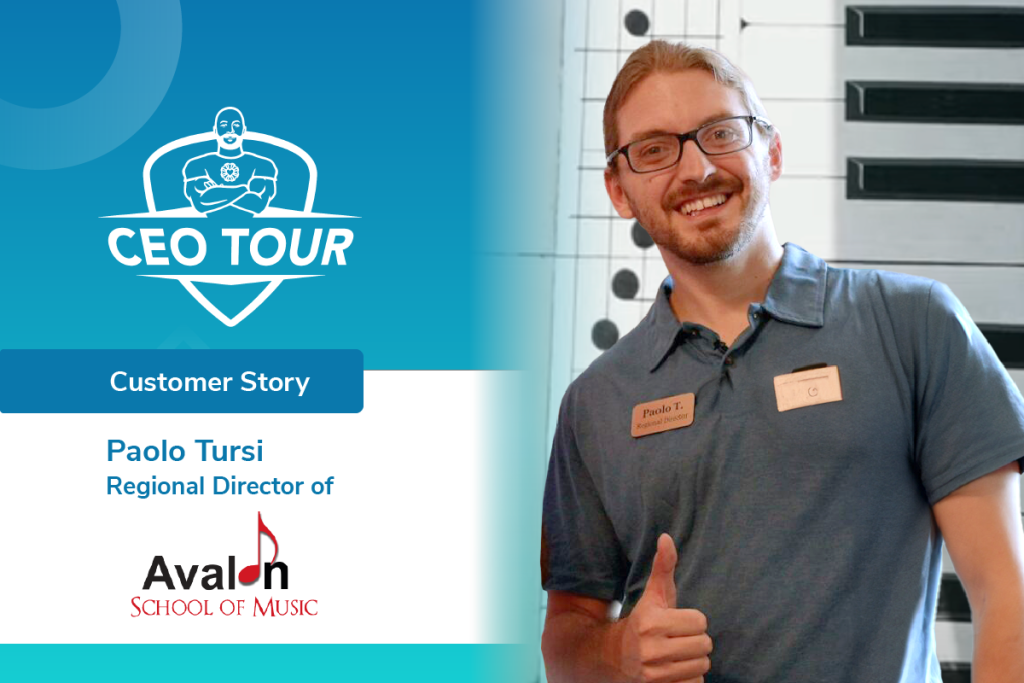 Whether you're 3 or 90, Paolo Tursi believes you can learn music at any age.
"We're just having a lot of fun, spreading the joy and gift of music to everybody, and that's why I'm here," says Paolo who is the regional director of four of eight locations, including Avalon School of Music, Orlando School of Music, East Orlando School of Music, and Oviedo School of Music.
Ever since the School of Music switched their software provider almost five years ago, WellnessLiving has been a game-changer for them. The School of Music has actually doubled in size, thanks to the streamlined scheduling, rescheduling, and student management made possible by automated systems and integrations. It's been a breeze!
During his CEO Tour, Len Fridman, the CEO and Co-Founder of WellnessLiving, had the opportunity to visit the Avalon School of Music in Avalon Park, Florida. He learned all about Paolo's journey and witnessed firsthand how WellnessLiving transformed this business into a true powerhouse in the music world. Len even had a go at learning the guitar, aspiring to reach the level of Carlos Santana after just one lesson. Well, maybe not quite there just yet.
Keep reading to uncover how the School of Music achieved a remarkable 60% increase in memberships, thanks to the powerful automation, communication, and client management tools provided by WellnessLiving. It's truly impressive!
Find out how WellnessLiving is empowering music schools everywhere with innovative solutions—CLICK HERE.
The School of Music at a Glance
📍Location: Four locations (Avalon Park, Orlando, East Orlando, and Oviedo in Florida)
📍Business Name: The School of Music
📍Business Owner: Paolo Tursi, Regional Director
📍Website: https://avalonschoolofmusic.com/
📍Business Size: Large
📍Joined WellnessLiving Date: May 24, 2018
📍Switched From: Mindbody
📍Active Subscriptions: Professional Plan ; Message Center
📍Number of Partner Program Referrals: 16 total, 10 active
Meet Paolo Tursi, Regional Director
Paolo absolutely loves music—it's in his blood and lights up his spirit. He proudly shares, "Music runs in my family; it's what we've always been a part of." Paolo is a multitalented  musician, skilled in playing the piano, drums, guitar, and ukulele.
Back in 2013, Paolo began his musical journey at the Orlando School of Music as a music teacher. After a couple of years, he completed his music degree. Then, in 2017, the owner, John Kolbrich, asked Paolo to return and entrusted him with the role of regional director. Paolo now oversees four out of eight school locations in Florida: Avalon Park, Orlando, East Orlando, and Oviedo.
As Paolo's musical path unfolds, he continues to share his passion with students and fellow enthusiasts, leaving an indelible mark on the local music scene.
How did the School of Music start?
The School of Music all started back in 2003 when John and Marge Kolbrich had this incredible idea to create a music school. Their mission was simple: to offer a top-notch music education to students of all ages and skill levels.
Inspiration struck John one sunny Sunday morning. He had a vivid dream that showed him the future of the school. That dream was the turning point for him, and he decided to bring his vision to life.  By this point, John had been actively playing music for more than 30 years, and he had also worked in the information technology industry for both small and large corporations.
To begin with, John set up a cozy studio in his own home, where he started teaching piano and trumpet. But the demand for music lessons grew rapidly, and soon enough, more teachers joined the team. They brought their expertise in guitar, drums, violin, saxophone, voice, bassoon, oboe, flute, and trombone.
Before they knew it, the house was buzzing with over 200 students visiting every week. It was amazing to see how much the School of Music flourished from a small, home-based studio to a bustling hub of musical education.
What does the School of Music offer?
The School  of Music helps students reach their goals, offering high-quality music lessons and providing public performance opportunities through recitals, concerts, festivals, and recordings.
They have a passion for all kinds of music, from Classical, Jazz, and Opera to Hip-Hop, R&B, Pop, and Rock, offering a wide range of lessons for various age groups, including:
Piano for ages four and up.
Guitar/bass guitar for ages six and up.
Voice for ages seven and up.
Drums/percussion for ages five and up.
Woodwinds for Grade 4 and up.
Strings (violin, viola, cello, and double bass) for ages six and up.
Brass (trumpet, trombone, and tuba) for Grade 4 and up.
Rock band for ages four and up.
DJ lessons for ages four and up.
But that's not all. Additionally, the School of Music offers a free Mommy & Me class for babies (0-11 months and 1-2 years old) and a music appreciation class for three-year-olds.
Why did the School of Music switch to WellnessLiving?
As regional director of the School of Music, Paolo's got his hands full with roughly 1,200 students and an awesome team of around 70 teachers. It's like a mini-music city right there.
But here's the kicker—to keep this musical orchestra running smoothly, they needed a trusty software provider to ensure everything was in harmony behind the scenes. At first, Paolo tried Mindbody, but they couldn't live up to the hype and failed to meet the music school's business needs.
"We tried to make requests for certain features geared toward our business because there were so many workarounds we needed to make. Unfortunately, Mindbody flat out said that they're not really catering to music schools anymore," explained Paolo. "So, we realized we weren't with a software provider that had our best interests at heart."
Instead, the School of Music found the software company with a heart, WellnessLiving, in 2018.
"We needed a software provider that could really take the stress away from all our daily operations with scheduling, billing, and marketing," says Paolo. "When we found WellnessLiving, it intrigued us that somebody created a whole new software as a specific solution to Mindbody. We were sold on WellnessLiving right away. Not only has it been more affordable, but since we made the switch, our schools have doubled in size due to the automated systems we've put in place. Overall, our memberships have increased by 60%! So, we've had a good amount of growth."
How was the transition to the new software?
Paolo is happy the School of Music switched to WellnessLiving, but they had their concerns.
"Data migration is always a scary process because there's a lot that can go wrong, especially when we're dealing with scheduling, billing, and hundreds of client profiles and their information," says Paolo. "WellnessLiving's Onboarding Specialists did a great job. It was a very smooth and seamless process, ensuring that all our data was safely migrated to our new system."
24/7 Customer Support
Another big reason Paolo switched to WellnessLiving is our 24/7 Customer Support, something the School of Music didn't get at Mindbody.
"It's been great. I love the supportive customer service staff, and someone is always ready to respond to our requests or answer our questions," says Paolo. "It's quick, efficient, and reliable, which is exactly what we expect from a software company and WellnessLiving delivers every time."
Continuous Growth
Another added benefit for Paolo has been the ability to make requests for new features and enhancements on the Community Forum.
"I love that WellnessLiving continues to expand based on our needs and feedback," says Paolo. "In fact, there have been requests that I've made that ended up in the pipeline, including the ability to view QUICK notes on the Elevate Staff App. So, that was super exciting."
QUICK Notes
What's Paolo favorite feature in the system? By far its QUICK notes, allowing Paolo and his staff members to take notes on students, tracking their needs and experiences.
"Whether it's the ability to leave or view QUICK notes on the staff app, it's so essential for us. Many times, we need to make quick changes to a student's appointment, so the fact that QUICK notes are an option for us is super critical to our business," says Paolo. "It's so important that honestly, if it wasn't a feature within WellnessLiving, we probably wouldn't be able to use the system. It may seem like a small thing, but for us, it makes all the difference."
Appointment Management
Appointment management at the School of Music is like conducting a well-orchestrated symphony. With so many students and teachers in the mix, keeping track of all the types of music lessons at 30-minute, 45-minute, and one-hour intervals is no small feat.
That's where WellnessLiving's nifty appointment management system comes in handy.
"It's like having a personal assistant for every student and teacher," says Paolo. "Students can easily schedule their lessons, reschedule if they need to, and even get reminders so they never miss a beat. But perhaps the best part is being able to switch students to a new appointment type. Say a student wants to switch from piano to guitar lessons, we can easily adjust the appointment and membership type in the system. It's a real game-changer. And for the teachers, it's a lifesaver too. The fact that we can set up specific types of appointments at different pay rates is very helpful."
In addition, Paolo appreciates customization elements within the appointment design.
"We offer nearly 50 appointment types, so the fact we can assign a different color to each appointment is huge," says Paolo. "It's adding so much to the intuitive interface and improves our overall user experience."
Reconciling Unpaid Visits
Reconciling unpaid visits is vital for Paolo and the School of Music as it safeguards their financial stability by identifying missed revenue opportunities. It ensures accurate resource allocation, prevents discrepancies in teach compensation, and promotes student engagement by addressing payment issues.
In WellnessLiving, if a student has unpaid visits on their account, Paolo or his staff can easily reconcile them right from the store, schedule, attendance list, client's profile, or Elevate Staff App.
"It's so great that you have the scheduling on one end and the billing on another end, but then this system merges, informing you that paid appointments apply to a specific schedule," says Paolo. "Sometimes you add someone to the schedule, but don't know whether the appointment is paid or not. For instance, it may be a free lesson. So, the fact that it shows paid versus unpaid is key."
Achieve Client App
The Achieve Client App is also the perfect sidekick for music students, allowing them to view and update their client profile effortlessly.
"Achieve is perfect for the music student journey," says Paolo. "Say, they want to check their lesson schedule for the week. No problem, they just tap the app, and boom, it's there. Oh, and if they need to update their billing info or add a new credit card, it's easy, just a few quick clicks, and you're all set."
Staff Management with the Elevate Staff App
With over 70 staff members, the Elevate Staff App is a necessary tool, allowing them to navigate their schedule, manage their students, and adjust the look and feel within the app.
"The app defaults showing the type of appointment instead of the name of the student," says Paolo. "So, as part of the orientation process, new hires of the School of Music watch a video that breaks down how to update it to include the name of their students.
Advanced Reporting
Our dashboards and reporting system is another invaluable tool for Paolo and the School of Music, providing a comprehensive overview of key performances metrics. What reports does Paolo utilize the most?
Automated Marketing & Communication Tools
Paolo loves how each software tool can work seamlessly together to create a harmonious system for the School of Music.
"We had a hurricane and had to communicate with everybody," says Paolo. "So, we ran a report to show us all the appointments on that specific day and then sent the students text and email updates, keeping them in the loop. It's been really helpful."
WellnessLiving allows the School of Music to streamline communication and set up personalized and automated SMS, email, or push notifications that get sent to students whenever they book a music lesson. It's also been convenient for the School of Music to integrate with the popular email marketing platform, Mailchimp.
Zapier Integration
WellnessLiving is the first scheduling software in the music industry to integrate with Zapier—an impressive web-based tool with an intuitive editor that allows you to create automated workflows called Zaps, connecting you to over 5,000 of the most popular work apps, like Google Sheets.
"We were ecstatic when they released the Zapier integration since connecting with all our apps has saved us so much time, whether we're  syncing contacts or tracking client data," says Paolo. "Now, we have several different Zaps going. If someone fills out the form on our website, the information is automatically sent to a Google spreadsheet. We also set up a Zap so that every new row on the spreadsheet creates a client profile within WellnessLiving. So, instead of having to copy and paste the data from the row and manually create a new profile, it automatically does that for us."
Partner Program
What's also great is that Paolo gets paid every time he refers another music school to WellnessLiving. As part of our Partner Program, Paolo earns a $500 bonus check, plus $20 a month for the lifetime of every referral that subscribes to our Business Plan. The School of Music has referred 16 businesses with 10 currently active WellnessLiving customers.
"We have this robust software that works and since it works, we're going to let people know about it and it's cool that we're able to develop a passive income from recommending this software provider," says Paolo. "At one point, we were earning enough to cover our software costs. We were earning so much money for something that we were going to recommend regardless. I don't know any other software provider that does anything like this. So, it was a big win for us!"
And that's not all. Referring a business that attends a demo or subscribes to our Business Plan now gives you a chance to win a trip for two to Hawaii. Don't miss out. Learn more HERE.
Ready for a software upgrade?
If you're a music school and you have a lot of students, Paolo says WellnessLiving is the right all-in-one solution for you.
"Get off Google sheets, get off Mindbody, and get on WellnessLiving," says Paolo. "It's going to make things faster and more efficient. You'll solve your scheduling, billing, payroll, marketing, and communications, with one complete system. From scheduling music lessons to group classes to setting up recitals as events, WellnessLiving does everything you need to manage and run your music school at its best."
Want to learn how WellnessLiving can help you manage and grow your music school? Discover how our all-in-one solution can automate your workflow and streamline your business. Book a demo today.