WellnessLiving Powers Community Wellness Concierge to Scale for Success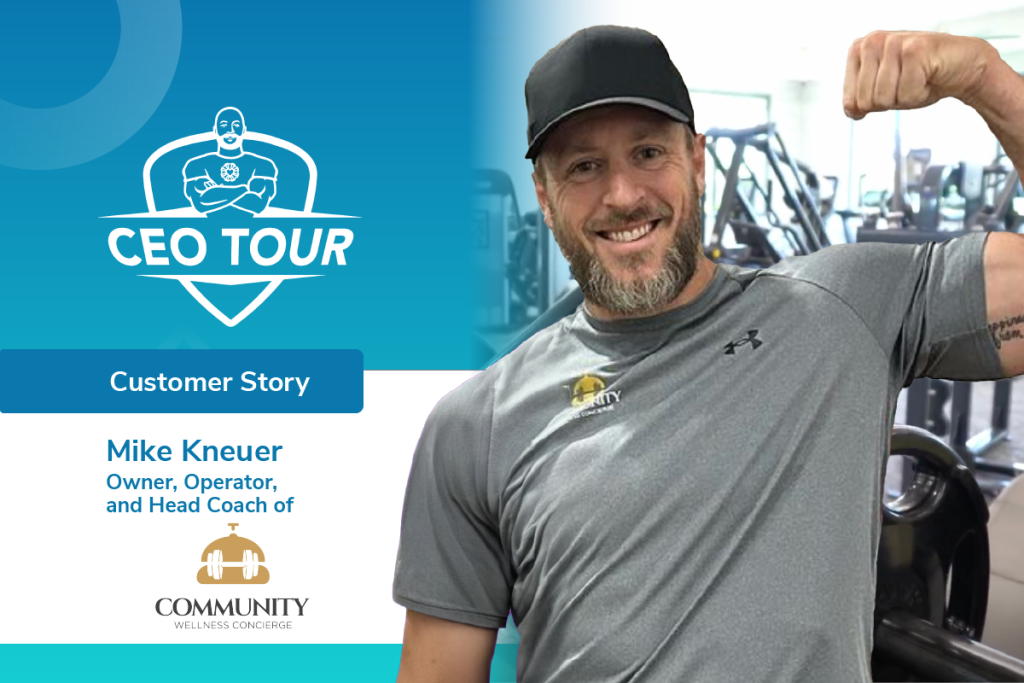 Mike Kneuer has turned his lifelong passion for fitness and coaching into a thriving career, dedicated to helping individuals embark on life-altering transformations.
In 2023, Mike put together a team of coaches and trainers, creating the company Community Wellness Concierge. As the proud owner, operator, and head trainer, Mike spearheads wellness programs, services, and personal training exclusively tailored to the vibrant gated, residential community of Seven Bridges in picturesque Delray Beach, Florida.
Mike understands that he couldn't achieve all this without a vital team member: WellnessLiving. Operating without full-time office staff, this all-in-one business management software empowers Community Wellness Concierge to expand and scale their operations effectively.
As part of his CEO Tour, WellnessLiving CEO and Co-Founder, Len Fridman, got to experience the personal touch of Community Wellness Concierge for himself with an exclusive personal training session. During the visit, Len learned about Mike's fearless transition from solo fitness coach to business owner, and how WellnessLiving is helping Community Wellness Concierge transform many lives.
WellnessLiving has been instrumental in managing personal training sessions, schedules, and payroll, and improving the efficiency of Mike's growing business. Read on to learn how.
CLICK HERE to explore why thousands of fitness businesses and over 20 million users love WellnessLiving's all-in-one solution.
Community Wellness Concierge at a Glance
📍Location: Delray Beach, Florida
📍Business Name: Community Wellness Concierge
📍Business Owner: Mike Kneuer, Owner, Operator, and Head Trainer
📍Website: https://communitywellnessconcierge.com/
📍Business Size: Medium
📍Joined WellnessLiving Date: June 27, 2023
📍Switched From: New Business
📍Active Subscriptions: Professional Plan
Meet Mike Kneuer, Owner, Operator, and Head Trainer
Mike's journey in the fitness world began during his high school days. As the captain of the hockey team, he took the initiative to design dry-land workout routines for his teammates and ensured that everyone stayed committed to training during the off-season.
After graduating from college, Mike's fitness career led him to sunny Florida, where he started as a trainer at LA Fitness. It didn't take long for his career to take off, with numerous opportunities arising. He progressed through the ranks, moving on to work at larger and more prestigious fitness and wellness clubs.
Mike eventually came to a crucial realization: "I was pushing myself to the limit, always rising early and returning home late, and it became evident that I couldn't maintain that pace. To expand, make a more significant impact, and grow my fitness business, I needed a dedicated team to support me."
In 2023, Mike was presented with a pivotal opportunity to assemble a team of fitness coaches and trainers in his network, marking the inception of his company, Community Wellness Concierge. This endeavor is dedicated to serving the unique fitness and wellness needs of the gated, residential community at Seven Bridges in beautiful Delray Beach, Florida.
What does Community Wellness Concierge offer?
Community Wellness Concierge is dedicated to creating close-knit, supportive communities that empower residents of the Seven Ridges community to reach their objectives and live healthier, more fulfilling lives.
Adorning the walls of Mike's office are a multitude of transformation stories, each showcasing the profound impact his company has had on individuals. One such story revolves around Alexio, who achieved a remarkable 100-pound weight loss.
Mike proudly shares, "Witnessing Alexio's incredible journey was truly special. He not only achieved his goal but experienced the joy of not requiring a seat belt extender on an airplane for the first time. That moment was truly awesome."
To help residents reach results, Community Wellness Concierge caters from youth to seniors, providing personal training, sport specific coaching, group fitness classes, nutrition coaching, physical therapy, massage therapy, and daily fitness center supervision.
"It's bigger than your traditional community gym, but it's smaller than a gym like LA Fitness. We have a variety of classes and services, so no matter your age, skill level, or ability, we have something to offer for everybody," says Mike.
Why did Community Wellness Concierge select WellnessLiving as its software provider?
Upon launching Community Wellness Concierge, Mike recognized that one of the most pivotal decisions he would make would be selecting the right business management software to streamline the personal training department for himself and his staff.
Right from the outset, it became abundantly clear that WellnessLiving was the perfect choice, and opting for this all-in-one software became instrumental in the successful operation of Community Wellness Concierge.
Mike affirms, "Resident satisfaction, engagement, and revenue have consistently increased month after month. We've reached a stage where we're considering expansion into other residential, gated communities. WellnessLiving was the ideal fit for us, offering enhanced value with its robust features. It was also remarkably user-friendly and precisely met our needs for staff scheduling and payroll management. Plus, it was a seamless and hassle-free transition, with all our client data safely migrated to our new system."
Elevate Staff App & Staff Management
Unlike public fitness centers, Community Wellness Concierge operates as a closed ecosystem, exclusively catering to residents of Seven Bridges. Here, the seven fitness trainers personally book members and handle payments within the Elevate Staff App. It may be a private fitness center, but it doesn't mean they're any less popular. They serve over 75 recurring personal training clients, with appointments at the same time every week.
Mike explains, "There isn't front desk staff like a typical gym, and I don't have a person there 12 hours a day, taking payments. Previously, I had to chase down clients to make a payment or purchase a package. It's incredibly helpful that my trainers can conveniently go into the app and accept client payments with a credit card, right on their phone. This feature saves us a lot of time and money on staffing!"
Packages, Payments & Point of Sale
WellnessLiving makes it easy for Mike and his staff to add clients to the system and manage their personal training packages, which they sell in packages of four, eight, 12, 16, and 20 sessions, or based on three tiers of trainer experience at different pay rates.
"Offering multiple price points has been a complete game-changer for our business. The platform gives us the flexibility to sell our packages our way, allowing clients to purchase the number of sessions or a specific trainer based on their preferences and financial situation," says Mike. "Plus, the system automatically emails the client a receipt after a purchase or informs them when they're low on training sessions, so they're not caught off guard when it's time to purchase some more."
Dynamic Staff Payroll Reporting
One of the most significant benefits of WellnessLiving for Community Wellness Concierge is the streamlined payroll reporting, made possible with the Payroll Summary Report. This feature helps in tracking personal training sessions that have been booked, attended, and paid for.
Mike shares his experience, "Previously, staff had been logging their training sessions on Microsoft Excel or Google Sheets, organized by date, trainer, and pay rate. It was a nightmare every two weeks when it was time to calculate payroll. The problem was that I'd have to match the trainer's spreadsheets with how many sessions a client had left to ensure everything was correct. Now, when my trainers log in their sessions, it automatically prints out a payroll report for me. It's been a huge time saver for us!"
Are you ready to scale your business?
When Community Wellness Concierge expands to other residential communities, the plan is to utilize more of what WellnessLiving offers, while managing both personal training sessions and group fitness classes.
If you don't have front desk staff, no problem! Frustrated with your current software provider? Mike says WellnessLiving is the ultimate solution that takes the stress out of business management for your fitness business.
"I'd recommend WellnessLiving to any fitness business owner. This software is robust and, simply put, will save you a lot of time on the administrative work, making your life a whole lot easier. You're going to wish you found them sooner."
Are you ready to upgrade to the last software provider you'll ever need to switch to? Discover how WellnessLiving equips your fitness business with all the features and tools you need to manage your staff and clients. Book a free demo today!