Group Fitness Trends: Why Group Fitness Is More Important Than Ever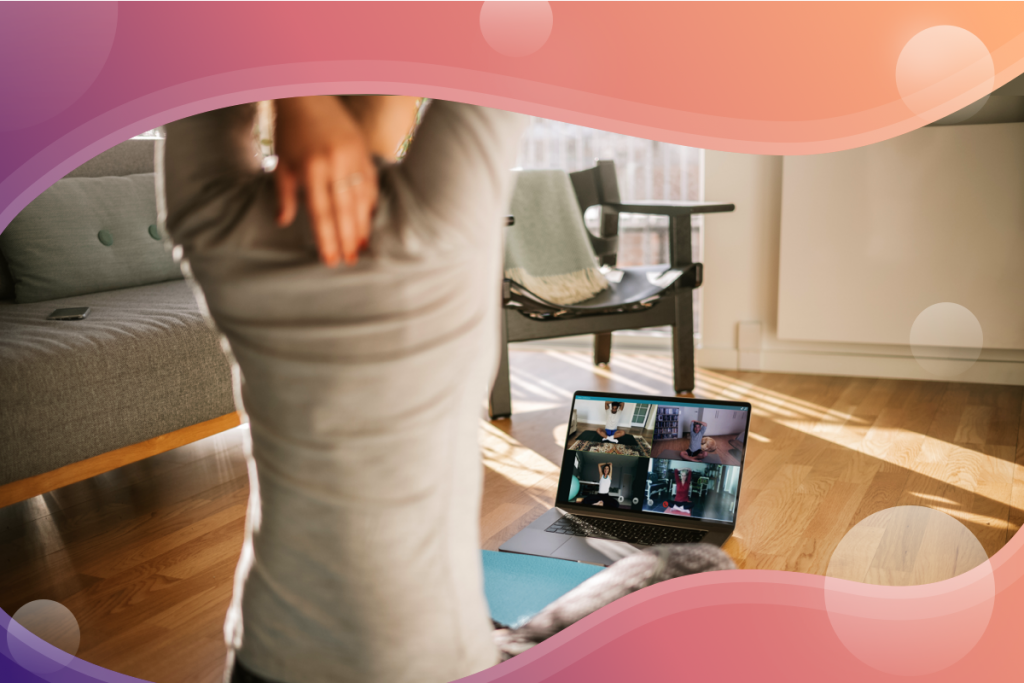 By nature, we are social creatures. According to research in biology, neuroscience, and psychology, our bodies tend to work better when we're around others. It motivates us, creates discipline and accountability, and builds a sense of friendship and community.
"Human beings are an ultra-social species—and our nervous systems expect to have others around us." — Emiliana Simon-Thomas, PhD, Science Director of the Greater Good Science Center at The University of California, Berkeley
The pandemic has made it difficult to continue these interactions. That didn't stop gyms and boutique studios from offering livestreamed group fitness classes to their members. Even though clients were at home, it still felt like they were connected and part of a group.
In 2020, group fitness was even ranked as one of the top 3 trends, according to the American College of Sports Medicine's annual survey. One study of over 3,000 group fitness participants also found that 85% of members train together every week.
With the shift to online classes, group fitness will continue to grow in 2021. Here are 7 reasons why group fitness is so important right now:
1. Delivering a fully connected digital experience
With many studios still closed, delivering a top of the line experience means retaining revenues and clients. Without real life visits, virtual content offers the gym feel that clients love from home.
New group fitness trends combine motivation, social connection, and convenience for a 24/7 one-stop fitness shop. How can you get ahead of the 2021 group fitness trends?
Make their digital lives easier with WellnessLiving's Achieve Client App to book classes and track progress right through their mobile devices.
Use mobile apps for digital group challenges to help reach their goals. WellnessLiving's leaderboard ranks success and move participants up the ladder as the competition heats up.
Add wearable technology to your group fitness for real-time stats and around-the-clock motivation.
2. Keeping your clients fit while fighting obesity
Keeping your clients fit and healthy is priority number one. Research shows that obesity raises the risk of dying from COVID-19 by 40%. With over half of American women and a quarter of men surveyed confirming they've gained weight since the pandemic began, exercise is crucial to your clients' health.
While people can work out on their own and still stay motivated, studies suggest that 50% of gym-goers are actually dissatisfied with their current fitness routines. Gym members on average are also 14 times more active than non-members (i.e., people that work out alone).
Create a virtual community with group fitness classes to keep your clients accountable, staying healthy, and reaching their long-term weight loss goals.
3. Combating loneliness increases human interaction
With lockdowns, people are feeling isolated. Research indicates that 65% of people reported increased feelings of loneliness since the pandemic began. Fight this by getting your community together in a virtual space.
A study published in the Journal of Sport, Exercise and Performance Psychology in August 2020 showed that group fitness increased enjoyment, satisfaction, and exertion. With limited in-studio numbers, group fitness creates togetherness and a lasting connection with your online community.
4. Benefiting clients with mental health problems
Social distancing means more anxiety and increased stress levels. It's affecting mental health—and your clients are worried about that, too. In fact, recent studies reveal that 60% of men are working out during the pandemic specifically for mental health benefits.
Working out is more than just going through the motions; it's great for your emotions too, especially when you work out as part of a group. A 12-week study published in the Journal of the American Osteopathic Association in 2017 found that participants that did CXWORX group workouts scored higher in terms of stress reduction, mental health, and emotional quality of life compared to those who work out alone.
We know that just 20 minutes of moderate exercise can boost moods for up to 12 hours. It can also lower stress and anxiety levels and improve sleep—all great reasons to offer group fitness classes.
5. Boosting motivation levels
Group fitness classes are also a great way to motivate your new and loyal clients. How can you get your community motivated to move? Staying connected and feeling part of a community with group fitness classes and social media provides the social support many people need.
A study published in the journal Psychology of Sport and Exercise in November 2020 found that a fitness app alone isn't enough motivation, but interacting with an online exercise community will motivate people to exercise more. Other research suggests that social networks in particular can influence people to exercise more. This is great news for fitness businesses looking to motivate clients to participate in their virtual group classes.
What else can you do to get your community motivated?
Create a Facebook group, so clients can share experiences and provide support to other members of your studio or gym.
Sell group packages so friends and family can motivate each other.
Use apps, automated marketing, and direct messaging to check in on your clients and their goals.
6. Getting more clients outdoors
Outdoor classes have been a group fitness trend for a while, but after spending the better part of the past year indoors, people need to work out outside. As a result, outdoor group fitness classes will be big again in 2021.
A RunRepeat study found that 72% of participants plan to stay fit with running and other outdoor activities in 2021. Outdoor group fitness classes should still be part of hybrid memberships you offer at your fitness business. Potential types of outdoor group classes for your clients include bootcamps, yoga classes, running groups, HIIT classes, and meditation classes.
7. Helping to retain your clients
Group fitness classes can also help you retain more members. Really, they do. According to Les Mills research, members who attend a minimum of three group classes a week keep their memberships 50% longer. When your members exercise with a friend or workout partner, they are held accountable, and they show up whenever their friend does.
Making group fitness classes count
This year's been a tough one for fitness fans. People are fighting to stay motivated, healthy, mentally fit, and connected. With group fitness trends, they'll enjoy a positive digital experience and connecting with like-minded members of your community.
Get the fitness studio software you need to get group fitness working for your business. With WellnessLiving's Zoom integration, streaming live content for your community is simple. Also, use features like FitVID on Demand to offer on-demand work out videos and organize your library the way you want. With our client and staff apps, rewards program, and automated marketing, you'll also grow your business and create a better user experience for your clients.
How else can WellnessLiving help manage your business? Book a free, no-commitment demo today to learn more.