Yoga Den Celebrates Higher Attendance Rates & Revenue Growth Thanks to WellnessLiving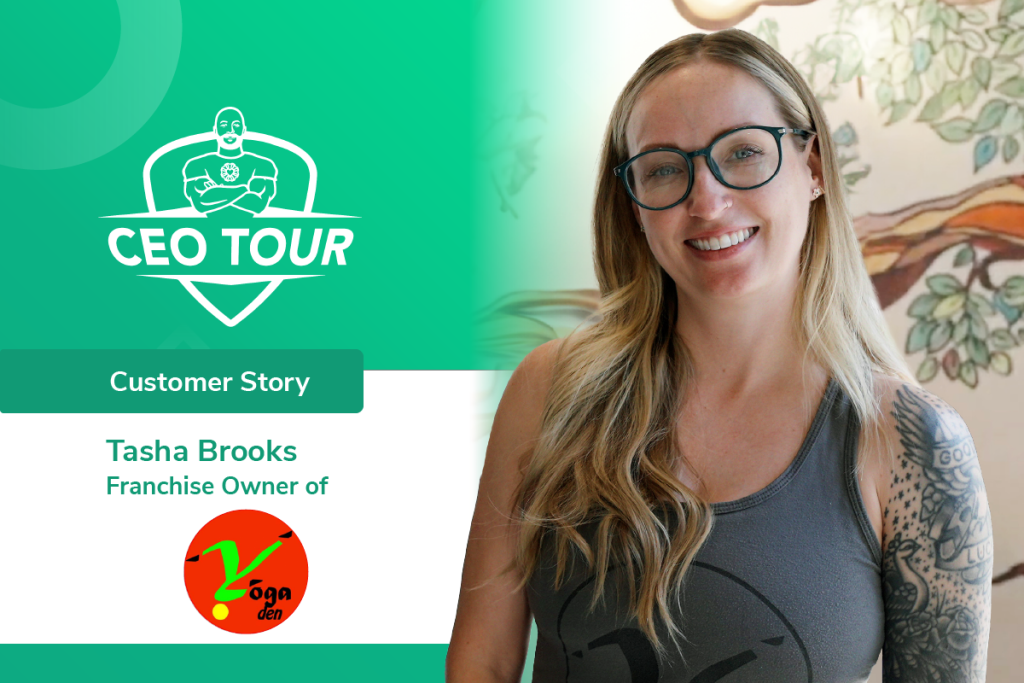 Stepping into Yoga Den isn't just entering a studio; it's joining a vibrant community.
From the calming tree mural adorning the walls to the supportive, high-performance flooring, Yoga Den captured Tasha Brooks' heart from the moment she stepped in as a student. So, when the opportunity arose to become the proud franchise owner of the Avondale, Jacksonville location, she couldn't resist.
With 10 Yoga Den studios scattered across Florida—eight in Jacksonville, one in  St. Augustine, and another in Yulee—the Yoga Den family continues to thrive and expand.
But here's the exciting part: Yoga Den's growth story didn't stop with its physical presence. Seeking a versatile and growth-focused solution to manage their blossoming business, they made a game-changing switch to WellnessLiving. Since adopting this all-in-one software, Yoga Den has witnessed an incredible surge in class attendance and substantial revenue growth in every studio.
WellnessLiving CEO and Co-Founder, Len Fridman, visited Yoga Den Avondale as part of his CEO Tour. He learned all about Tasha's journey as a studio owner and discovered firsthand how WellnessLiving has helped turn this business into the premier yoga franchise it is today. Len even broke a sweat while taking a challenging, but fun, Yogalates Sculpt class.
Yoga Den Avondale's success story is truly inspiring. By harnessing the power of WellnessLiving's mobile apps, automations, and communication tools, they've not only built a flourishing community, but also saved thousands of dollars along the way. Read on for more.
CLICK HERE to find out how WellnessLiving's tools, support, and resources are paving the path to success for yoga franchises everywhere.
Yoga Den at a Glance
📍Location: Avondale, Jacksonville, Florida
📍Business Name: Yoga Den Avondale
📍Business Owner: Tasha Brooks, Franchise Owner and Yoga Teacher
📍Website: https://yoga-den.com/ ; https://yoga-den.com/yoga-den-avondale/
📍Business Size: Large
📍Joined WellnessLiving Date: Sept. 29, 2021
📍Switched From: Mindbody
📍Active Subscriptions: Professional Plan ; White Label Achieve Client App ; Message Center
Meet Tasha Brooks, Franchise Owner and Yoga Teacher
Growing up as a native in sunny Jacksonville, Florida, Tasha's journey started with a very different view. At the tender age of 22, she found herself navigating the hustle and bustle of bartending and waiting tables. Life was moving fast, but something was holding her back—persistent back pain.
Then, like a serendipitous gift from the universe, a friend introduced her to the world of yoga. Just like that, her life transformed in the most unexpected way.
"I realized yoga was changing me for the better," Tasha reflects with a smile. "First, my back didn't ache anymore, and then, I began to feel this incredible sense of relaxation wash over me."
Yoga had cast its spell on her, and there was no turning back. In 2013, she embarked on her yoga journey by completing the Yoga Den 200-Hour Teacher Training Program. But that was just the beginning. Tasha's love for yoga flourished, and she shared its magic all over Jacksonville, teaching diverse classes that ranged from corporate sessions to classes tailored for seniors and special needs individuals.
But Tasha's thirst for knowledge and her dedication knew no bounds. She continued to enhance her yoga expertise, diving into pre/post-natal yoga, kids' yoga, and the Bhakti Vinyasa Flow program. In 2017, she reached a new milestone by completing her 300-Hour Teacher certification through Yoga Den.
For Tasha, being an active member of the yoga community isn't  just a passion; it's a source of boundless joy and happiness. She eagerly looks ahead to the exciting journey of furthering her personal practice and teaching career, spreading the gift of yoga to all who cross her path.
How did Tasha become the owner of Yoga Den Avondale?
In the tapestry of Tasha's life, 2018 unfurled as a year of unexpected opportunities. It was the year when the owners of Yoga Den shared some remarkable news: "We'll only franchise Avondale to you." And just like that, Tasha's path took a dazzling turn, leading her to become the proud owner of Yoga Den Avondale.
"I fell in love with this studio, this location, the wonderful people in the neighborhood, and the entire heartwarming community," Tasha fondly recalls. At the time, she was venturing into the world of business ownership for the first time, and the prospect was both thrilling and daunting.
"I thought to myself, 'I have to do this, and I'll figure it out as I go along," Tasha says with unwavering determination in her eyes.
And so, Tasha's journey as the heart and soul of Yoga Den Avondale began, fueled by her passion for the studio and the vibrant community that called it home.
What does Yoga Den offer?
Yoga Den welcomes everybody to the mat, encouraging students to listen to their bodies and let go of self-judgment. Each teacher has their own personality, themes, and music, adding a touch of flare and pizzazz to each class.
"I love that every single Yoga Den is very welcoming to whoever you are in this yoga journey, whatever your skill level, age, or health limitations," says Tasha.
Whether you're new to yoga or a seasoned practitioner, prefer non-heated or heated classes, Yoga Den offers a variety of class styles and traditions for everyone, including:
Mind Body Yoga: An original class based on the Kripalu tradition and perfect for beginners.
Sun Power Yoga: An athletic practice that begins with Sun Salutations and followed by mindfully sequenced postures and an eclectic blend of lineages and styles, such as Jiva Mukti, Ashtanga, and Anusara.
Restorative Yoga: A therapeutic class that promotes healing and allows the body and mind to decompress.
Yin Yoga: A special practice designed to improve flexibility, energy flow, and range of motion in a very controlled practice.
Yogalates Sculpt Yoga: A fusion of yoga, Pilates, and lightweight training, this class will make you sweat, stretch, and sculpt the muscles throughout your body.
Yoga Den also has a variety of price points, offering a new student special, drop-in rate, class packs, single studio membership, and a passport membership for unlimited yoga at all Yoga Den locations.
Why did Yoga Den Avondale switch to WellnessLiving?
Much like many other yoga studios, Yoga Den initially ventured into the realm of business management software with Mindbody, only to find that their expectations weren't quite met.
Then, in a game-changing move, WellnessLiving entered the scene, and the transformation was nothing short of remarkable. Since making the switch to this comprehensive platform in 2021, Yoga Den has witnessed a noticeable growth, one that has had a profound impact on their attendance and revenue across all their studios, with a spotlight shining brightly on the Avondale location.
"We gained a lot more control over the client and class experience, from seamless scheduling and booking to hassle-free payments and communication," Tasha elaborates with an enthusiastic smile. "Overall, the usability of this software is off the charts—it's like the Apple computers of business management software. It's definitely very user friendly for someone who's not a tech expert!"
Tasha is thrilled that the switch to WellnessLiving has translated into substantial savings of thousands of dollars for Yoga Den year after year. It's allowed them to invest more in what truly matters—their beloved yoga community.
How was the transition to the new software?
Clearly, the excitement for WellnessLiving is there for Tasha. But, at first there were concerns about losing client data.
"I know ahead of time; we get a little anxious about change and what could happen," says Tasha. "But fortunately, our experience switching to the new system was very seamless. There were no issues and every client's account had safely transferred over to WellnessLiving. While there was a little bit of a learning curve, support was only a call or email away anytime we had a question."
Virtual Tools—FitLIVE & FitVID on Demand
During the pandemic, Yoga Den took advantage of WellnessLiving's FitLIVE feature (previously known as Zoom integration) to stream live classes. Now, Tasha records their classes, and the videos are uploaded while utilizing FitVID on Demand. On-demand yoga videos are included within the monthly and yearly memberships.
Tasha enthusiastically shares how the video library has been a game-changer for client retention at Yoga Den: "Our video library is an absolute lifesaver. When life's demands or work commitments keep a client from visiting the studio, there's no need to cancel their membership. They can easily hop online, log in, and take a class from the comfort of their own space, right on their mobile device within the Achieve Client App . It ensures that they make the most of their membership, no matter where life takes them."
What's great is when Tasha uploads a video, she has the power to choose who gets to access it. "I can tailor it to specific membership types, ensuring that our members receive content that's just right for them."
Communication Tools & the Client Journey
WellnessLiving's powerful all-in-one business management software removes roadblocks that cause friction. As a result, Yoga Den is able to attract new leads, convert more prospects into members, and increase client retention, at each stage of the client journey.
"From the moment we capture a lead on our website, everything is automatically stored in a new client profile," says Tasha. "Once they've downloaded our app, it's our golden ticket to maintaining those connections. We keep engagement going with regular updates through email, SMS, and push notifications."
After class, Yoga Den sends a survey request  for clients to provide feedback on their yoga teacher and experience. And if they haven't seen a client in a while, Yoga Den adds a little extra love to communication with a special discount code, inviting them back with other membership options and continue their journey towards a healthier, happier lifestyle.
Forms & Customer Reviews
Feedback is a potent tool for growth, and WellnessLiving's drag-and-drop digital form builder, Forms, empowers Tasha to effortlessly create customer surveys. These surveys help collect valuable insights and reviews from clients at various stages of their journey with the studio.
Tasha elaborates, "Whether it's after a class or during the cancellation process, we ask our clients for feedback on how we can enhance their experience. If they find a particular class not challenging enough, we can recommend our Sun Power Yoga class as a better fit. What sets us apart is that leaving a review allows our clients to feel like they're part of the studio, not just clients. Our students appreciate having a voice, and that connection means a lot to both them and us!"
Booking Flow & Book-a-Spot
Whether online or a mobile app, WellnessLiving makes it easy to book a class in advance, which is perfect for a small space like Yoga Den Avondale—there's just one room and 21 spots per class. The Book-a-Spot feature within the Achieve Client App allows Tasha to neatly organize her space while helping clients schedule their week.
"It's good to know who's coming to class, and if it's busy, we'll set up three rows of seven. If it's not busy, then just two rows are needed," says Tasha. "So, it's a great way for us to manage class sizes."
Achieve Client App
In today's mobile-centric world, having WellnessLiving's custom branded Premium Achieve Client App is an essential tool for driving business growth and expansion.
Tasha shares her insights, stating, "The app is a game-changer for us. Imagine a potential client scrolling through their phone—instead of just social media, they come across our logo, tap on our app, and book a class instantly. It's a direct path to our services. Plus, the calendar sync feature keeps clients organized and ready for their classes!"
Fact: 82% of WellnessLiving customers who use the Achieve Client App see an increase in retention and an average boost of 22% in revenue.
Elevate Staff App & Staff Management
Yoga Den Avondale, with its dozen yoga teachers and hundreds of students, required an efficient solution to connect staff members and clients seamlessly. Tasha relies on the Elevate Staff App extensively, using it to stay updated on classes, students, and instructors.
Tasha explains, "I can promptly respond to any communication, be it from a student or a staff member. Moreover, it's user-friendly for my teachers; they can easily log in, access their schedules, locate their classes, and check-in students. It's that simple."
Advanced Reporting
Another indispensable feature for Yoga Den Avondale is serving as the ultimate metric tool. It meticulously tracks various aspects for Tasha, including attendance records, projected revenue, and outstanding balances on client accounts.
Tasha expresses her appreciation, stating, "I absolutely love the reporting system. I even save some of these reports for my accountant, ensuring they have all the necessary information for my quarterly taxes. It's a real time-saver!"
Are you ready to make the switch?
Yoga Den and WellnessLiving are fast growing businesses, and they have a lot in common. Both value community and provide excellent customer service. If you're looking for a software provider that reflects your values, look no further than WellnessLiving.
Tasha enthusiastically endorses WellnessLiving, stating, "I wholeheartedly recommend WellnessLiving to every yoga studio I come across. It's incredibly user-friendly, catering to both owners and students. Whether it's scheduling or booking classes, having a system that enhances user experience and drives more revenue and clients into your business is crucial, and WellnessLiving excels at it."
Are you ready to launch your yoga business into a whole new hemisphere? WellnessLiving has the tools you need to boost your revenue by up to 57%. Book a demo today for more.